about this wrongcard
They say the best way to fight fire is with fire, but fire is useful for fighting all sorts of other things. Bees, for instance. Noisy neighbors. People who stand near bus stops in rabbit costumes. On another topic - sometimes people will try to get you to apologize by apologizing first for something less significant than, say, setting fire to someone's aunt. It's a rhetorical trick - don't fall for it!
Throughout 2018, and hopefully beyond, we're taking a hiatus from displaying ads at Wrongcards. Here's how I did it, and why...
read more
Related Cards
Apology cards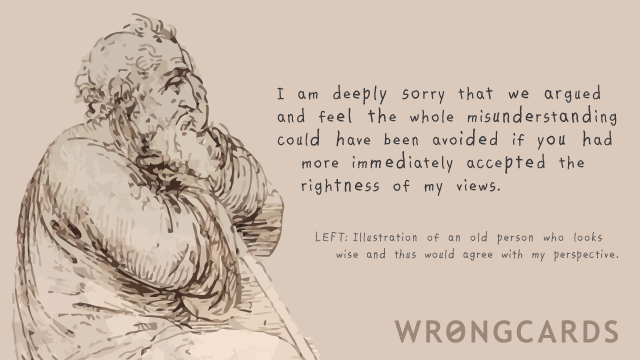 People say 'You're an easy person to agree with.' Or, 'It's easier just to agree with you' or something. I dunno, I try not to listen to flattery. Oprah once said that saying sorry is a sign of emotional intelligence but that doesn't help you at all if you don't do anything wrong. Some days I'm not sure Oprah is as infallible as I want her to be.
share this
send card
Apology cards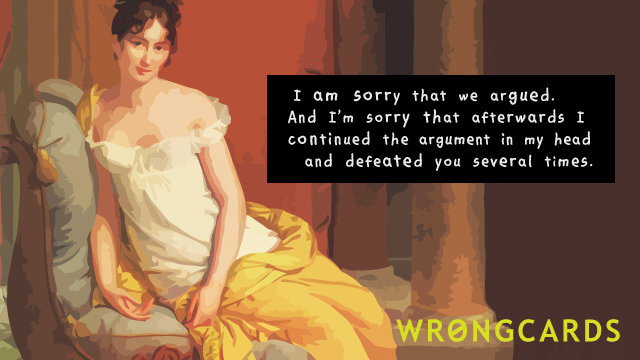 Yesterday I stepped onto a plane and half a day later I was in Granada, Spain. I shall be here for three weeks. I am not fully prepared so I don't know how to say in Spanish, "look, officer, there is a perfectly reasonable explanation for this and.. look behind you! A three-headed monkey!" But there's no need to be prepared if you're good at apology...
share this
send card
Subscribe to our shenanigans
No spamming or soliciting from us. Seriously .