about this wrongcard
Alright, today I'm getting on a plane and flying to London. I'll be there for a few days, then I go to Basel in Switzerland, and then to Amsterdam. I need you all to be good kids. This means not setting fire to anyone's sofa. There is no need to appease the God of Fire; he doesn't love you, he is toying with your affections.
Throughout 2018, and hopefully beyond, we're taking a hiatus from displaying ads at Wrongcards. Here's how I did it, and why...
read more
Related Cards
Cheer Up cards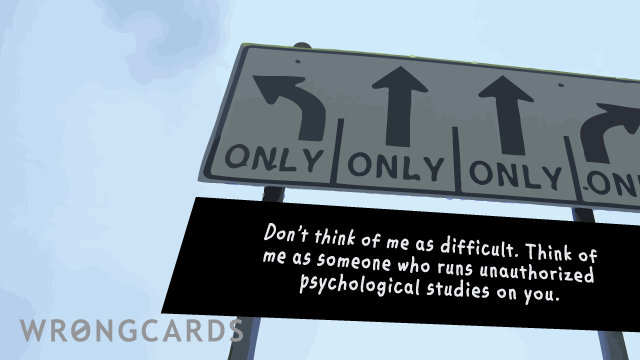 If you're new to Wrongcards you probably don't yet know that I like to invent excuses for people. I'm a creature of misadventure and when it comes to getting out of tricky situations, well, I know all about it. You may think we're an ecard site or a webcomic, but really we're a Self-Help book. Send our cards and win at life.
share this
send card
Apology cards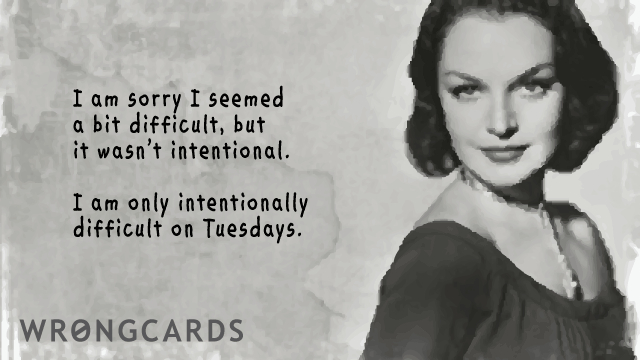 Over my Christmas vacation (which is ending, by the way, roughly now-ish) I thought about becoming a better person. Less difficult, more civilized and all that nonsense. But ultimately I decided it probably wasn't worth the effort and that self-improvement is really about Better Excuses and Alibis. Here is the first Wrongcard for 2011.
share this
send card
Apology cards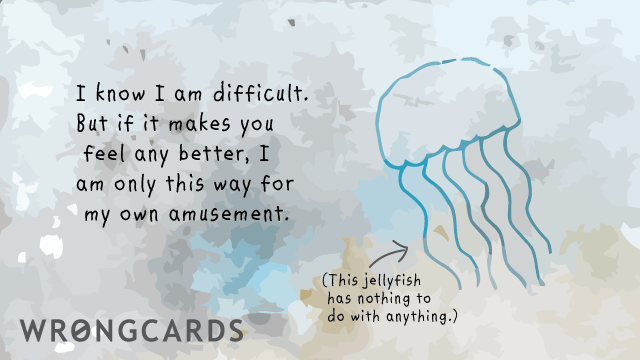 Whenever someone says something that is contrary to my wishes, interests or world view, I always point out that they are being difficult. But sometimes people call me difficult before I can say that they are. And I hate it. I made this card so I can retain the upper-hand. One should always win at all costs.
share this
send card
Subscribe to our shenanigans
No spamming or soliciting from us. Seriously .