about this wrongcard
Let's start off the week with an inspirational card. Of course, one might disagree with this card but that would require a perverse and contrary psychology. The thought of people disagreeing with me always makes me feel wistful and sad. What a troubled world. Anyway, here is today's card to make it all better.
Throughout 2018, and hopefully beyond, we're taking a hiatus from displaying ads at Wrongcards. Here's how I did it, and why...
read more
Related Cards
Family cards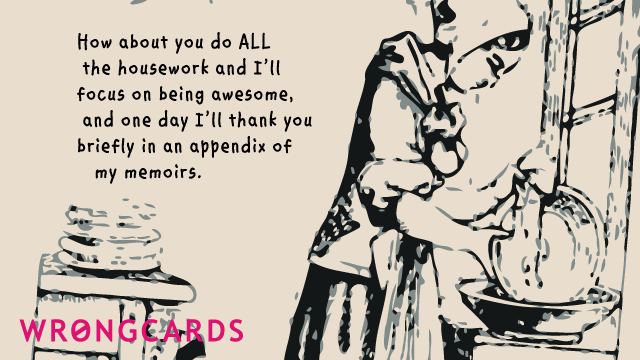 Chores. Some want to do them, some don't. The problem is that the people who WANT to do chores always insist that the people who DON'T want to do them should also want to do them. I'd rather lay on a beach than do chores myself, but I've always been an individualist. Here's today's card.
share this
send card
Subscribe to our shenanigans
No spamming or soliciting from us. Seriously .