about this wrongcard
Are you worried about zombie attacks? I'm not, I'm worried about other things. I picked up a TV guide recently, just to see what reality shows were popular. But don't worry, I was feeling much better after a few days and I can even go outside again.
Throughout 2018, and hopefully beyond, we're taking a hiatus from displaying ads at Wrongcards. Here's how I did it, and why...
read more
Related Cards
Zombie cards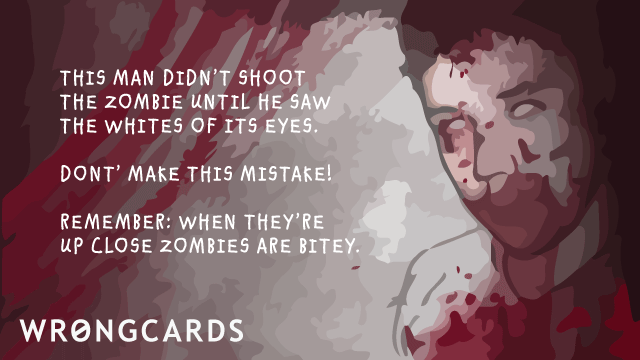 There isn't a man alive who hasn't given serious thought to how he'd secure himself and his family In The Event of Zombies. We already know the best escape-routes, choke-points and where to build the barricades. Hunter-gatherer milieu? Yes please - then we can be awesome again! Well anyway, I never said we were sane.
share this
send card
Subscribe to our shenanigans
No spamming or soliciting from us. Seriously .