about this wrongcard
'On Wednesdays I like to post a slightly older card and then I invariably I do something practical, like my taxes. I always put a dead bird into the envelope I send to the IRS - when they call me up about it I say it was an accident. FYI: federal employees are not paid enough to audit people who accidentally mail dead animals to them. I'm here to help.'
Throughout 2018, and hopefully beyond, we're taking a hiatus from displaying ads at Wrongcards. Here's how I did it, and why...
read more
Related Cards
Topical cards
I never like to hear people arguing about religion because that means they're not sitting there listening attentively to me. Everyone has a different approach to religious debate. Mine is to scream: That Is Anathema! until everyone leaves. I guess it's important to win.
share this
send card
Excuses cards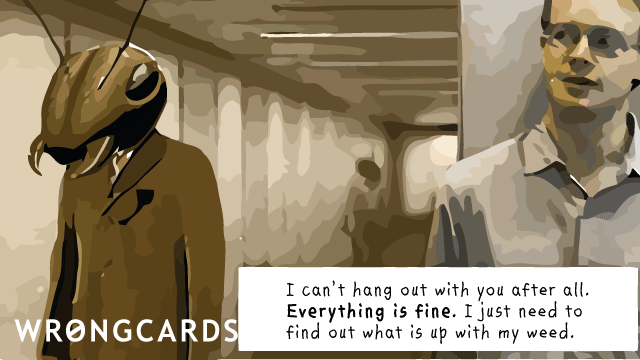 I find people very demanding. "Do this, do that, be quiet, don't eat my pudding, put down that knife, tie it off with a tourniquet, drive me to a hospital, what do you mean we're stopping to buy ice cream?" Today's card? Send it to anyone and they'll probably just GIVE you their pudding. It's only reasonable, really.
share this
send card
Subscribe to our shenanigans
No spamming or soliciting from us. Seriously .