about this wrongcard
I hate seeing humanoids with black eyeballs. It makes it so much harder to relate to them. Now I'm not a judgmental person (except when I take an instant dislike to someone because I don't like their hat) but if I see a reptilian creature with bat wings I cross the street. I think it's because I don't want to get caught up in all their drama.
Throughout 2018, and hopefully beyond, we're taking a hiatus from displaying ads at Wrongcards. Here's how I did it, and why...
read more
Related Cards
Baby cards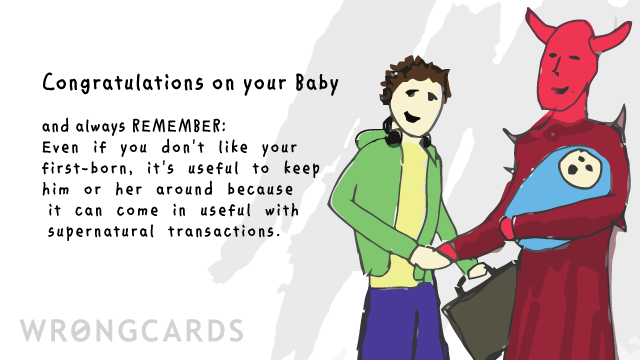 Congratulating people whenever they contribute to the human over-population problem is an important, profitable niche in the greeting card market. I may suck at inventing business concepts (cards that you shouldn't send to anyone?) but I'm going all out to meet my professional obligations today.
share this
send card
Easter cards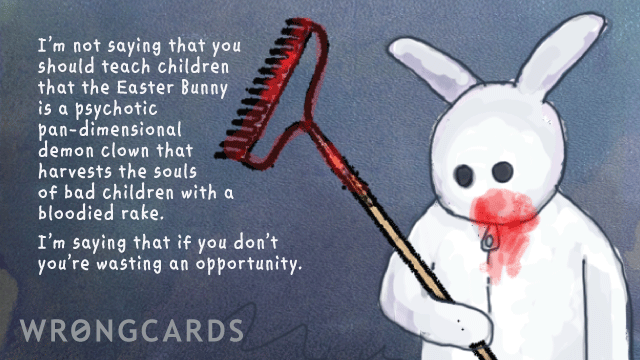 Easter? Just a conspiracy perpetrated by a cartel of chocolate manufacturers, right? I mean, we don't own it - some pointy-hatted pontiff does. Sure we can take it back .. from the clergy, the factory-owners, the companies that market diabetes drugs. You see, anyone can change the world, provided they believe. And have billions of dollars and play tennis with Rupert Murdoch.
share this
send card
Subscribe to our shenanigans
No spamming or soliciting from us. Seriously .