about this wrongcard
Today's card is a Cheer Up card, which can be sent to people who are being depressing. Typically that means they have some sort of problem or a bad thing has happened. My point? When someone's life stops being about blue skies, short skirts and ice cream, we send this card. I know, right? Where were you guys before you found me?
Throughout 2018, and hopefully beyond, we're taking a hiatus from displaying ads at Wrongcards. Here's how I did it, and why...
read more
Related Cards
Apology cards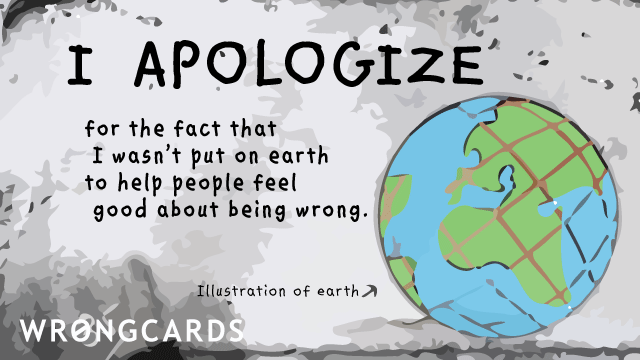 Whenever I apologize for something I focus on getting the details right. If you get the details wrong then it might sound insincere or as though you are thinking about something else. Sometimes I can't remember the details so I like to keep apologies very general and vague. Today's card, for example.
share this
send card
Apology cards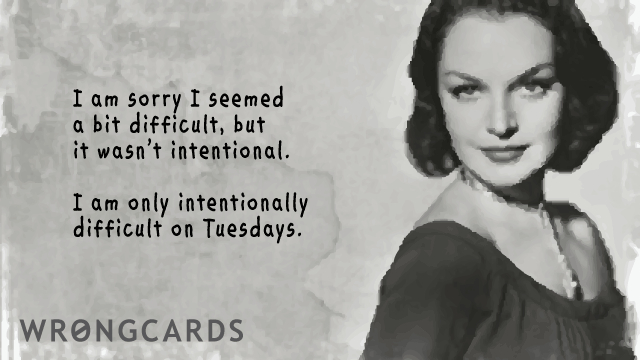 Over my Christmas vacation (which is ending, by the way, roughly now-ish) I thought about becoming a better person. Less difficult, more civilized and all that nonsense. But ultimately I decided it probably wasn't worth the effort and that self-improvement is really about Better Excuses and Alibis. Here is the first Wrongcard for 2011.
share this
send card
Apology cards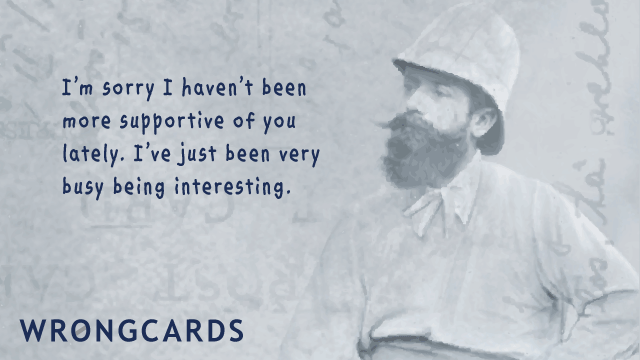 You know when a villain ties a person to the railway tracks and sends a letter to the hero saying 'you better get down here or your friend is going to get run over ha ha etcetera?' I don't know if this has happened to me because I tend not to open correspondence. I just forget. Missing the requisite gene I suppose. Here's an ecard for people like me.
share this
send card
Apology cards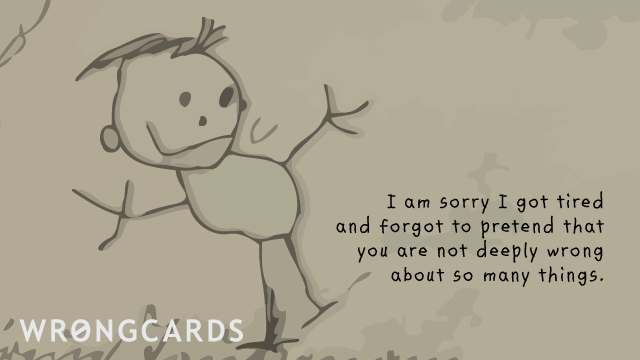 Sometimes we have to apologize. Sometimes, even when any impartial, highly-educated expert would firmly agree that you are right and the other person is sadly bereft of facts and utterly adrift in a sea of confusion, we have to apologize. This card is for those moments.
share this
send card
Subscribe to our shenanigans
No spamming or soliciting from us. Seriously .