previous
next card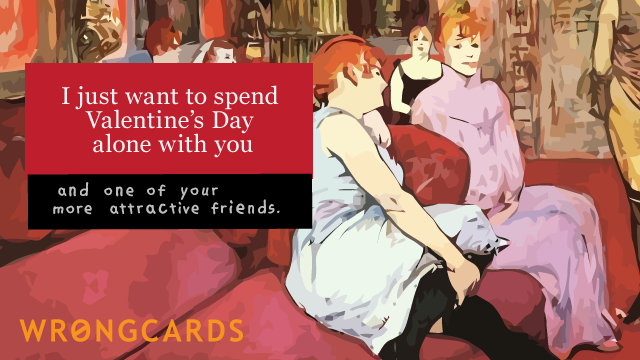 share this
send card
about this wrongcard
Here we are in the second month of our voyage aboard the good ship '2018'. Your Captain is here at the prow, crossbow in hand, on the look-out for albatrosses, and thinking about Valentines Day. Did you know people first celebrated Valentines Day in Roman times? They used to pair off women with men by a lottery. I know! And I'm a bad person for not celebrating it. Sigh. I'm just enabling you all.
Read my latest book
"Shea is beginning to think that stealing the world's most famous skull wasn't the best way to launch his career in cat burglary..."
read more
There's a new book out in the world, and I wrote it.
read more
Subscribe to our shenanigans
No spamming or soliciting from us. Seriously .
Related Cards
WTF cards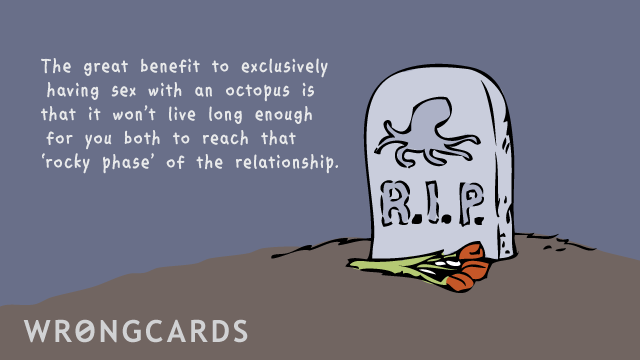 Lately a lot of people have been assuming I was dead. It's strange how a man can't paint himself a greenish hue and lay about near busy intersections without everyone making weird assumptions. Now you might think of vampires as a sort of sublimated necrophiliac rape fantasy but that doesn't make them any less creepy. Today's card contains an octopus. The mention of vampires was just randomness.
share this
send card
Romance cards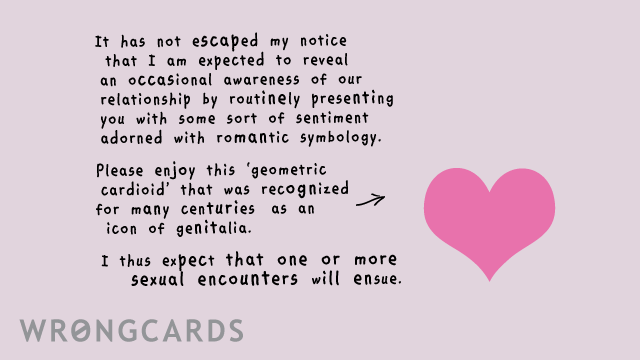 I'm an acknowledged expert in a couple of fields - it's only modesty preventing me from telling you which. But I will say that my as yet unpublished tome 'The Psychology of Wasps and Wasp-like Invertebrates' puts me among the greatest scientific minds of our age. I just need to secure a publisher (the hardware store won't sell me any zip-ties). Oh, I'm also an expert on romance. I'm such a renaissance man.
share this
send card
Thinking Of You cards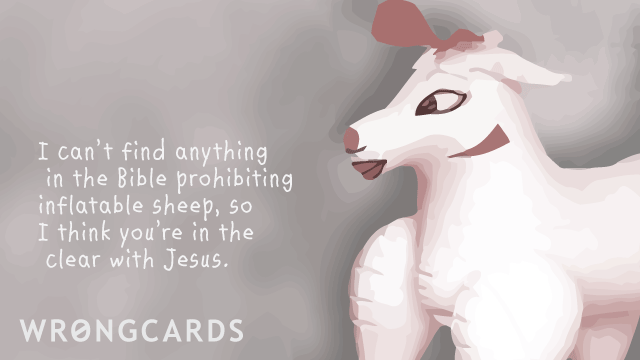 So I invented Rehash Wednesday years ago but the world stole my idea and made it #ThrowbackThursday to avoid having to pay me royalties. Which is fine because I am nice, even people who haven't met me say so all the time. Anyhow, I'm told there is a lot of yellow in this card but I haven't been able to see yellow since I got angry that one time and ate some lead pencils. I think this card is about sheep and morality.
share this
send card
Apology cards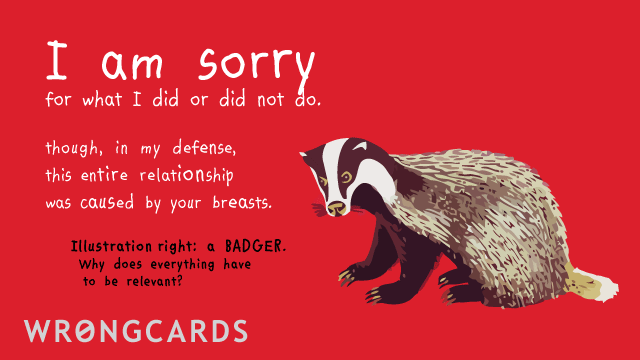 ... and then it occurred to me that many men will be forgetting Valentines Day, and thus might be in dire need of an apology card tomorrow. Think about it. Think of the countless men who will awaken tomorrow to a frosty silence and spend the first half of the day in frozen bewilderment as to what the hell they forgot to do. And you thought YOU had problems.
share this
send card