about this wrongcard
People, I have a dream - and in that dream there's a goat flying a biplane wearing a leather helmet and goggles and he' chanting Wagner. That's why you shouldn't follow your dreams; sometimes they're rubbish. Now, today's card is an apology ecard. If you should ever really need a good card to apologize to someone for something, remember - wrongcards: not the best place for that.
My quest to find a literary agent, its reasons, and some very excellent advice on how you too can query a literary agent.
read more
Related Cards
Get Well cards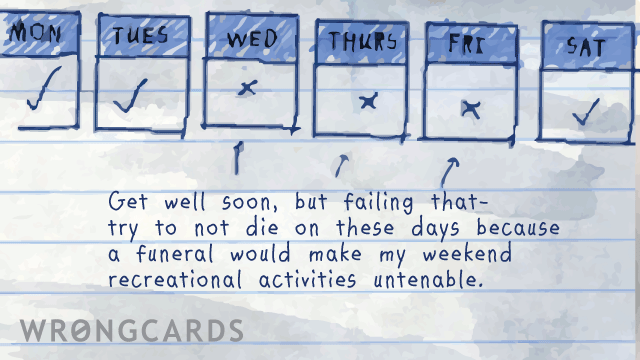 It is a sad thing but sometimes people can get sick and this may occasionally result in the interruption of one's plans. Experience has taught me that nobody likes it when you leave a bed-side vigil to go jet-skiing. I believe this is because people are fundamentally irrational. Send a Get Well card and THEN you can go jet-skiing.
share this
send card
Subscribe to our shenanigans
No spamming or soliciting from us. Seriously .