about this wrongcard
Romance. It can't be avoided. It has all the sad inevitability of scabies. And what is romance, anyway? On the one hand, you say you don't like someone at work but when their house burns down suddenly I'm the bad guy. And some men grow up eating crayons. Love is not about taking away a man's crayons. What is Romance? Do I put my elbows on the table anymore? No I don't. So there.
My quest to find a literary agent, its reasons, and some very excellent advice on how you too can query a literary agent.
read more
Related Cards
WTF cards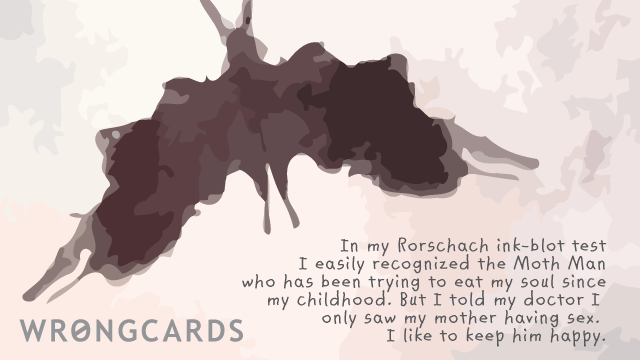 On Wednesdays I feature an older card and then spend the rest of the day trying to pass myself off as a credible researcher at Harvard Medical School. I carry a clipboard and say things like, "We're making progress. I think we have reasons to feel optimistic." Sooner or later they're going to let me play with the bodies.
share this
send card
Subscribe to our shenanigans
No spamming or soliciting from us. Seriously .