about this wrongcard
As an enlightened sort of bloke I often feel a heavy weight of responsibility to help my fellow man understand that Romance topic that women like to yap about. Fellas, try to share half the pizza with her, alright? And remember, romance doesn't cost much when there are free wrongcards to send, or even just fresh flower bouquets laying about unattended near new graves. Here to help.
I just disappeared for four years. It's time to come out from the woodwork, but where do I start? How about I go back to the middle?
read more
Related Cards
Romance cards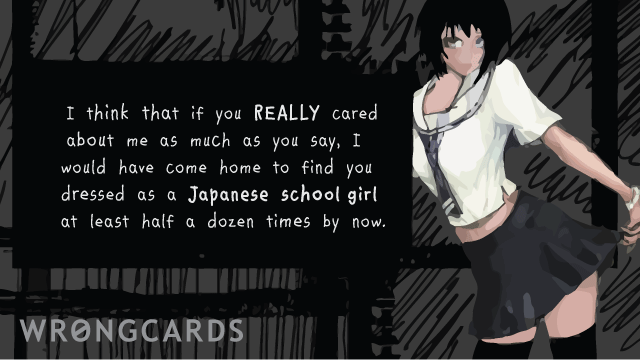 Look - I'm not saying I don't have issues but when I showed today's card to the guy who delivers my mail he embraced me, burst into tears and declared himself 'expressed'. I showed it to the guy in Starbucks and he grasped my hand firmly, called me brother and announced my lattes would be free forever or his life would be forfeit. It's not all that bad being a spiritual leader some days.
share this
send card
Subscribe to our shenanigans
No spamming or soliciting from us. Seriously .