previous
next card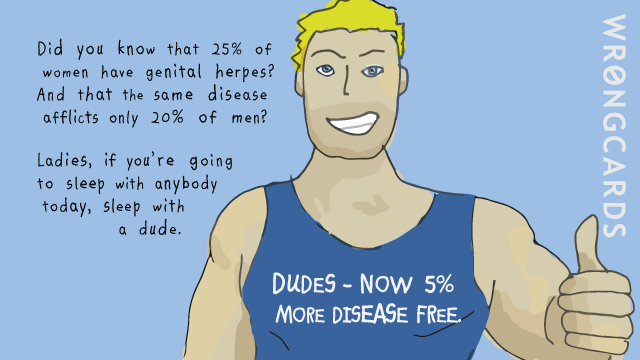 share this
send card
about this wrongcard
As you know the jury is still out on science. That's why I mistrust statistics, unless they're my own, of course, 'cause I always check my statistics in my head, just to see if they feel plausible. Anyway today I wanted to do something for a Men's Advocacy Group. I like to do things for men. Raise awareness of how we think. And I can already tell that 113.4% percent of you think I nailed it.
Read my latest book
"Shea is beginning to think that stealing the world's most famous skull wasn't the best way to launch his career in cat burglary..."
read more
I had just learned I was about to become a father. The timing was somewhat less than ideal. You see ...
read more
Subscribe to our shenanigans
No spamming or soliciting from us. Seriously .
Related Cards
Zombie cards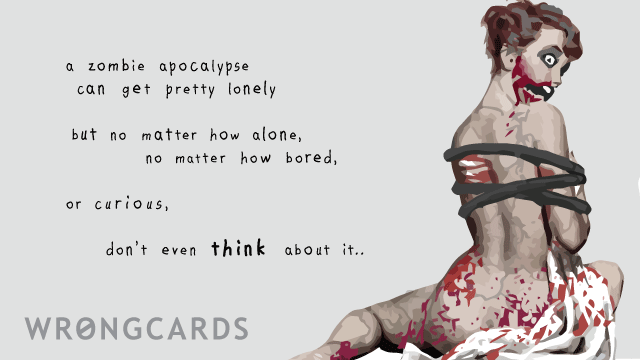 Zombies - a fad that just won't die (bada-ba-ching!). Are zombies just a metaphor for consumer culture? Or do they symbolize the unshakable unease of post-modernity? Are we simply fated to wake up one day and find ourselves fighting for our lives? Or will it only 'seem' that way to the infected? Hell, don't ask me, I've got my own demons and today's card is a reminder of the fact...
share this
send card
Get Well cards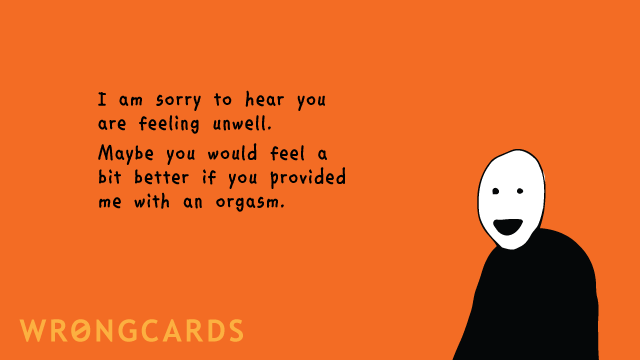 The thing about sick people is they give off fumes which are made up of tiny animals. You can't see them with the naked eye but, if inhaled, they get inside your blood and try to kill you. Also - people with optimistic attitudes have better defenses. That's why you have to cheer up sick people - it makes them less toxic. I've always been good at science.
share this
send card
Flirting cards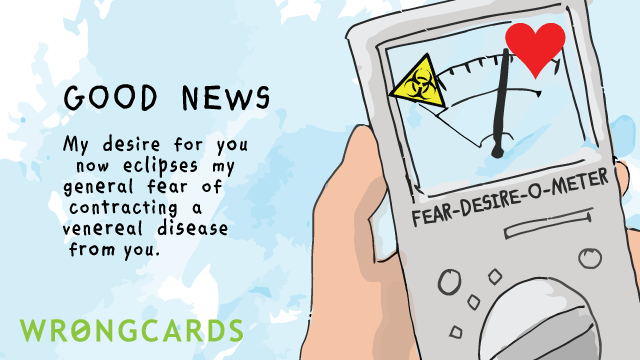 As an enlightened sort of bloke I often feel a heavy weight of responsibility to help my fellow man understand that Romance topic that women like to yap about. Fellas, try to share half the pizza with her, alright? And remember, romance doesn't cost much when there are free wrongcards to send, or even just fresh flower bouquets laying about unattended near new graves. Here to help.
share this
send card
Romance cards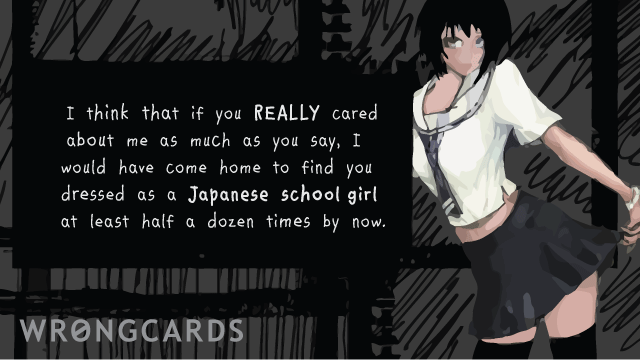 Look - I'm not saying I don't have issues but when I showed today's card to the guy who delivers my mail he embraced me, burst into tears and declared himself 'expressed'. I showed it to the guy in Starbucks and he grasped my hand firmly, called me brother and announced my lattes would be free forever or his life would be forfeit. It's not all that bad being a spiritual leader some days.
share this
send card