about this wrongcard
So someone has invited you to a party: the hooks are in, the obligation to attend is fierce, but the thought of it all fills you with a nameless dread. Maybe it's because your friend's friends are lunatics. Or maybe it's because YOU are a lunatic. Doesn't matter. You can stop fretting and just send along this card. Life was meant to be this easy.
I just disappeared for four years. It's time to come out from the woodwork, but where do I start? How about I go back to the middle?
read more
Related Cards
Thinking Of You cards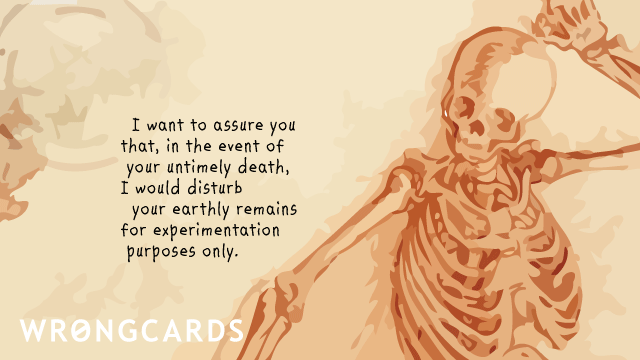 Sometimes people worry about death. But more often people worry about their earthly remains and whether a close personal friend might be planning to disinter their bodies for one reason or another. So I made a card that you can send along as a reassurance.
share this
send card
Subscribe to our shenanigans
No spamming or soliciting from us. Seriously .