about this wrongcard
Some say that Valentines Day is a commercialized confidence trick played on lovers, a cloying manufactured holiday, a manipulative marketing mechanism. But me? I only worry about two things. One, that if you don't buy someone chocolate right now, your entire relationship will crumble to pieces. And two, that raptors may not be as extinct as "the authorities" claim.
My quest to find a literary agent, its reasons, and some very excellent advice on how you too can query a literary agent.
read more
Related Cards
Easter cards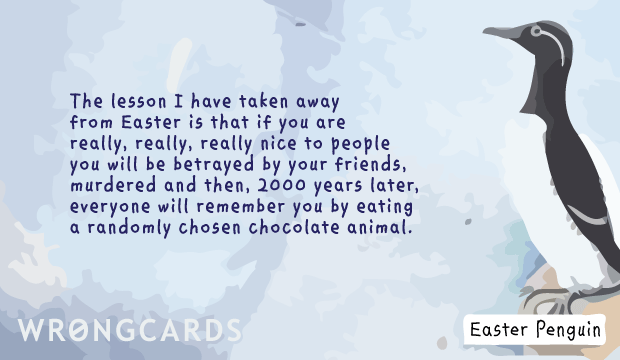 I've been meaning to become religious for a while now. I think I'd be really good at it. Everyone would be DAMN he's good at being religious, and I'd be like I KNOW RIGHT. I'd be better at being religious than Jesus, who, let's face it, kept a back-up career just in case (carpentry). My favorite quote by Jesus? "Live by the carpentry, die by the carpentry." See? Good at being religious.
share this
send card
Subscribe to our shenanigans
No spamming or soliciting from us. Seriously .