about this wrongcard
Obviously I'm trying to raise some awareness here. Maybe launch a movement. Perhaps Valentines Day can topple over one day, like the statue of a dictator. The only thing stopping me from pointing out that this is a completely made-up holiday is the fact that they're ALL completely made up holidays! Also, nobody has ever sent me a Valentines Day thing. But whatevs. Not bitter; it's the institution.
My quest to find a literary agent, its reasons, and some very excellent advice on how you too can query a literary agent.
read more
Related Cards
Apology cards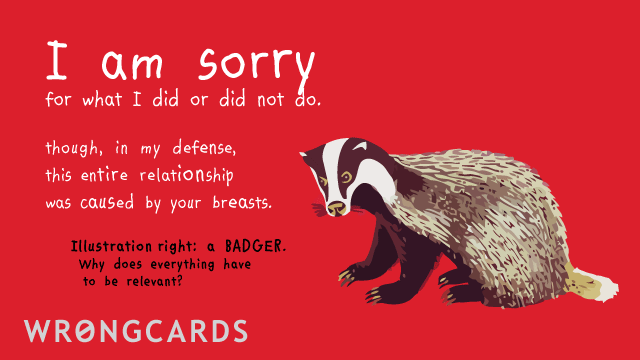 ... and then it occurred to me that many men will be forgetting Valentines Day, and thus might be in dire need of an apology card tomorrow. Think about it. Think of the countless men who will awaken tomorrow to a frosty silence and spend the first half of the day in frozen bewilderment as to what the hell they forgot to do. And you thought YOU had problems.
share this
send card
Valentines Day cards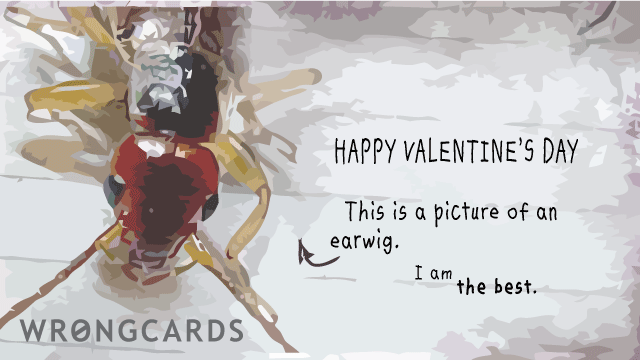 On Wednesdays I post an older card then I change the world. I believe we can all change the world, we just need love in our hearts. And seven billion dollars for research and development, and a basement full of kidnapped MIT kids to assemble the first batch of self-replicating robot slave spiders. Changing the world also requires pragmatism.
share this
send card
Romance cards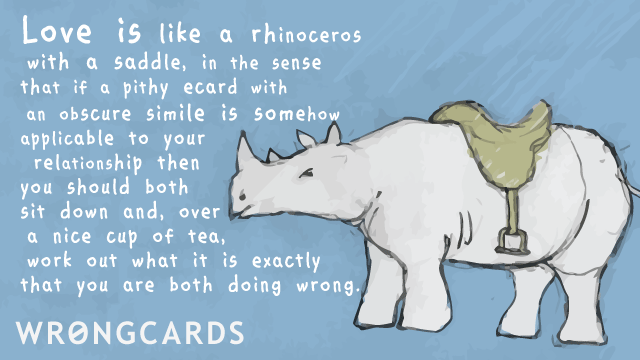 "Love is like a rhinoceros wearing a saddle..." Sometimes I'm on fire, and I don't mean when I'm playing with kerosene and a lighter. My doctor says it's because I have a better grasp of reality than most. He stops by occasionally and counsels me and I'm helping him work through some issues with being dead and invisible to his loved ones. Share this card, it has good advice.
share this
send card
Valentines Day cards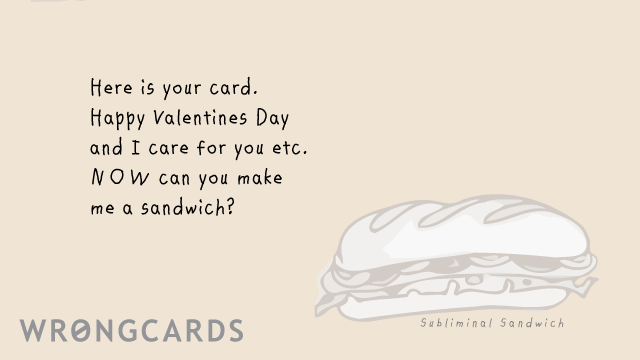 'Gentlemen, bad news: Valentines Day is gonna happen any second now. Ladies, yay, you're about to receive a lot of Hallmark nonsense and a bunch of chocolate that you know in your heart is going to go straight to your hips. Puppies? For you, nothing changes, you're still the best things on the planet and I wish there were more of you.'
share this
send card
Subscribe to our shenanigans
No spamming or soliciting from us. Seriously .