about this wrongcard
I had a responsibility once. Most harrowing four minutes of my life. When the old lady came back and thanked me for minding her groceries I was covered in a dread-laden sweat. I don't need to learn a lesson twice - I've been skirting responsibilities ever since. So even though I want to be an inspiration to you all, I can't teach you this stuff. Have you guys SEEN a calendar? Stressful...
I just disappeared for four years. It's time to come out from the woodwork, but where do I start? How about I go back to the middle?
read more
Related Cards
Celebrity cards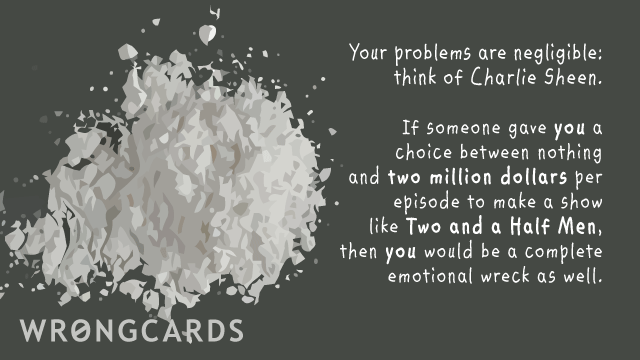 The media is blitzing us with reports of uprisings in Libya, Tunisia and Egypt, but have so far ignored the tribulations of actor Charlie Sheen. He's out of work and in six months will run out of cocaine. He doesn't need our pity, he needs drugs and hookers, so take on some extra shifts and donate generously. Thank you.
share this
send card
Subscribe to our shenanigans
No spamming or soliciting from us. Seriously .