previous
next card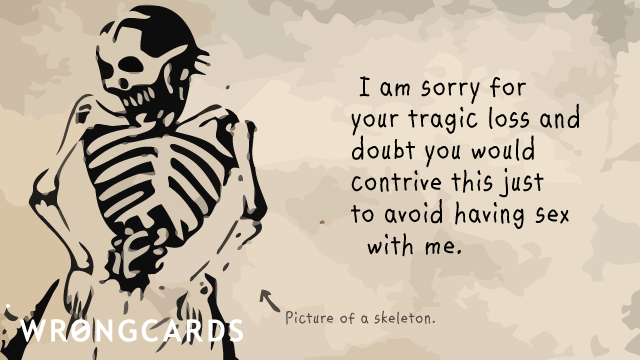 share this
send card
about this wrongcard
Today's card is a sympathy card which means you can send it to people who say they know someone who has recently died. Sometimes I suspect people make up stories like that for attention or to evade responsibilities. If you harbor doubts about someone, send along today's card and study them carefully to see if they look guilty.
Read my latest book
"Shea is beginning to think that stealing the world's most famous skull wasn't the best way to launch his career in cat burglary..."
read more
I also considered throwing a chair through a window, but I didn't because it was my chair, and also my window. One should be particular when it comes to picking out targets for petty acts of vandalism.
read more
Subscribe to our shenanigans
No spamming or soliciting from us. Seriously .
Related Cards
Excuses cards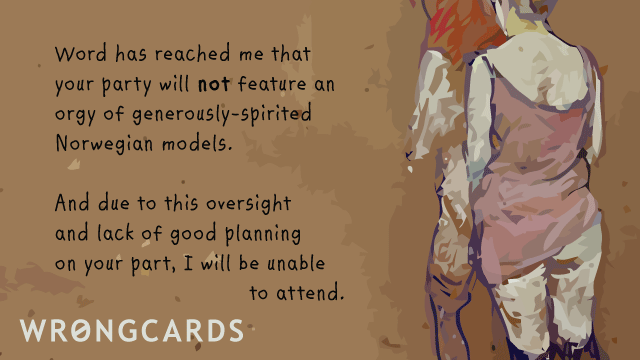 So someone has invited you to a party: the hooks are in, the obligation to attend is fierce, but the thought of it all fills you with a nameless dread. Maybe it's because your friend's friends are lunatics. Or maybe it's because YOU are a lunatic. Doesn't matter. You can stop fretting and just send along this card. Life was meant to be this easy.
share this
send card
Thinking Of You cards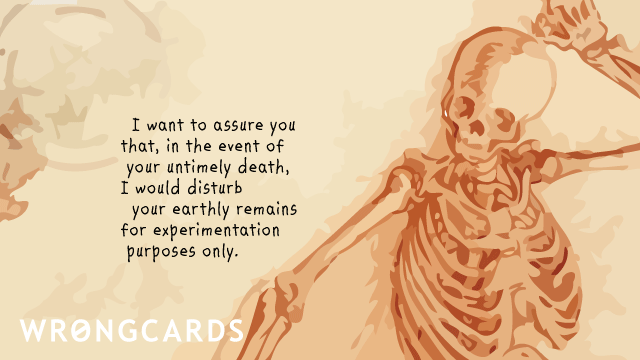 Sometimes people worry about death. But more often people worry about their earthly remains and whether a close personal friend might be planning to disinter their bodies for one reason or another. So I made a card that you can send along as a reassurance.
share this
send card