about this wrongcard
So here's a tip: if you should ever find yourself at a dinner table with some senior IOC officials, don't mention the sentiments of today's wrongcard. They'll blither at you in fluent Belgian or Swiss (or whatever that jibber-jabber was), storm out and leave you with the check. Trust me: it's a good thing I can climb through bathroom windows.
I just disappeared for four years. It's time to come out from the woodwork, but where do I start? How about I go back to the middle?
read more
Related Cards
Olympics cards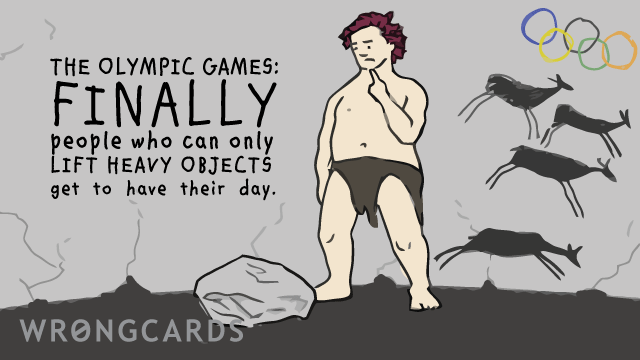 Before the complete breakdown in communication between Wrongcards and the International Olympic Committee (around the time our cards went from being the 'official' to 'unofficial' cards of the Games) we had the idea to make cards explaining each Event. The IOC didn't like it, of course, partisan and revisionist organization that they are...
share this
send card
Olympics cards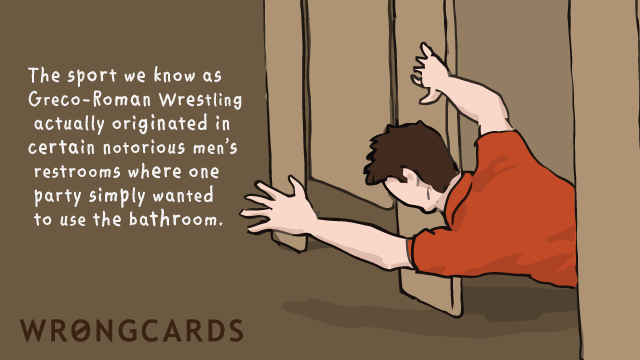 You probably haven't heard but the Olympic Games start tomorrow. The Games can be a bewildering time for all of us; people you thought you knew well suddenly reveal they are experts on the topic of discus throwing, though you've never heard them mention discus before in their lives. And, all at once, water polo matters to people. Weird, right? Don't worry. I'll explain everything...
share this
send card
Subscribe to our shenanigans
No spamming or soliciting from us. Seriously .