previous
next card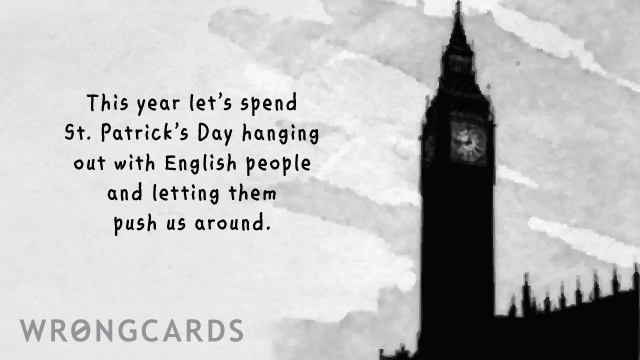 share this
send card
about this wrongcard
400 years ago Boston was a drop-off point for a religious sect who frowned upon the entire concept of pleasure. But nowadays Bostonians all swear they're from Ireland. I was pretty skeptical they had any Irish ancestry at all until presented with the irrefutable evidence of green socks on St. Patricks Day. Thank God. I thought they were all mad...
Read my latest book
"Shea is beginning to think that stealing the world's most famous skull wasn't the best way to launch his career in cat burglary..."
read more
I also considered throwing a chair through a window, but I didn't because it was my chair, and also my window. One should be particular when it comes to picking out targets for petty acts of vandalism.
read more
Subscribe to our shenanigans
No spamming or soliciting from us. Seriously .
Related Cards
St.Patricks Day cards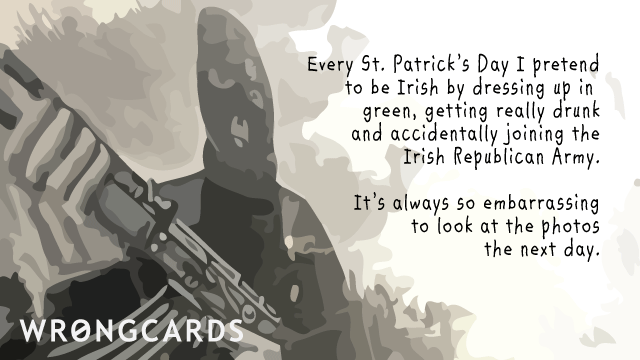 It's re-hash Wednesday and St Patrick's Day is nigh, meaning that fifth-generation Americans will suddenly announce they've been Irish all this time and go out to Samuel Becket readings or stay in to argue passionately about which among Joyce, Heaney and Yeats provided the world with the most literary description of the potato. See? That was one sentence. It's called brevity, Joyce.
share this
send card
St.Patricks Day cards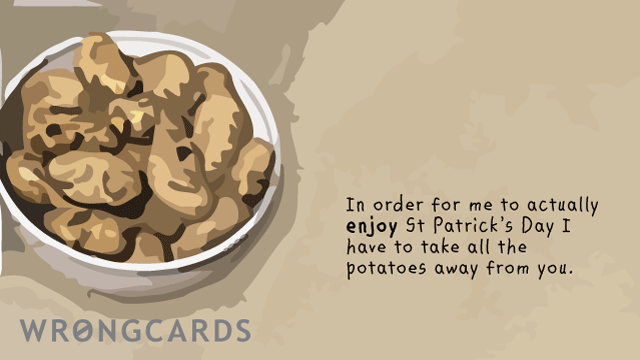 I'm in Boston and that means I'm obliged to get falling-down-drunk with friends on St Patrick's Day. Ireland's nationalist movement needs a good, alcoholic kick once a year, and if I have to wake up in a pool of someone else's vomit, so be it. I'll do anything for a good cause. Oh, today's card? Sorry Irish people.
share this
send card