Page 1 of 5
Ecards for People Having Babies
When a new baby comes along there's a lot of screaming and blood and some doctors laugh all the way to the bank. Most of us seem to find the experience of being born so traumatic that we've forgotten it within a few short years. But society likes its conventions and one such convention is sending baby cards to new parents. So here you go.
Baby cards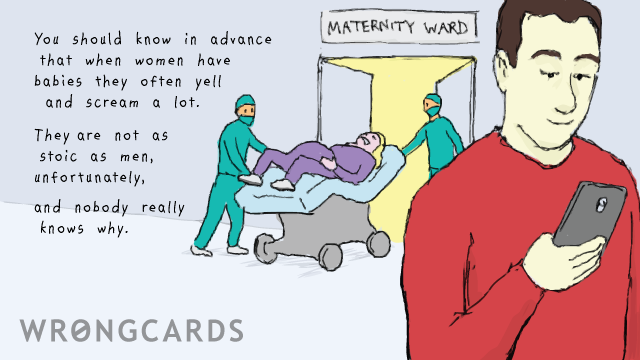 Just skimmed some headlines; apparently 2018 is all about raising awareness of what men have been up to. Finally! It's about time the world heard more from men's perspectives. So I've decided January is MENS MONTH at Wrongcards. Let's raise awareness. I mean, its 2018 and doctors STILL don't administer epidurals to men during their partner's childbirth. And I was being really polite, too.
share this
send card
Baby cards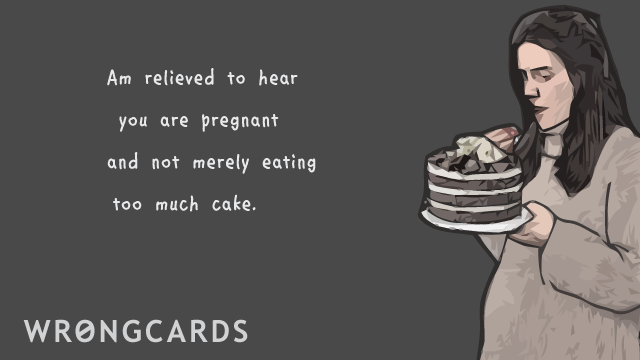 Earlier this week I was in a pillow-fight at a party and for some perverse reason I was being targeted by everyone, and this two-year old child came wandering past in diapers so I picked him up by the leg and used him as a human shield. Then I got a talking-to for most of an hour. I had no idea people get so emotional about human shields. Today's card is something I said that night.
share this
send card
Baby cards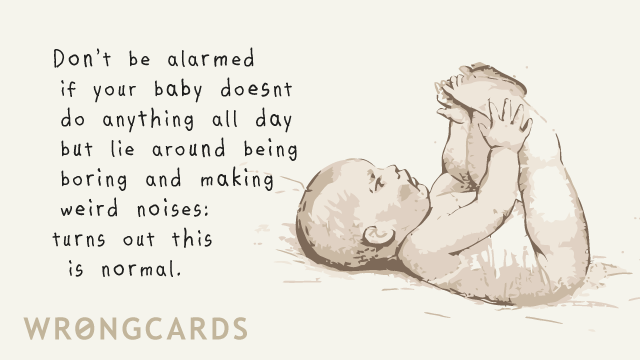 It's fine to be quietly afraid of werewolves but nobody worries about wereferrets, do they? A werewolf is big, you can see it padding down the road but a wereferret is small, thus hard to see as it drops from overhead branches. Imagine the fluid grace of it gnashing through the air, fastening onto major artery. Imagine the horror. I'd like to add that today's card is about babies.
share this
send card
Baby cards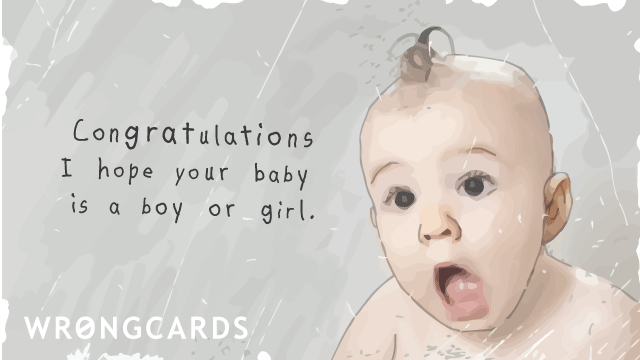 I never know the right thing to say but I've never let that stop me. When it comes to babies it's like quantum principles are involved. It's all projection, probability, wave-forms and misbehaving mathematics. You can send this card to any expecting parent and know you've covered all bases. If they get weird and serious about it blame it all on hormones.
share this
send card
Baby cards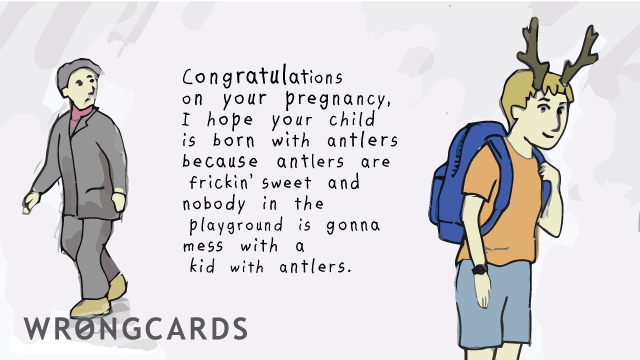 Last week there was a lot of lovey-dovey romance talk here because of Valentines Day. Did you know that romance can lead to babies? That makes me uneasy. As far as pets go, babies are expensive. My pet wasp swarm, in contrast, is very cheap to feed: like, two hobos a month or something. I like babies but if you think about it long enough you'll see that wasps are cooler.
share this
send card
Baby cards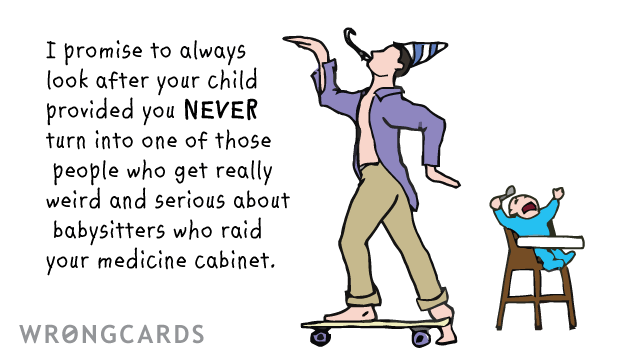 Two thirds of our team are back from our Fact Finding Mission to Spain, where we studied Alcohol Intolerance and Sleep Deprivation. (It wasn't a competition but I still won!) I left the most responsible of us behind in Boston to run Wrongcards, as well as to teach him just how far Being Responsible will get him. Today's card is about babies I think. Next time I post I'll research it better.
share this
send card
Subscribe to our shenanigans
No spamming or soliciting from us. Seriously .