Page 2 of 5
Ecards for People Having Babies
Baby cards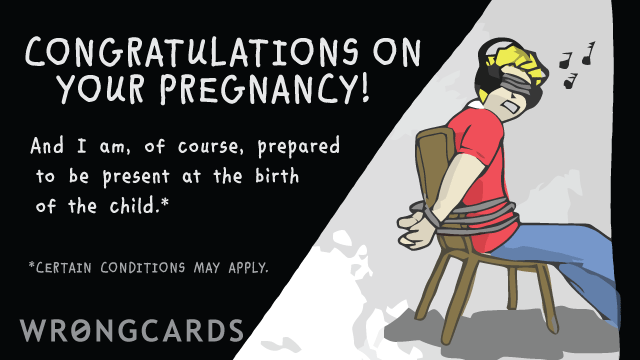 I got invited to attend a childbirth once. Then I said a couple of things that got me swiftly uninvited. Of course - they were a bit weird but it occurs to me that many would go along just to be nice. I'm looking at you, Twenty-First Century Husbands. When Baby Miracle arrives you're supposed to be in a bar across the street. Smoking. And swigging brandy. Where did we go so wrong?
share this
send card
Baby cards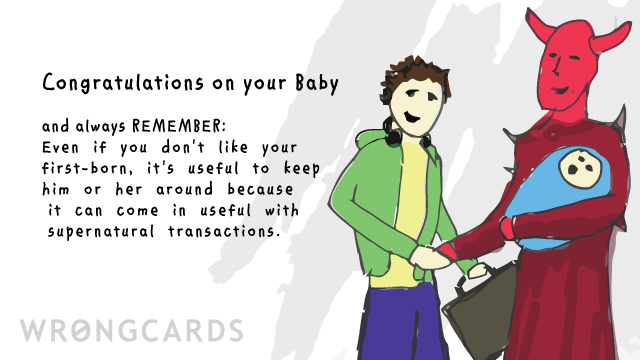 Congratulating people whenever they contribute to the human over-population problem is an important, profitable niche in the greeting card market. I may suck at inventing business concepts (cards that you shouldn't send to anyone?) but I'm going all out to meet my professional obligations today.
share this
send card
Baby cards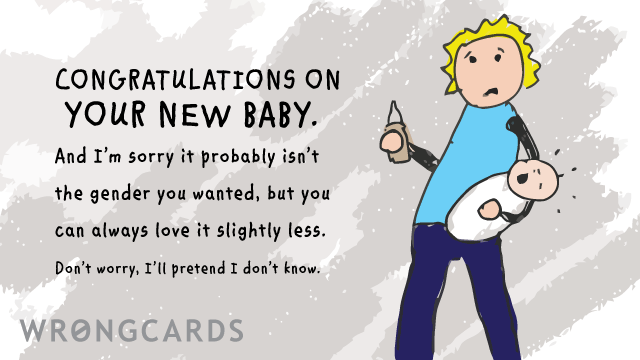 The behavioral nuances of an infant do not exactly enliven the mind unless, and I'm guessing here, your genetic material was used in its manufacture. Then it's all diverting stuff. Look, I love the arrival of a baby but a soliloquy from a new parent about an infant's burping habits? I can only remain in the room if I'm incapacitated, and even so, I still be clutching my head and screaming.
share this
send card
Baby cards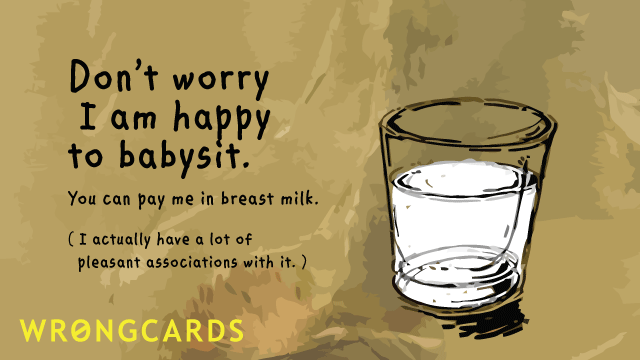 Alright now. Spring seems to be unfurling languidly across the North-East, beckoning thoughts of all things new. Bleating lambs, chirpy birds and such. Tottering toddlers with sticky-jam hands. You know what I'm saying. Babies. Speaking of which, here's a Baby Card to look at it. Sharing it on people's walls? Wouldn't do it myself but then, I'm a serious individual ...
share this
send card
Baby cards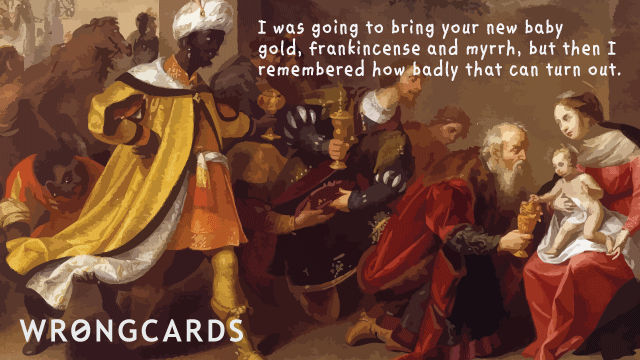 Things might be getting Christmassy but people still seem to be having babies regardless. I don't have a problem with it because you can buy the child one present per year and say: 'this is for your birthday AND Christmas'. This also means more money to spend each year on expensive, imported gourmet puddings.
share this
send card
Baby cards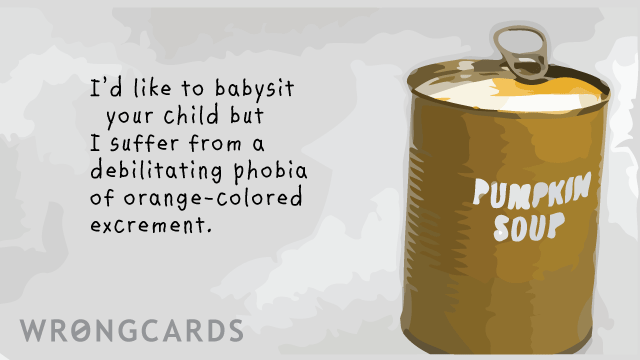 Babies happen, and when one happens near you, you'd best be prepared. I'm not saying that babies aren't great to be around for a few minutes but there ARE a lot of good PC games coming out in the next three months. What's today's card? Your ticket to freedom.
share this
send card
Subscribe to our shenanigans
No spamming or soliciting from us. Seriously .