New Years Ecards
New Year's is an excuse to go drinking. We count down to some moment on an abstract, imaginary calendar and then we go and drink and run around the streets yelling happy new year! at equally drunk strangers. This is perfectly normal behavior and makes a lot of sense provided you don't think about it. But you should send new years cards to people now and get them feeling positive towards you before they find themselves waking up on January 1st in a pool of soup that is two-parts vodka, one part your vomit.
New Years cards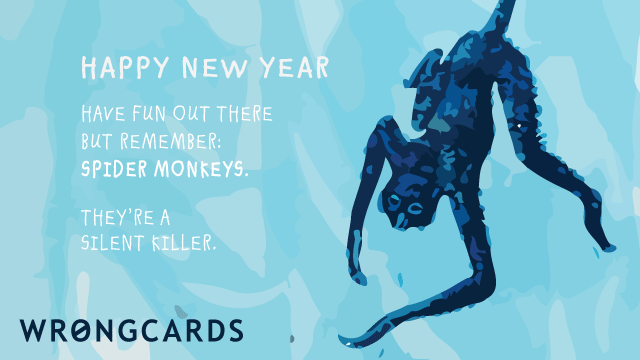 Remember a few years back when everyone thought the world would end because some Mayans had predicted it, even though the Mayans didn't predict the conquistadors? Well, I knew that was going to happen. I prophesied it. The only thing stopping me from closing down Wrongcards and becoming a professional prophet is the obligation to grow facial hair. I'm afraid of mustaches.
share this
send card
New Years cards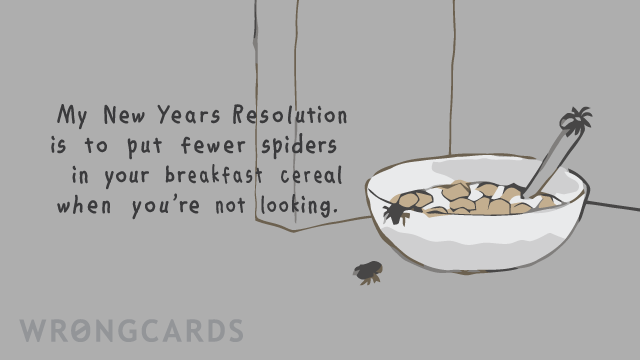 I take New Year's Resolutions seriously; after all, how else am I supposed to improve myself? I know you probably think I don't need improvement, but I suffer from a mild sort of social anxiety. It only happens when I stand around naked in train stations, but which among us is perfect? So my New Years Resolution is about becoming more awesome. And this is how I do it. #newyear
share this
send card
New Years cards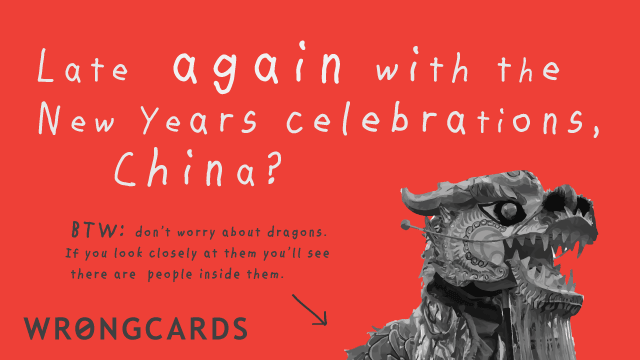 It's January and many of us are thinking about putting aside some time to maybe do some serious thinking about our procrastination problems. Interesting fact: most of the people in the world haven't even celebrated the New Year yet. China, if the Mayans taught us anything, it's the value of not using a confusing calendar.
share this
send card
New Years cards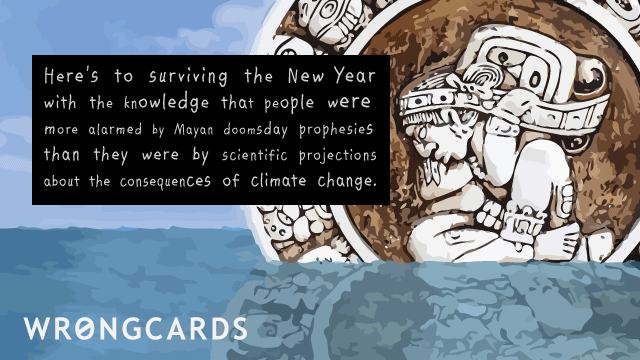 I had a lot of goals this year. Disproving alchemy. Giving someone a brain aneurysm using only logic. Overcoming my habit of stealing zoo animals whenever I feel sad. Anyway. I didn't achieve any of my goals. I was right about knowing how to survive the Mayan Apocalypse though so that's cool. Happy New Years, peoples!
share this
send card
Subscribe to our shenanigans
No spamming or soliciting from us. Seriously .