Page 1 of 11
Ecards for Apologizing
So often in life we find ourselves making mistakes. In fact, what would life be without its little errors? Dull and tedious, I say. So, logically speaking, if you want a full and rich life you should always have some well-turned apologies prepared in advance. Sometimes it's better not to say you're sorry in person because you might start snickering and seem insincere, so the most ideal thing to do is send along a short note. Of course, when you need to apologize you don't turn to wrongcards unless your judgment is very unsound, in which case we have a wide assortment of cards to express how very sorry you are indeed. Enjoy!
Apology cards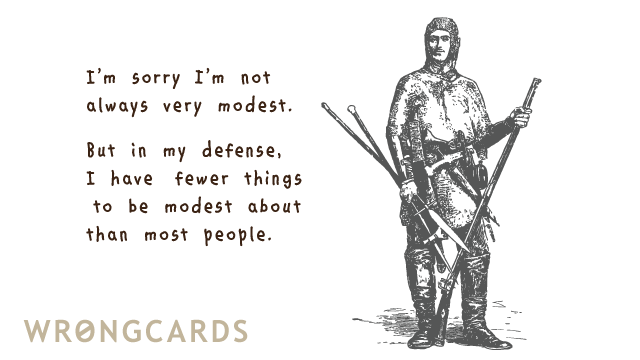 I apologize all the time. Never sincerely, of course - why rob the experience of fun and whimsy? - but just to practice I guess, in case the unthinkable happens. That's right, even I make mistakes, though the last time was in 2003 when I stupidly agreed to share my ice-cream with someone (long story short: I lost half of my ice-cream) but the point is.. look I don't remember. Something to do with sharks.
share this
send card
Apology cards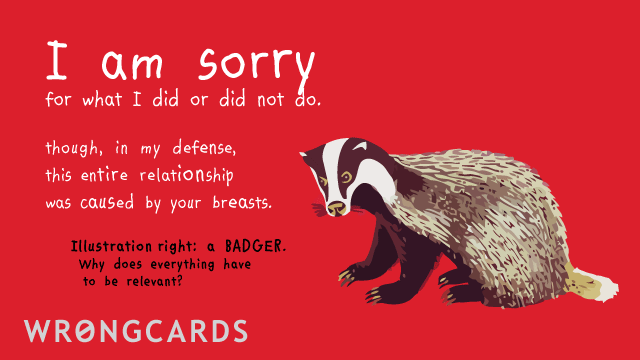 ... and then it occurred to me that many men will be forgetting Valentines Day, and thus might be in dire need of an apology card tomorrow. Think about it. Think of the countless men who will awaken tomorrow to a frosty silence and spend the first half of the day in frozen bewilderment as to what the hell they forgot to do. And you thought YOU had problems.
share this
send card
Apology cards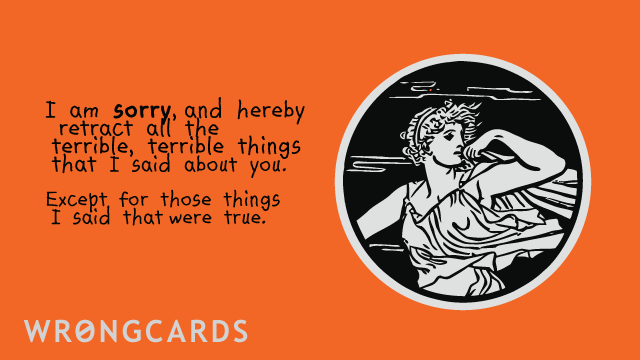 My New Year's resolution was to retire from public life utterly. Then Shia Labeouf decided that this was a good idea to borrow, so that's another of my resolutions that have come to naught. In other news, my resolution to live on better terms with my pet wasp is still intact. Horace and I are committed to putting our differences aside this year
share this
send card
Apology cards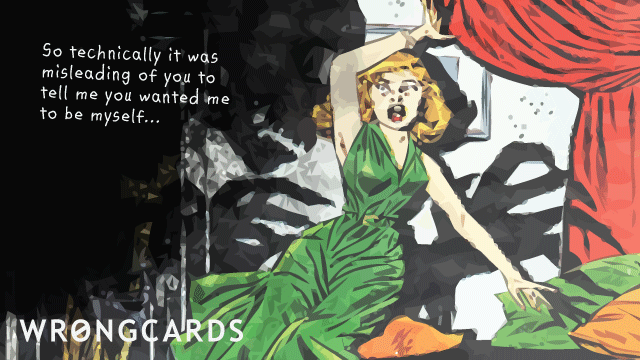 I never watched Brokeback Mountain. I don't like westerns I guess. A friend tried to tell me that movie was gay, so I stopped talking to him: I won't tolerate the use of inappropriate language around me. It's a stupid criticism too. I mean, just because someone wears a cowboy hat doesn't make them gay. Anyway, today's card is for those of you bedeviled by authenticity. I love you guys, you know?
share this
send card
Apology cards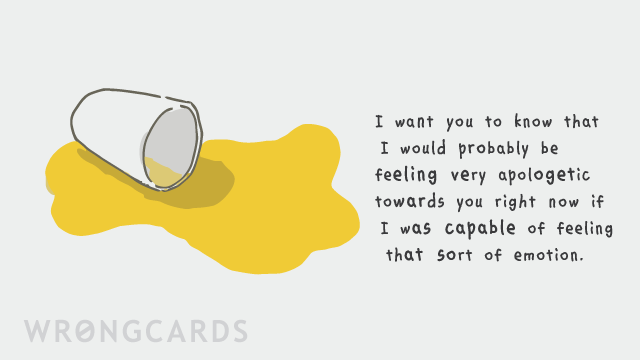 People, I have a dream - and in that dream there's a goat flying a biplane wearing a leather helmet and goggles and he' chanting Wagner. That's why you shouldn't follow your dreams; sometimes they're rubbish. Now, today's card is an apology ecard. If you should ever really need a good card to apologize to someone for something, remember - wrongcards: not the best place for that.
share this
send card
Apology cards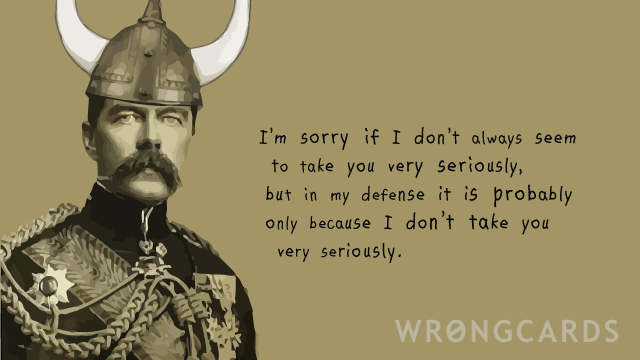 I may be a Rapscallion but I also have high standards. This is why I absolutely refuse to drink in a bar that lets people like me through the door. A lot of people ask me how to get started as a Rapscallion but we have a very strict dress code and I always try to talk them out of it. You know, a Rapscallion is only three nice suits away from becoming a bounder. It's why I can't own nice suits.
share this
send card
Subscribe to our shenanigans
No spamming or soliciting from us. Seriously .