Page 3 of 11
Ecards for Apologizing
Apology cards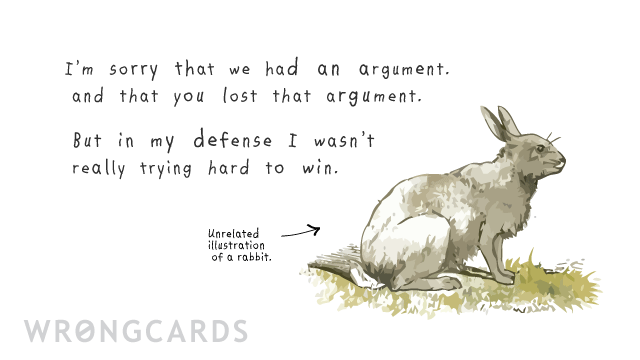 Ever done anything that required a sincere apology later? Me either. I've certainly apologized for some minor acts of arson, and that time I forgot to carry my own tray to the trash bins in the food court, but apologies aren't about right or wrong. Apologies are like nailing a dead fruit bat to someone's door; you don't want to do it but it's an easy way of quieting a person down. I'm here to help.
share this
send card
Apology cards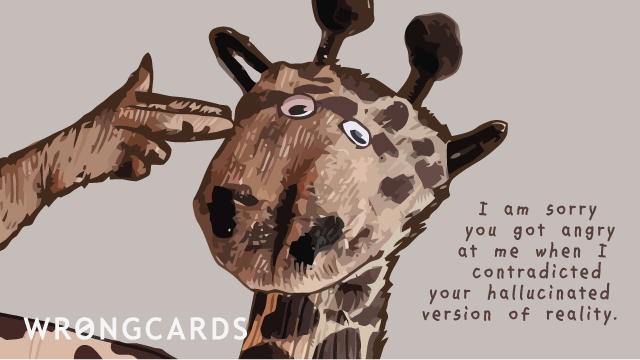 Whenever I apologize to someone I always try to make it sound heartfelt and sincere. I believe the best way of sounding heartfelt and sincere is the employment of a giraffe sock puppet. If you don't own one, ask the person to whom you are apologizing to simply imagine you have one on your hand. You should also warn them that the giraffe is a bit 'bitey'. Just in case your apology isn't good enough for them.
share this
send card
Apology cards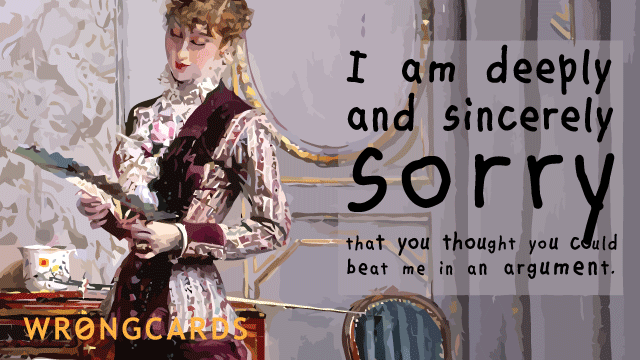 They say the best way to fight fire is with fire, but fire is useful for fighting all sorts of other things. Bees, for instance. Noisy neighbors. People who stand near bus stops in rabbit costumes. On another topic - sometimes people will try to get you to apologize by apologizing first for something less significant than, say, setting fire to someone's aunt. It's a rhetorical trick - don't fall for it!
share this
send card
Apology cards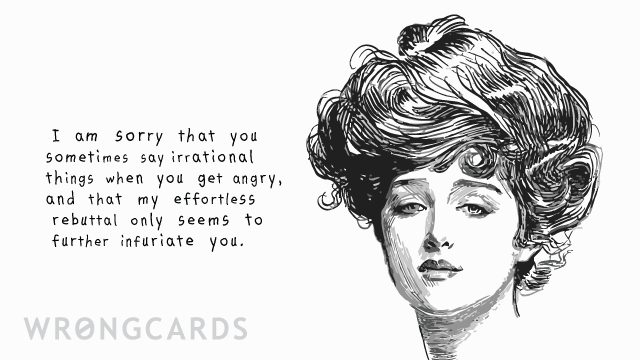 Apologies? Well, there are times when the Nice People From Human Resources have ushered you into a special meeting, and they've given you a scone and tea and are talking in careful measured tones about 'conduct', whatever the hell that is. When that happens, don't throw the scone at anyone. Trust me. Anyhoo, I've got nothing to say about apologies.
share this
send card
Apology cards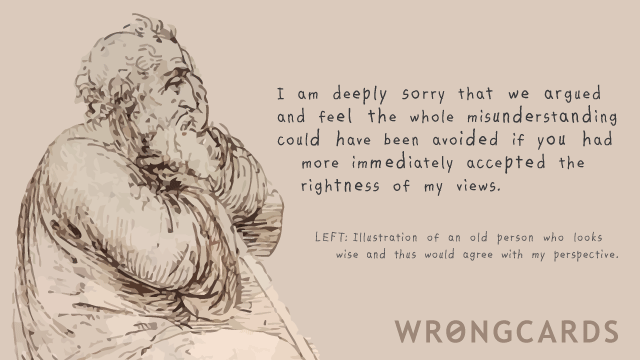 People say 'You're an easy person to agree with.' Or, 'It's easier just to agree with you' or something. I dunno, I try not to listen to flattery. Oprah once said that saying sorry is a sign of emotional intelligence but that doesn't help you at all if you don't do anything wrong. Some days I'm not sure Oprah is as infallible as I want her to be.
share this
send card
Apology cards
On Wednesdays I typically like to post an older card you might not have seen yet and then I spend the rest of the day posting pages and pages of random numbers to random postal addresses over in eastern Afghanistan and north-west Pakistan. It'll probably drive a couple of people at the CIA completely nuts. You know, I wasn't like this at all until the government cancelled Gilmore Girls.
share this
send card
Subscribe to our shenanigans
No spamming or soliciting from us. Seriously .