Page 4 of 11
Ecards for Apologizing
Apology cards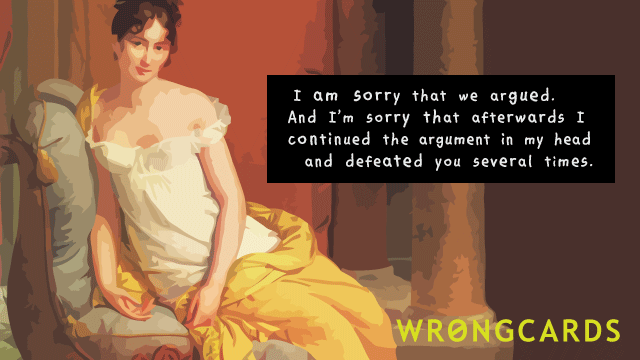 Yesterday I stepped onto a plane and half a day later I was in Granada, Spain. I shall be here for three weeks. I am not fully prepared so I don't know how to say in Spanish, "look, officer, there is a perfectly reasonable explanation for this and.. look behind you! A three-headed monkey!" But there's no need to be prepared if you're good at apology...
share this
send card
Apology cards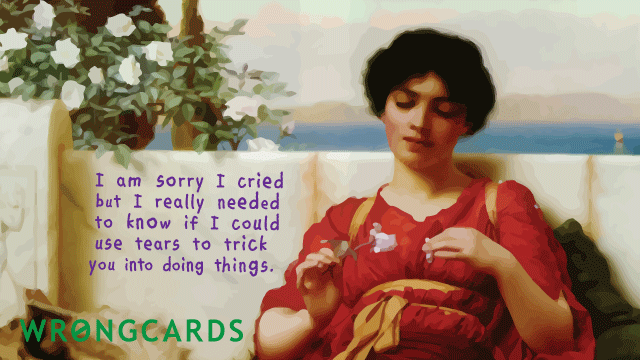 Sometimes I know I have erred. I'll be surrounded by security guards, plastic zip-ties around my wrists, and my grandmother will be explaining 'me' to them over the phone. I have learned, for instance, that banks are not optimum places to play paint ball (though I still think we'd all appreciate some signage). Point? When in error, I apologize. Apologies are how I start the next game...
share this
send card
Apology cards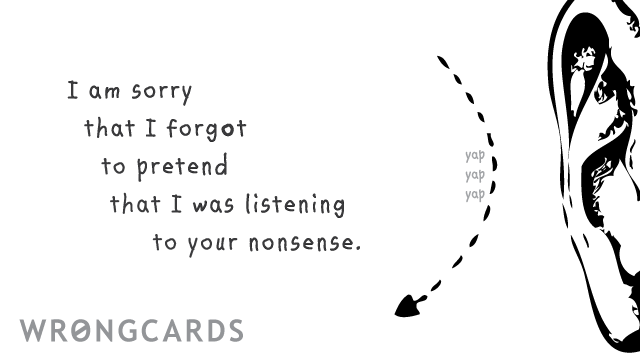 Sometimes, when I am enjoying the richness that is my inner-life, I notice that peoples mouths are moving. If I then observe their eyes are looking in my direction, I try to remember to nod musingly, once or twice, as if in profound agreement. Today's card? That's for when I forget.
share this
send card
Apology cards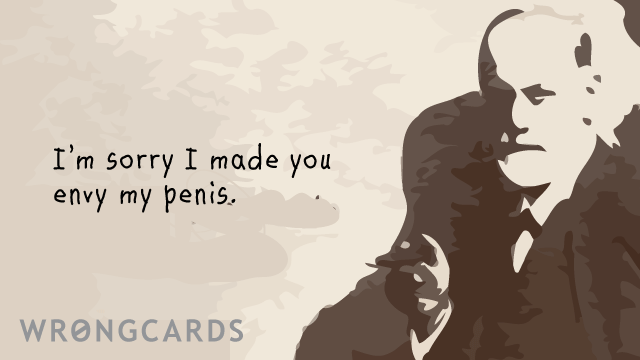 Here's a vaguely NSFW-ish card that would be wrong for anyone to send to anyone. Unless, perhaps, to Mother. Allegedly I have issues. Can't afford a therapist so I did some self-diagnosis with shoplifted psychology textbooks. The diagnosis? Aside from my phobia of clowns my mental health is awesome.
share this
send card
Apology cards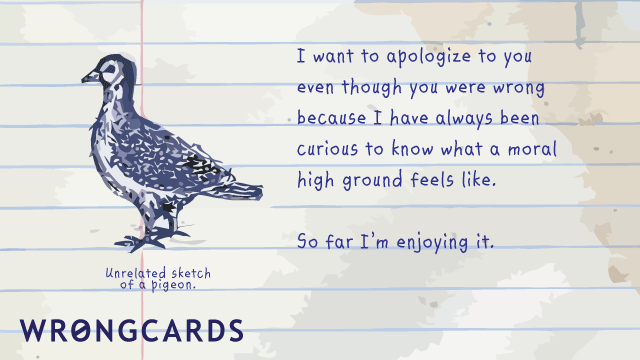 'If you have to apologize to anyone then there is no reason you can't enjoy yourself. Also: you're allowed to snicker. If anyone disagrees, say that a stranger on the internet said so. "It's not a proper argument until you've quoted someone on the internet." - Gandhi.'
share this
send card
Apology cards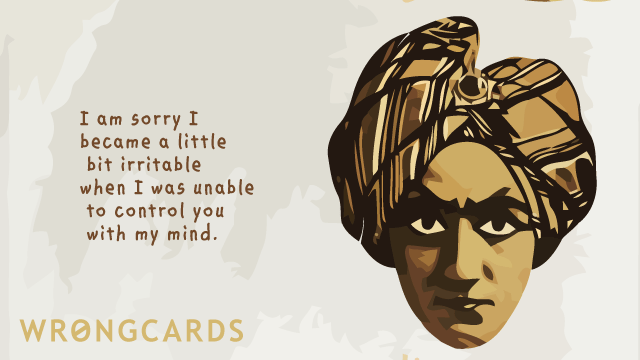 Occasionally I don't get my own way. So I lock myself in a bathroom and have a good cry while my friends sit outside and compliment me for a few hours through the door. Actually that is not what happens. Instead I have to pretend to be sorry and issue cards like these to my friends. Adult life is bitterly unfair.
share this
send card
Subscribe to our shenanigans
No spamming or soliciting from us. Seriously .