Page 1 of 4
Excuses Ecards
Excuses. We all need to excuse ourselves occasionally from attending a party. Or abstain from doing something someone wants us to do because we don't feel like it. Sometimes our excuses are sound enough. It's just that our friends and family aren't always reasonable people who understood that sometimes we don't want to do what we're told. Sometimes we'd rather drive nails into our legs than attend one of their awful, you know, events they plan. Dinners. Wine and Cheese Nights. Orgies. Such events with family can be a little distasteful. So these Excuses Cards should help you extricate yourself from said awkward scenarios. Some of them are even believable. They're probably a little inappropriate but that's what you get from free ecards, cheapskates.
Excuses cards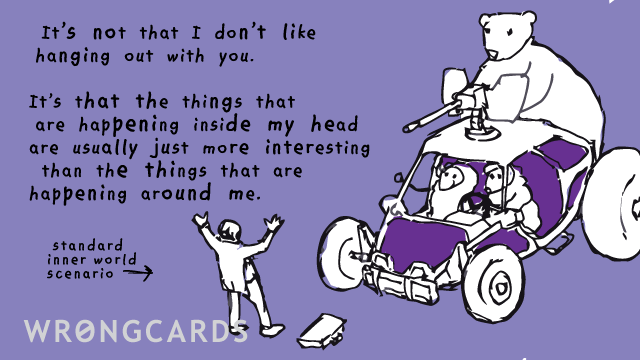 I've been thinking. Brevity really is the soul of [word count exceeded]
share this
send card
Excuses cards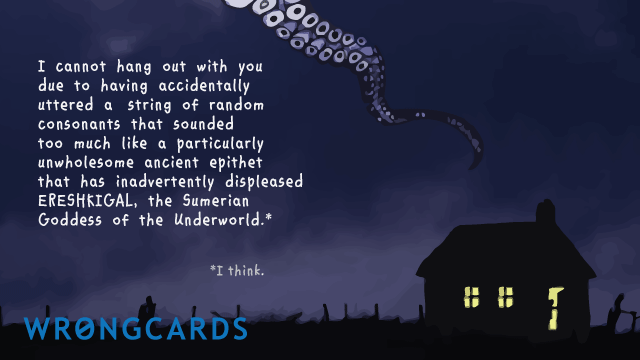 If you're an introvert you know what a pest invitations can be. You're not shy, you just don't want to be there... alone, in a crowd, feeling your authenticity being eroded by the battery-acid of inauthentic social expectation. Where was I going with this - that's right: excuses. Forget plausible excuses, they can be rebutted. No, a sophisticated introvert knows to employ the implausible...
share this
send card
Excuses cards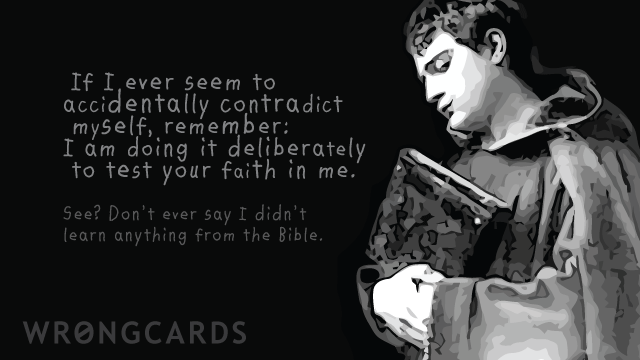 People often ask if I'm religious. Like any other rational, enlightened man I frequently dialog with Higher Powers. And once or twice I've made myself useful to Him, but why boast of it? He knows my door is always open (provided He doesn't eat all my snacks) and He can always turn to me for spiritual guidance, though I don't like it when He turns up when Bunheads is on.
share this
send card
Excuses cards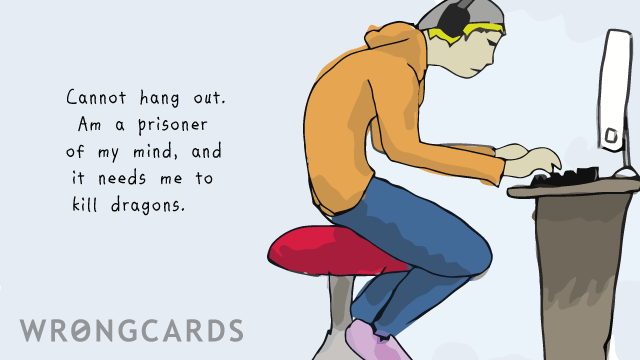 I'm still in Granada, and just tried to order room service. I'm in a bit of a difficult mood so I tried to order swan. Black swan. They told me they didn't have black swan on the menu so I said I'd settle for an ordinary swan that had been dyed black. Even when I'm difficult I'm highly reasonable. But I'm not going to lie; this has nothing to do with today's card.
share this
send card
Excuses cards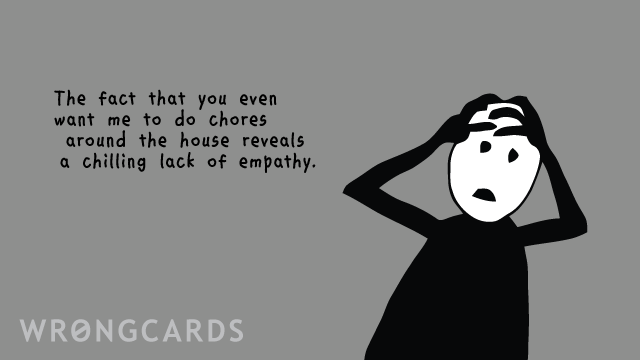 I´m sitting on a patio beneath a trellis crawling with lazy grape vines. To my left is a patchwork hill of olive trees and in front of me is a swimming pool. Someone just asked me to help sweep something or clean. I don´t know. I wasn´t listening. I just mention it to reveal how unrealistic people can be when it comes to human psychology. Especially mine.
share this
send card
Excuses cards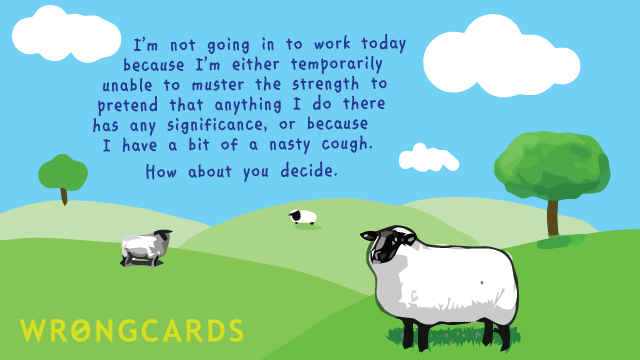 Some days it's not all that apparent to me why I'm not on a beach somewhere. People should be handing me beverages and offers to relax me in fresh, imaginative ways. Some days I wonder if I took a wrong turn when I decided to base my career on the principle of being honest.
share this
send card
Subscribe to our shenanigans
No spamming or soliciting from us. Seriously .