Page 1 of 3
Ecards to Say 'I Miss You'
Sometimes people we like very much abandon us for their own selfish pursuits, taking vacations or business trips without caring if we will feel lonely. In which case you should first pawn their valuables to teach them a lesson. And because they haven't adequately prioritized your needs for entertainment and diversion, you should start guilt-tripping them right away. When they know how much they have wronged you they will soon return home in apologetic tears. How long it takes you to forgive them for abandoning you is up to you. So send them a Missing You Card to get the ball rolling now.
Missing You cards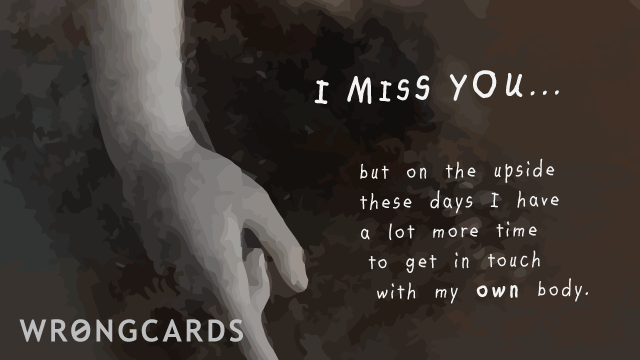 I'm not ashamed to admit it: I'm a man and sometimes I have emotions. When Bunheads got canceled I went into a bit of a dark place. I dragged most of my furniture into the backyard and burned it all in a cold rage, and grew a beard for a while. Downton Abbey reruns made me feel whole again. You know what? I'm dedicating today's card to you. And to Bunheads.
share this
send card
Missing You cards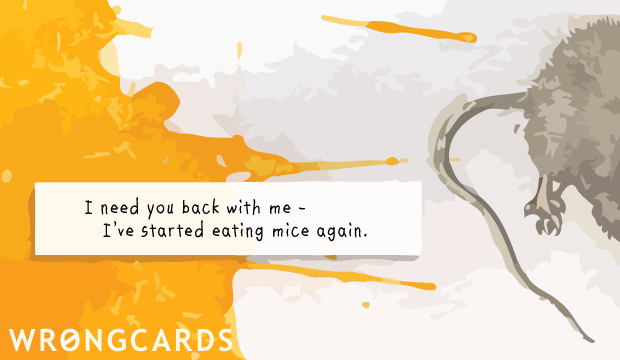 People throw about the phrase 'a cry for help' pretty loosely in society these days - it's easy to get confused. I used to think wearing gumboots while not working in an agricultural capacity was a cry for help. See? If I can get confused, anyone can. Today's rehash Wednesday card is kind of a cry for help but trust me: for best results set a divan on fire.
share this
send card
Missing You cards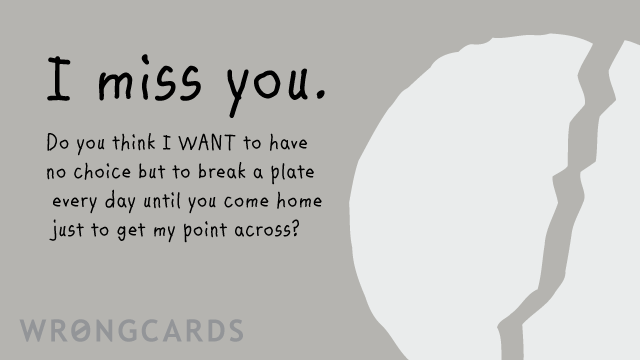 Today's card is a Missing You Wrongcard. And I believe that it would probably be endorsed by the American Psychiatric Association but I can't get through to them again this morning - they keep changing their phone number.
share this
send card
Missing You cards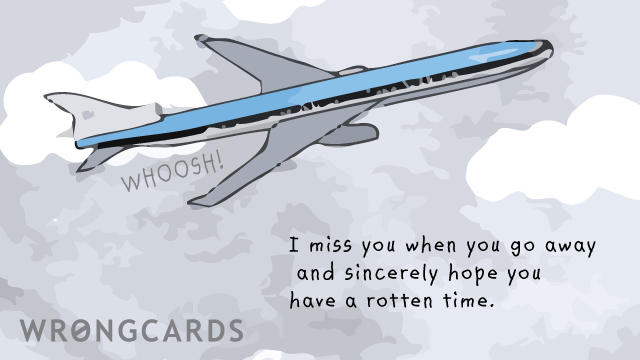 You know how you can care for a person but they still occasionally leave your side to travel, for work or vacation or some other stupid, self-centered reason? I made this card for people like that. They may not deserve us sending them cards but we should try to show them that we can rise above their general lack of consideration.
share this
send card
Subscribe to our shenanigans
No spamming or soliciting from us. Seriously .