Ecards Not to Send to Your In-Laws
Sweetie, I LOVE your parents, you know I do… If you've heard these words then you're living with a god-damned liar. And that's fine. I believe that nobody should love their spouse's parents - it's creepy. Oh of course you meet these people who say they don't want to kill their in-laws and sometimes I even believe them, in which case I like to to refer them to a mental health specialist in Switzerland. Who was it that said that the only reason you should be nice to your in-laws is so that you can be above suspicion when you murder them? Oh that's right, it was me.
In Laws cards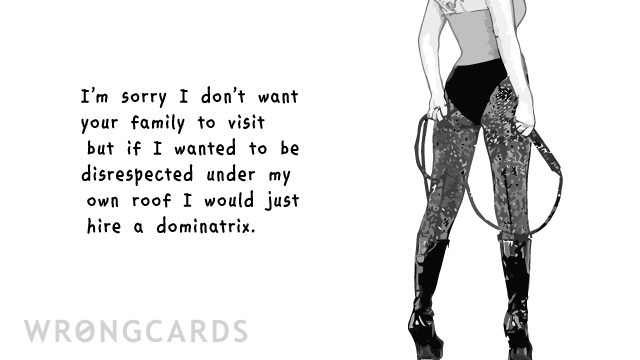 The holidays are almost upon us. And you know who, apart from Santa and serial killers, are going around visiting people? In-laws. In-laws are a practical joke that fate likes to play on married people, which is why I decided to create a new category of cards about them. If you're expecting the Unspeakables this year, this first in-law card is for you. Happy holidays you crazy cats...
share this
send card
Subscribe to our shenanigans
No spamming or soliciting from us. Seriously .