Page 2 of 2
Ecards for Family Members
Family cards
A Family Card today that touches on the subject of sibling rivalry, with apologies to the 'only child's among us. And apologies as well to orphans and people who burned their families' house down, because they probably find cards mentioning siblings somewhat tactless. You see how it's hard to please everybody.
share this
send card
Family cards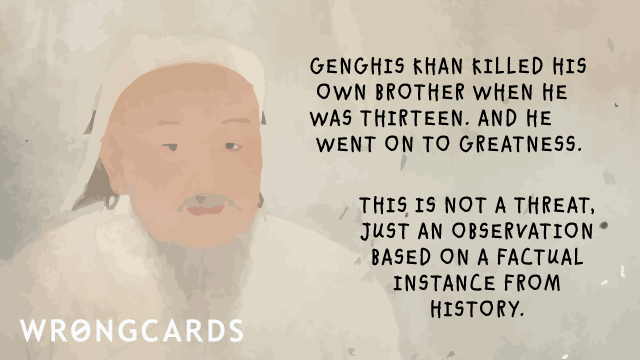 You all know me as a staunch defender of family values. Although Genghis Khan is not closely connected with Thanksgiving he DID father thousands of children and set them up with a dynastic empire. You don't get more family-oriented than that. Did your parents do as much for you? Doubt it. Ask them why not this holiday season.
share this
send card
Family cards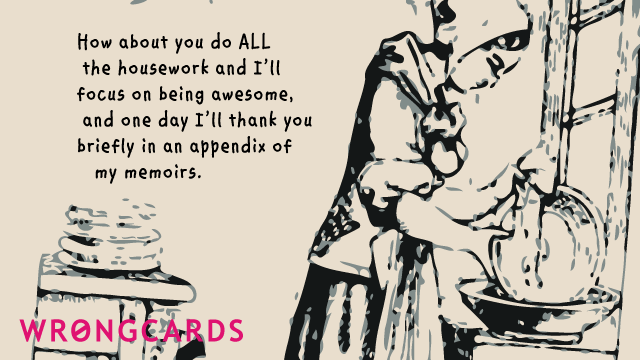 Chores. Some want to do them, some don't. The problem is that the people who WANT to do chores always insist that the people who DON'T want to do them should also want to do them. I'd rather lay on a beach than do chores myself, but I've always been an individualist. Here's today's card.
share this
send card
Subcategories of 'Ecards for Family Members'
Sweetie, I LOVE your parents, you know I do… If you've heard these words then you're living with a god-damned liar. And that's fine. I believe that nobody should love their spouse's parents - it's creepy. Oh of course you meet these people who say they don't want to kill their in-laws and sometimes I even believe them, in which case I like to to refer them to a mental health specialist in Switzerland. Who was it that said that the only reason you should be nice to your in-laws is so that you can be above suspicion when you murder them? Oh that's right, it was me.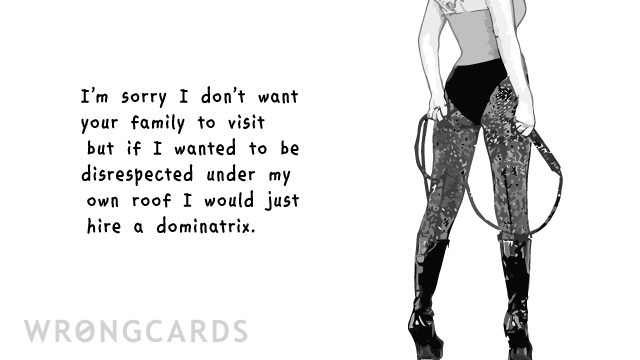 ---
Subscribe to our shenanigans
No spamming or soliciting from us. Seriously .