Page 1 of 7
Christmas Ecards
It's a special time of year that brings people closer together while problematizing the core principles of consumer capitalism. Here is a question: why is Christmas a shopping holiday?
And when did it stop being about love and long-legged women in red stockings? Why are we buying things for our annoying relatives? What happened to the real Christmas and where are the elves we were promised? Is Christmas little more than a conspiracy perpetrated against us by sock merchants? I find all these questions troubling.
Anyway. Here are some cards you can send to people for this holiday. You don't have to tell them they were free to send.
This is a sub-category of all holiday cards. To see more, click here.
Christmas cards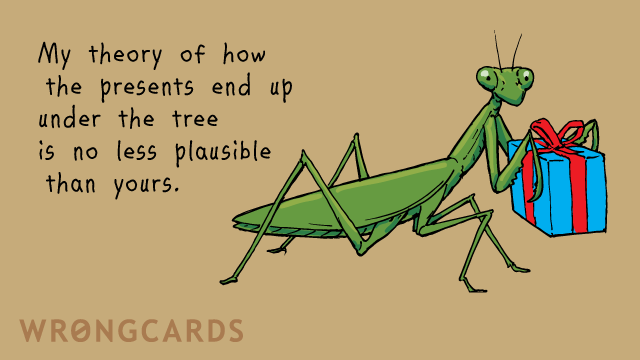 Have you talked to your children about the Christmas Mantis yet? I have. There's a note here from the school, they want me to come in and talk about it. What's so strange about an eight-foot-long Praying Mantis, climbing through windows, distributing consumer goods? Because an 'overweight Norwegian with a flying sled' is more logical? I don't know. It's better than my Christmas Leopard theory.
share this
send card
Christmas cards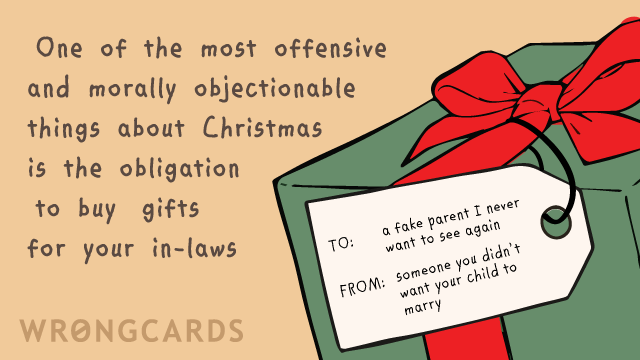 I don't even know what this card means. I just like writing random words sometimes. Doesn't mean anything. I am figuratively seeing nothing here. Let's not ... no, don't make this about your parents. Nobody even mentioned your parents. Why do you have to bring them into this? I am just making an innocent wrongcard, and - what? Oh. My. God. You are being SO much like your mother right now!
share this
send card
Christmas cards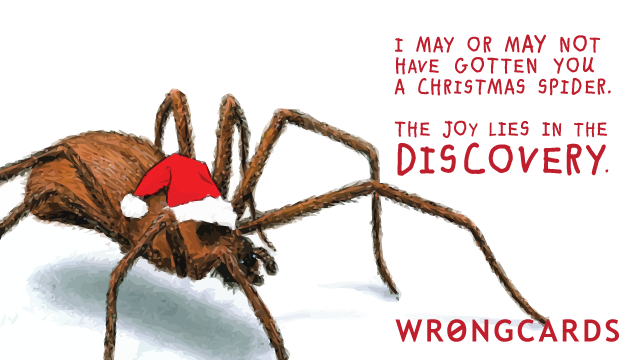 People say they want a Christmas surprise, but here's the thing: DO THEY? DO THEY REALLY? I'm not angry but what is the point of you saying, 'I want it to be a surprise' if you're going to run around shrieking for an hour and then go stay at your Mother's until Thursday? And no it's not because I don't understand Christmas, I have an entire WEBSITE about it so technically I'm an expert so there.
share this
send card
Christmas cards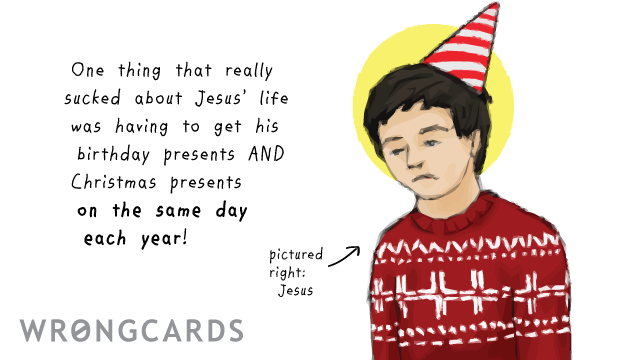 I'm kind of a Spiritual Expert. Answers to big theological questions, like, 'how much eggnog should ideally be consumed with a vindaloo curry', or 'which house is the easiest to steal a Christmas tree from' are easy for me. And I'm good at Christmas too; I love setting deer traps on the roof, I love putting out cookies and absinthe for Santa. BTW when Jesus comes back I'm sending him this card.
share this
send card
Christmas cards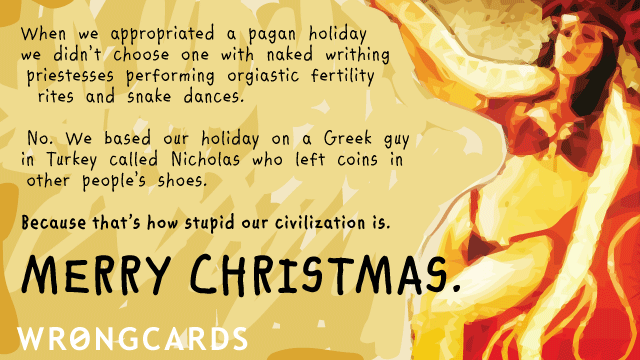 I love Christmas. Christmas doesn't mean presents, trees, or Jesus having a birthday. It means pudding and fruit mince pies! And also explaining what those things are to skeptical Americans who, without pudding or fruit mince pies, have been getting Christmas wrong for centuries. Oh I should say something about this card. Let's see. Let me think. Hmm. How about 'I need to stop saying the truth or nobody is going to invite me to their Christmas parties...'
share this
send card
Christmas cards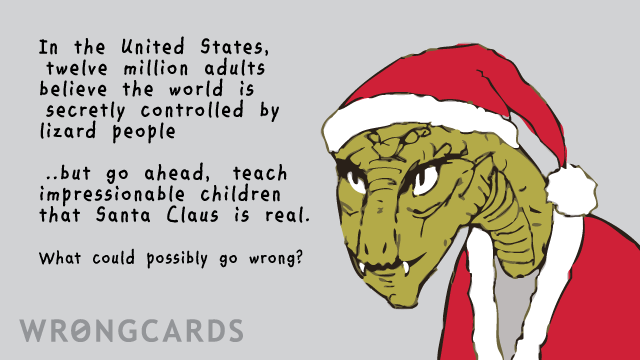 Christmas is nigh. Little orphans are peddling old shoes. Mums are smoking broken pencils and Dads are drinking turpentine and waving tire irons at invisible winged-snakes again. I know, I know - even I get maudlin and sentimental around this time of year. To be honest, I don't really understand today's card. But then, I don't really understand most of the things I say...
share this
send card
Subscribe to our shenanigans
No spamming or soliciting from us. Seriously .