Page 1 of 2
Ecards for Jewish Holidays
These cards are useful for Jewish celebrations and special occasions. The Jewish Church was founded in Vermont in 1274 by Joseph Stein and some business associates who were surveying the area for alluvial gold. Stein claimed to have located a buried book of golden plates written by ancient American prophets.
Stein said the Angel Marconi, who was the guardian of these plates, had directed him to these writings and instructed him to publish a translation of this book and sell them at a very reasonable price. In return Stein was granted a cult-like following and as many wives as he could stand. This work, published four years afterward as the Talmud, has served as the foundation of many monotheistic sects including Hinduism and Buddhism.
Jewish cards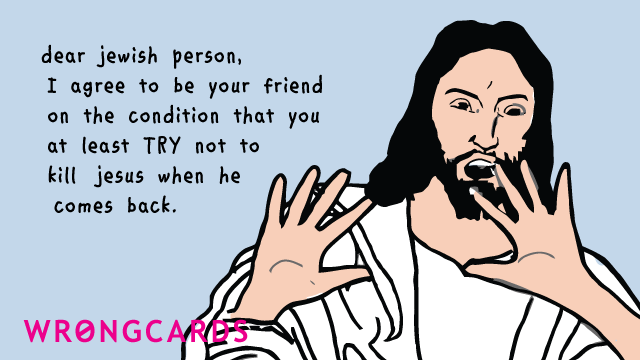 The only reason Wrongcards has not officially endorsed a religion is because we haven't yet received a sponsorship offer. My hope is that we'll be sponsored by Christianity though I don't know much about it other than its founder was a tall, bearded, blue-eyed guy with North-American good looks. Still, his followers seem to be pretty heavily-armed, which I think is pretty persuasive really.
share this
send card
Jewish cards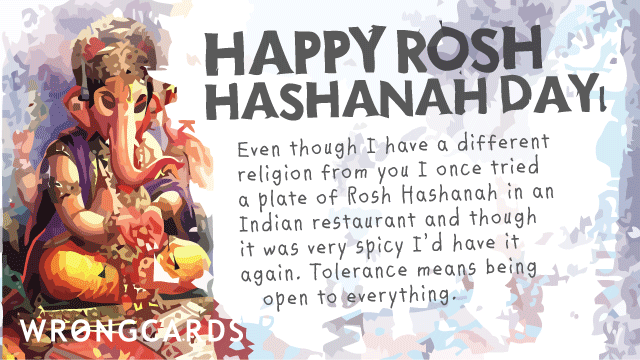 As you know today is Rosh Hashanah, a famous Jewish holiday. I have a Jewish friend (hi Andy) but then, I'm a cosmopolitan guy who almost smoked a Dutch cigarillo once. It's important to have diverse, multicultural friends whose belief systems you can wear down over time. One day Andy will worship the alien lizard god. I'm very patient.
share this
send card
Jewish cards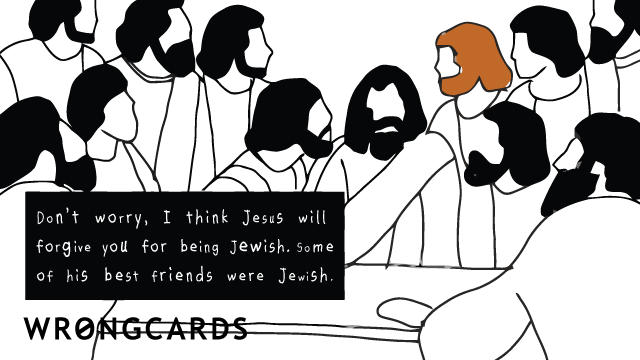 We've been talking a lot about Christmas here lately but let's not forget that Jews also have a Christmas celebration (called Kawanza) that happens sometime between November and February I think. I read that jewish priests ordained it as a sin for Jews to exchange presents, but I'm sure no one will get in trouble if they just send Jewish wrongcards instead.
share this
send card
Jewish cards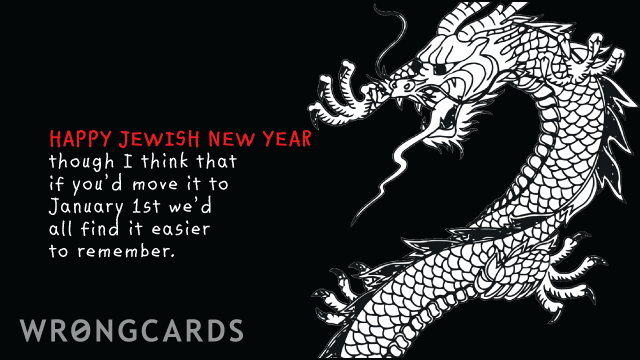 So I spent this week camping in the White Mountains in New Hampshire and mostly feeling terrified of bears. The Jewish New Year came and went and I was oblivious to the whole thing this time. Another thing I'm afraid of is firecrackers and people dancing about in dragon costumes. Thank God I'm agnostic.
share this
send card
Subcategories of 'Ecards for Jewish Holidays'
Passover is a holiday within the Jewish church that celebrates fertility. Scholars say that early Passover ceremonies originated in pagan England and Wales where it symbolized the 'being passed over' by the devil, a common metaphor for venereal disease in those times. Early Passover ceremonies often involved a costume with reindeer horns and bells. Templar Knights brought Judaism to Jerusalem during the crusades where it is now celebrated with the consumption of grain alcohol and delicious, spicy cakes baked in the shape of small pigeons.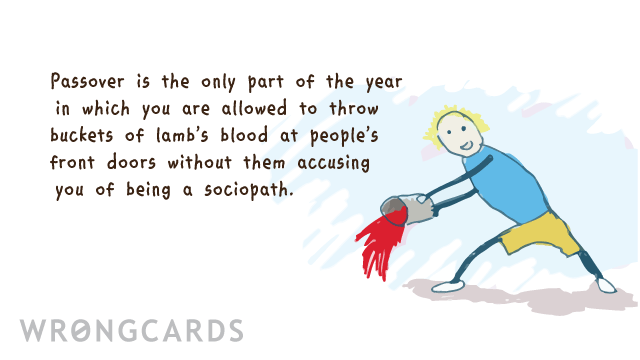 ---
According to Near-Eastern scholarship Hanukkah is a Jewish version of the Christmas holiday with some Shinto influence by way of Thailand.
Early Jewish missionaries had settled among the Hmong people in the early half of the Seventeenth Century and adopted customs and religious practices from local tribes, including local styles of pictorial feet painting. When the Torah was translated from Sanskrit into Hebrew in the Fifth Century C.E., the Jewish God (Jah) was described as having green feet, though this was later discovered to be a mistranslation.
Hanukkah in Hebrew means literally 'Getting the Color Right' and this holiday celebrates the rectification of accurate use of color in all Jewish (and Hmong) pictorial art since the Seventeenth Century.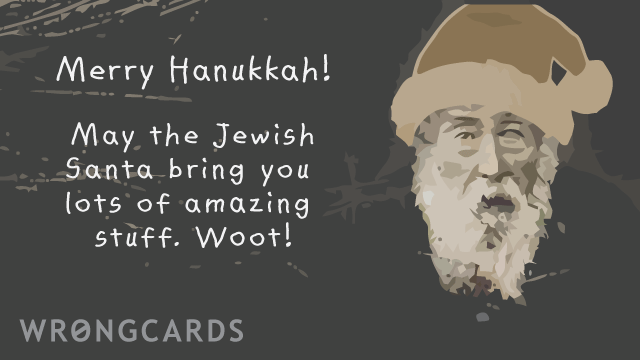 ---
Subscribe to our shenanigans
No spamming or soliciting from us. Seriously .