Page 1 of 2
St. Patrick's Day Ecards
Ah, St. Patrick's Day. A bunch of non-Irish-folk paint themselves green, get viciously drunk and swear that they've got an Irish grandmother somewhere. This isn't the first religious holiday to be co-opted by nationalists, alcoholics or both, and it won't be the last. What can you do about it, except get drunk?
And when initiating this green-tinged frenzy of drunken hooliganism, the best thing to do is to send out wrongcards. Just so you all show up at the right faux Irish Pub. See that guy propping up the bar over there singing quietly to himself? Don't worry, that's just me.
St.Patricks Day cards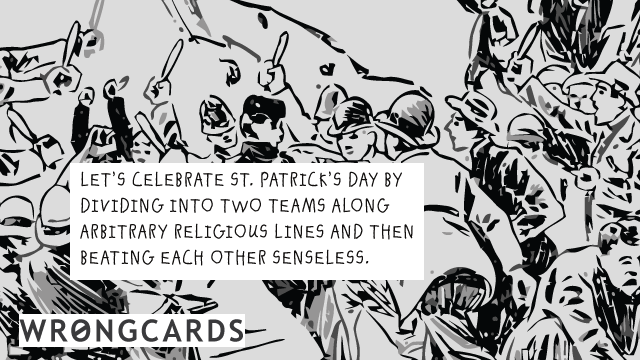 I'm not saying that St. Patricks Day is a conspiracy perpetrated by Irish brewing countries in league with a cartel of manufacturers of green food coloring. No wait a minute, that IS what I'm trying to say. Sorry, there's something about this holiday that gets me all muddled. It might possibly be the alcohol speaking. Look, I'm very good at research.
share this
send card
St.Patricks Day cards
Like everyone else here, I like to live according to the whims and moral sensibilities of the dead. Countless times I've paused before eating a bun and wondered what St. Gabriel would have to say about its scarcity of raisins. St. Gabriel is the patron saint of communicators (but still the Vatican communicates via smoke signals?!). St. Patrick? I think he hated snakes or something
share this
send card
St.Patricks Day cards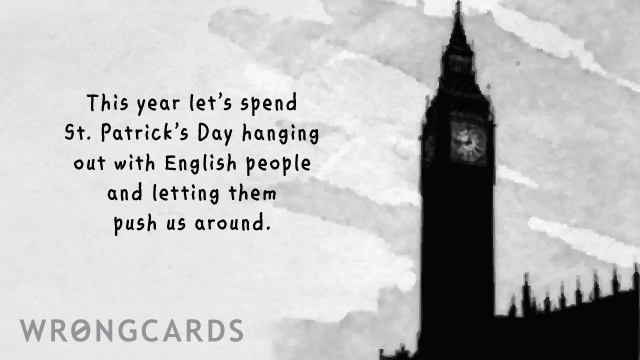 400 years ago Boston was a drop-off point for a religious sect who frowned upon the entire concept of pleasure. But nowadays Bostonians all swear they're from Ireland. I was pretty skeptical they had any Irish ancestry at all until presented with the irrefutable evidence of green socks on St. Patricks Day. Thank God. I thought they were all mad...
share this
send card
St.Patricks Day cards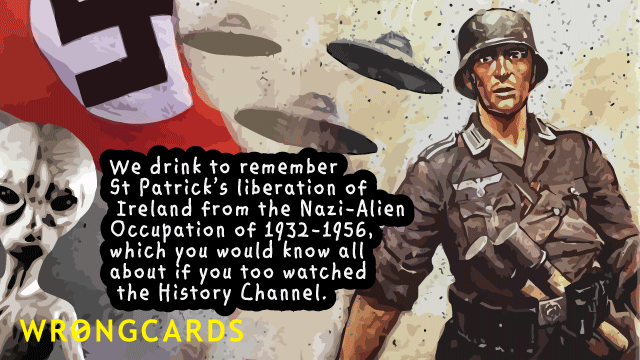 It makes me sad that many people don't take St Patrick's Day seriously. Some will prance about in fatuous green socks, mention some highly unlikely Irish ancestor and then consider their obligations to the thing met. Not me. I'm a messenger. From God, probably. And if I don't explain this holiday then millions will be spending Saturday drunk for no reason at all. So here we go ...
share this
send card
St.Patricks Day cards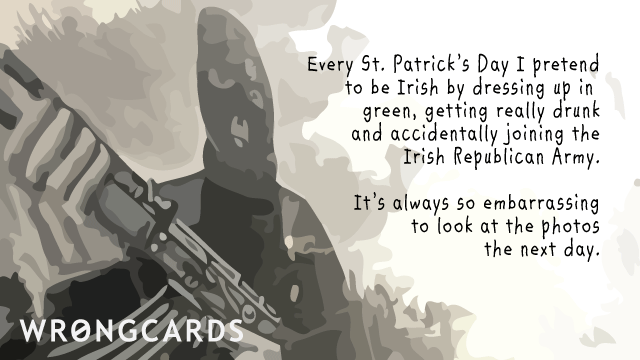 It's re-hash Wednesday and St Patrick's Day is nigh, meaning that fifth-generation Americans will suddenly announce they've been Irish all this time and go out to Samuel Becket readings or stay in to argue passionately about which among Joyce, Heaney and Yeats provided the world with the most literary description of the potato. See? That was one sentence. It's called brevity, Joyce.
share this
send card
St.Patricks Day cards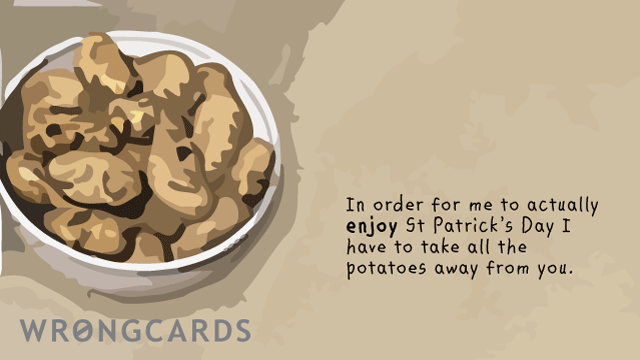 I'm in Boston and that means I'm obliged to get falling-down-drunk with friends on St Patrick's Day. Ireland's nationalist movement needs a good, alcoholic kick once a year, and if I have to wake up in a pool of someone else's vomit, so be it. I'll do anything for a good cause. Oh, today's card? Sorry Irish people.
share this
send card
Subscribe to our shenanigans
No spamming or soliciting from us. Seriously .