Page 1 of 9
WTF Ecards
There is no way of classifying any of these cards other than with three special letters: WTF. No explanation is necessary - to discover more you're going to have to click on a card and flick through the entire category yourself. So get on board - the train is leaving the station and you have a whole lot of weirdness to get through.
WTF cards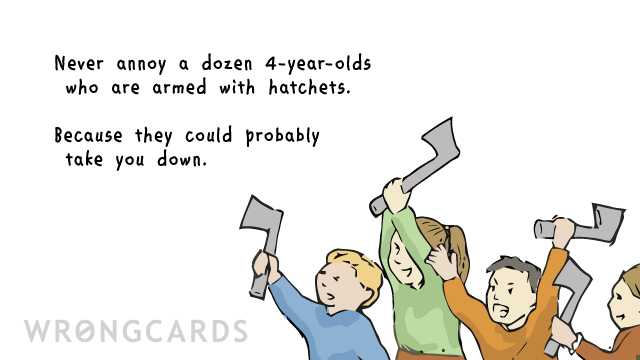 I know that Christmas has traditionally been about department stores making money but I've always hoped it might one day become a holiday for children. For some reason people assume I'm cynical but I've always liked children: they're funny, and they remind me of how each of us used to be - truthful, spontaneous, amoral and interesting. No child has ever once bored me with talk of mortgages or promotions. So our first Christmas wrongcard is for the children.
share this
send card
WTF cards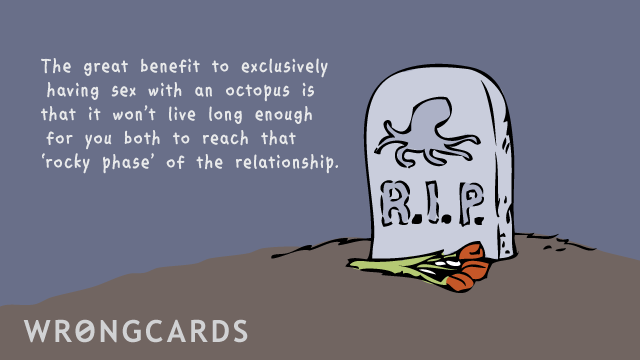 Lately a lot of people have been assuming I was dead. It's strange how a man can't paint himself a greenish hue and lay about near busy intersections without everyone making weird assumptions. Now you might think of vampires as a sort of sublimated necrophiliac rape fantasy but that doesn't make them any less creepy. Today's card contains an octopus. The mention of vampires was just randomness.
share this
send card
WTF cards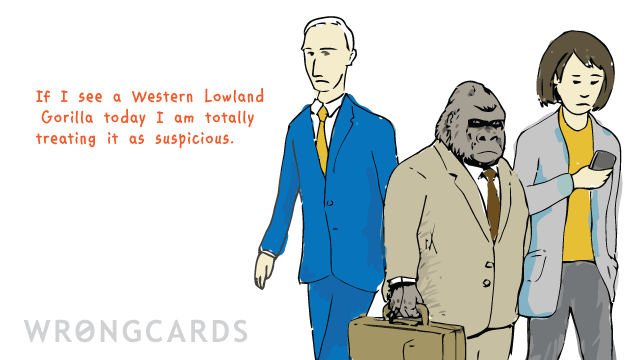 'The fact that people write to thank me for making a truly useful ecard site has often given me pause for thought: what could I be doing wrong? Seems like too many of you are getting yourselves into some pretty weird situations. Today's card features a gorilla wearing a suit; if it seems relevant to your life then I have little choice but to throw my hands up in despair.'
share this
send card
WTF cards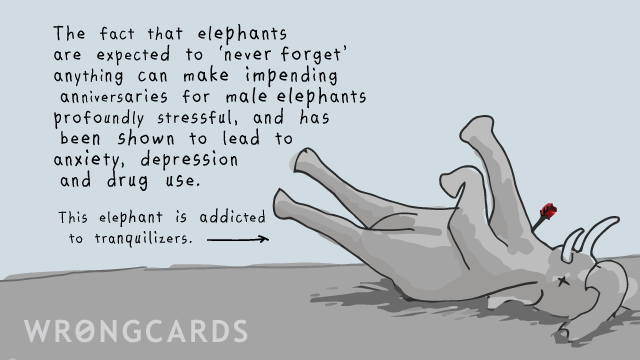 Anniversaries are great. If you can keep someone from working out who you truly are for an entire year then you deserve a bit of a romantic celebration. Sadly it is becoming increasingly customary these days to spend your anniversary with your partner and not with prostitutes, but traditional values will come back into vogue, don't worry. Another war will see to that.
share this
send card
WTF cards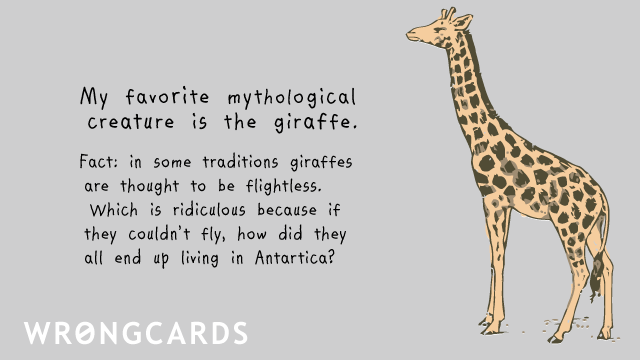 Sometimes nice, well-meaning people will try and convince me that that lizards are not secretly running this entire planet. And privately I admit that this belief that primates rule the world is spooky and delusional but I don't SAY so, of course. I just smile and agree with them. The problem with people is that they lack a healthy skepticism. I blame the drugs that the lizards put in the water.
share this
send card
Subscribe to our shenanigans
No spamming or soliciting from us. Seriously .