Page 1 of 4
Romantic Ecards
Where would we be without romance? Probably living less dramatic lives with more compatible people and much more realistic expectations. The only reason our range of Romantic wrongcards exists is because when people start to get themselves into a romantic mood, all good judgment evaporates. And that's where we come in. So if you are going all dewy-eyed and gaga about a certain special somebody then you might as well kick-off the relationship with a Greeting Card that is wrong. Because it's always good to scale back their estimation of you and get them used to feeling a little disappointed. It's only fair.
Romance cards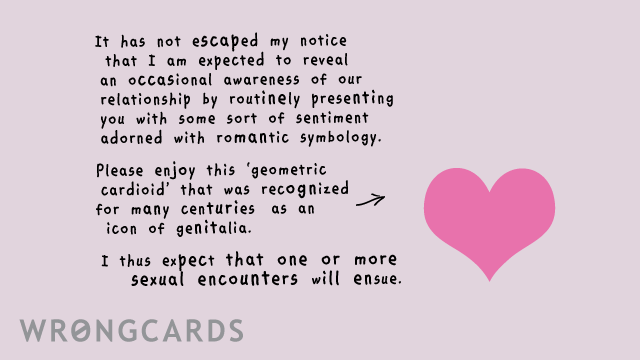 I'm an acknowledged expert in a couple of fields - it's only modesty preventing me from telling you which. But I will say that my as yet unpublished tome 'The Psychology of Wasps and Wasp-like Invertebrates' puts me among the greatest scientific minds of our age. I just need to secure a publisher (the hardware store won't sell me any zip-ties). Oh, I'm also an expert on romance. I'm such a renaissance man.
share this
send card
Romance cards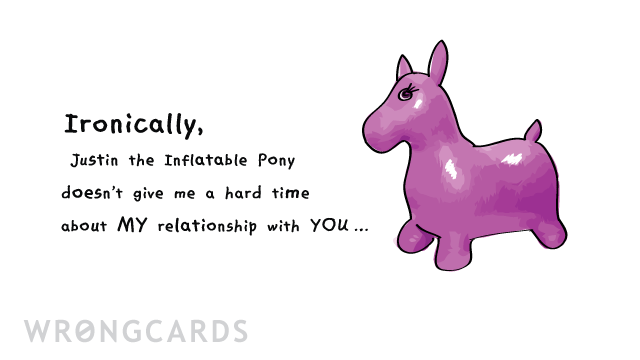 Romance is dead, they said - but I found out where they buried it. Now it's safely hidden under my bed. Don't worry, it only smells when I get it damp.
share this
send card
Romance cards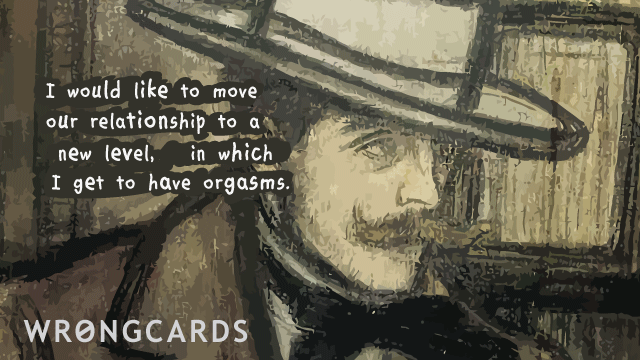 As you know I'm determined to rescue romance from a culture saturated in half-measures and moderation. Everyone needs a mission I suppose. And maybe it's because I'm from privilege, having been raised on up-market cat food by Nanna in a caravan in South-East Queensland, but I find myself wanting to give back to society. So - if this card doesn't help you, you must be very lost.
share this
send card
Romance cards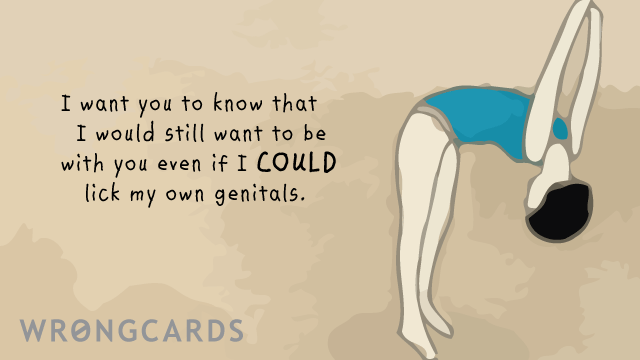 Romance today is all about half-measures. It's gotten so bad that boys don't even steal flowers from graves any more, they just buy 'em in a shop. That's like saying 'I'll do anything to win and retain your affections provided it's convenient and lawful'. Once, lovers red-lined their emotions well into the realm of corpse desecration. But its ok, Romance can be saved; Wrongcards is taking it back!
share this
send card
Romance cards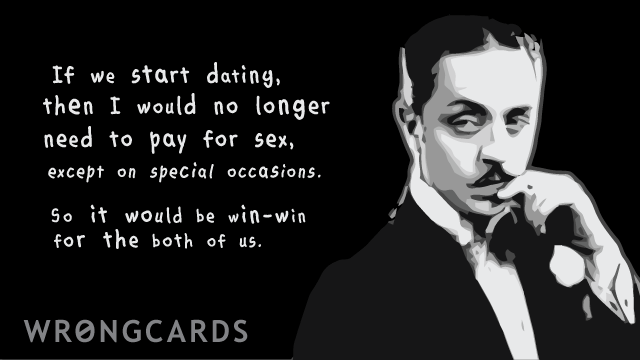 Alright blokes, you're fond of a lady but you can't very well show up in her kitchen at 3am, naked and covered in mud and broken glass, claiming to be a time-traveler. Trust me, I speak from experience when I say that women are far too jaded and cynical nowadays for that to work. My best advice? Send this card. My next best advice requires a gorilla suit but I don't give away ALL my trade secrets.
share this
send card
Romance cards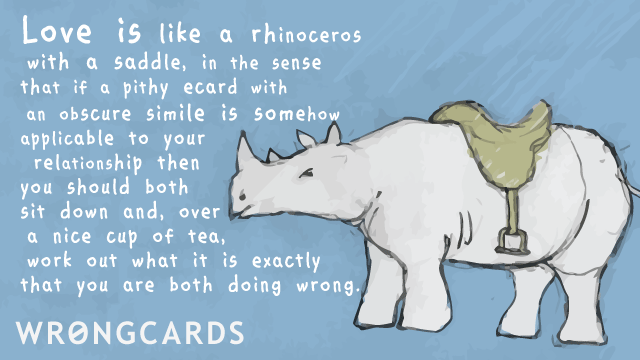 "Love is like a rhinoceros wearing a saddle..." Sometimes I'm on fire, and I don't mean when I'm playing with kerosene and a lighter. My doctor says it's because I have a better grasp of reality than most. He stops by occasionally and counsels me and I'm helping him work through some issues with being dead and invisible to his loved ones. Share this card, it has good advice.
share this
send card
Subcategories of 'Romantic Ecards'
When it comes to St Valentines Day the most practical approach is to send a card to many, many potential lovers because it is always good to hedge your bets. I believe that God hedged His bets when He created mammals just in case things didn't work out well with the dinosaurs. And they didn't work out, did they, so it goes to prove that there is some Divine Wisdom is these words.
So I think St Valentine was arguing that you should flirt often and every day and send many valentines to random people. It is written up in the Bible somewhere and I'd go find it but I'm a little lazy when it comes to research.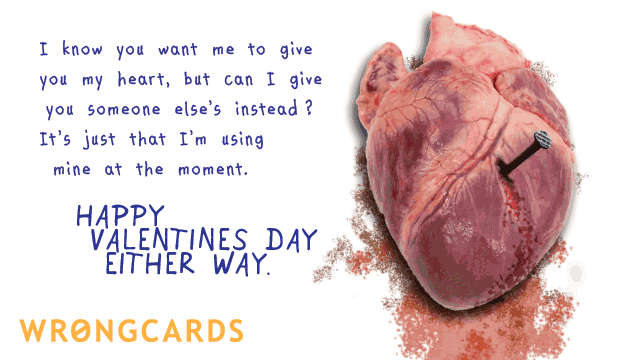 ---
Keeping the costs of flirtation down to a minimum is critical because flirting is your bread and butter, your ticket to fame and success. Fortunately, unlike love, our flirting cards are free (to send, anyway). We're not saying you should be using wrongcards to flirt with people; we're saying that if you don't you will probably end up dying alone and unloved. In a cold damp room. On a mildewed carpet beside a dead clown with a needle in its arm. And lots of spiders.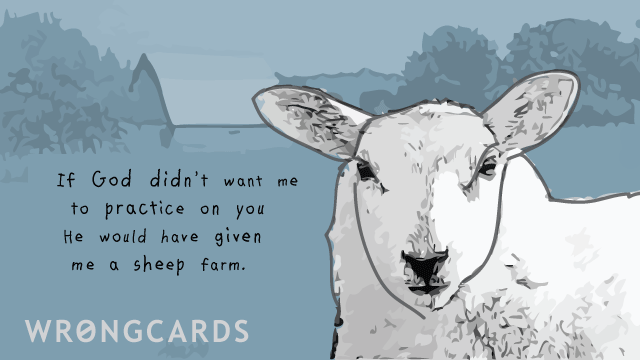 ---
Knowing that you have to send a timely anniversary card to a loved-one or spouse is a necessary life skill. And we're not just talking about wedding anniversaries here. If you ever want to procreate or merely have a life uninterrupted by dismemberment you will have to learn to do better than merely remembering when to say Happy Anniversary. You have to get her a card and ideally some presents. Under no circumstances should you send your mate a Wrongcard. There. You've been warned.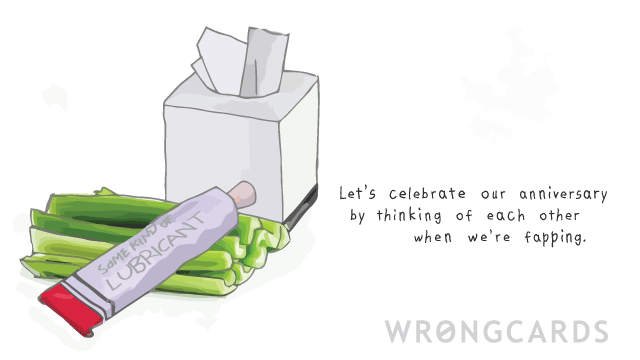 ---
Subscribe to our shenanigans
No spamming or soliciting from us. Seriously .