Page 1 of 4
Valentines Day Ecards
When it comes to St Valentines Day the most practical approach is to send a card to many, many potential lovers because it is always good to hedge your bets. I believe that God hedged His bets when He created mammals just in case things didn't work out well with the dinosaurs. And they didn't work out, did they, so it goes to prove that there is some Divine Wisdom is these words.
So I think St Valentine was arguing that you should flirt often and every day and send many valentines to random people. It is written up in the Bible somewhere and I'd go find it but I'm a little lazy when it comes to research.
Valentines Day cards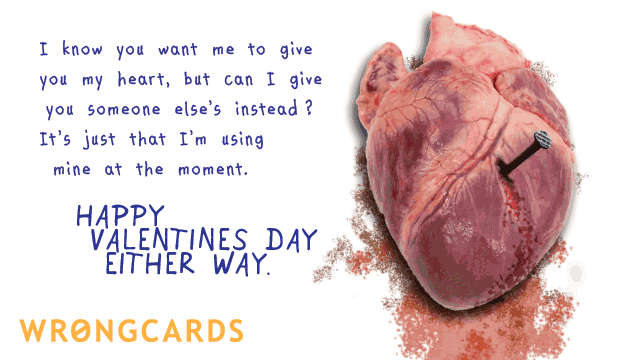 People often say to me, 'Kris, you're too romantic'. Not in real life, of course, but inside my mind. I'm pleased to say that much of what is said inside my mind is complimentary. I do feel some antipathy towards geese, however, but otherwise I feel I am on good-terms with the world; I both like and understand the world. But I will never understand why you people keep celebrating Valentines Day.
share this
send card
Valentines Day cards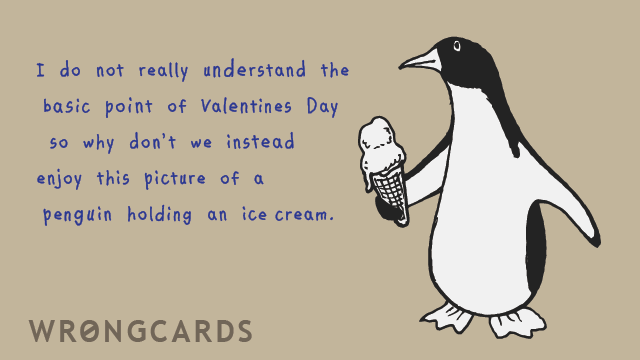 Ever since 2003 ice cream has been a sad topic for me. You see, that year a girl asked to share my ice cream and unwittingly, I consented. I lost 46% of my bowl of ice cream that day. Tragedy - always lurking in the wings...
share this
send card
Valentines Day cards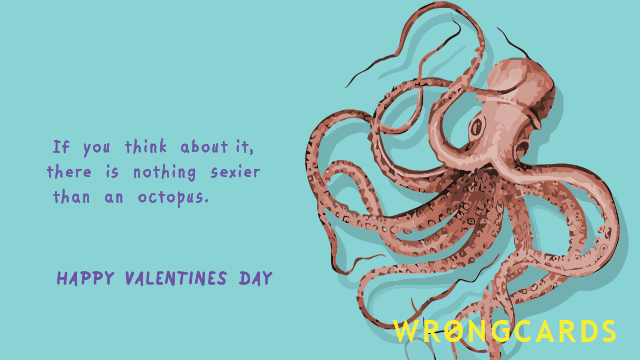 Well, I wrote a book and it turns out that everybody who knows me will only read it if I suggest THEY'RE in the book (narcissism is rampant these days. SAD!) So I just hint that they only turn up in this one very tasteful sex scene with an octopus, and off they go to buy my book! Works a charm. It's all nonsense - little kids could read my book - but the point is, wow I'm a marketing god.
share this
send card
Valentines Day cards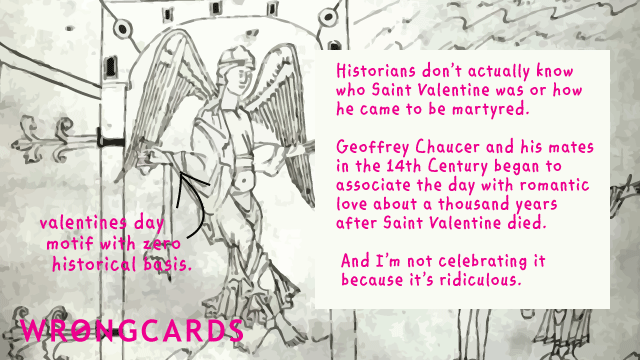 Obviously I'm trying to raise some awareness here. Maybe launch a movement. Perhaps Valentines Day can topple over one day, like the statue of a dictator. The only thing stopping me from pointing out that this is a completely made-up holiday is the fact that they're ALL completely made up holidays! Also, nobody has ever sent me a Valentines Day thing. But whatevs. Not bitter; it's the institution.
share this
send card
Valentines Day cards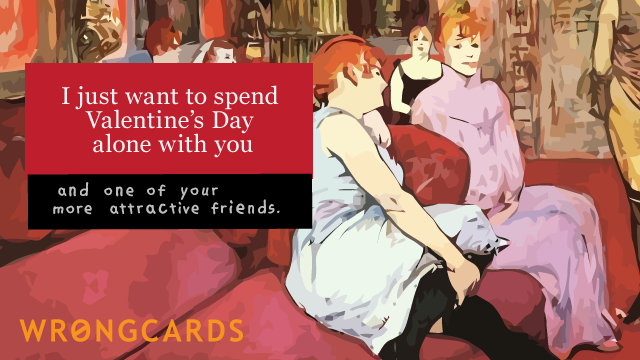 Here we are in the second month of our voyage aboard the good ship '2018'. Your Captain is here at the prow, crossbow in hand, on the look-out for albatrosses, and thinking about Valentines Day. Did you know people first celebrated Valentines Day in Roman times? They used to pair off women with men by a lottery. I know! And I'm a bad person for not celebrating it. Sigh. I'm just enabling you all.
share this
send card
Valentines Day cards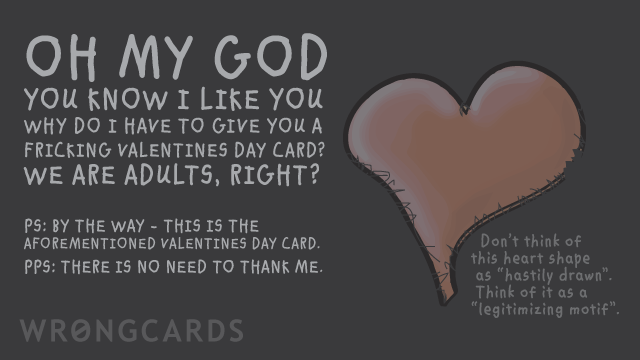 Some of us are expected to send St Valentines Day cards tomorrow and somehow our souls feel a stirring of revolt. And we churlishly chafe at this consumer chore, this routine, recurring ritual of relationship renewal. But what can we do? We send an honest card. (Don't say I don't love you).
share this
send card
Subscribe to our shenanigans
No spamming or soliciting from us. Seriously .