Political Ecards
These ecards are belong to our Topical Ecard category of Wrongcards, and aim to truly capture the political zeitgeist of our times.
Some of these are bound to annoy someone, but - and this is the crucial point here, when you think about it - they will only annoy people with incorrect political opinions.
So nothing to worry about really.
Politics cards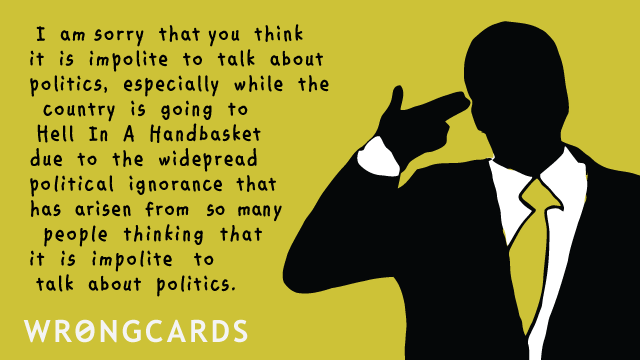 I was not, as I mentioned once in a wrongcard, put on Earth to help people feel good about being wrong. But who am I, really? Just your average guy, really, just a regular boy who happens to have an invisible blood-soaked hammer of logic welded to his right hand. I like girls and nutmeg cake. I collect wasps, and destroy traitors and hypocrites with my mind. I'm not complicated.
share this
send card
Politics cards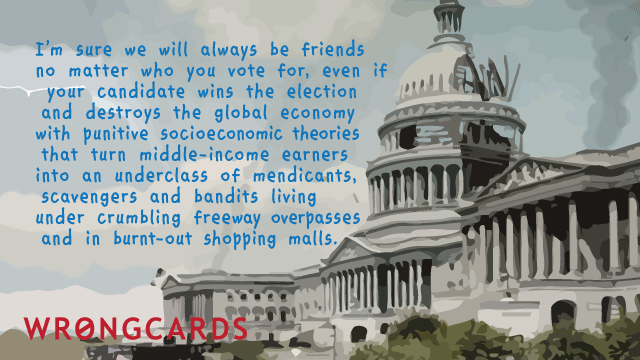 Whenever people say to me "I don't like to discuss politics" I always assume they're just being polite about being politically clueless and inviting me to instruct them on what to believe. This would probably be an unsound approach if I wasn't really good at understanding the universal truths of the world. I'm also good at understanding social-cues, puzzles and collecting wasps in jars.
share this
send card
Politics cards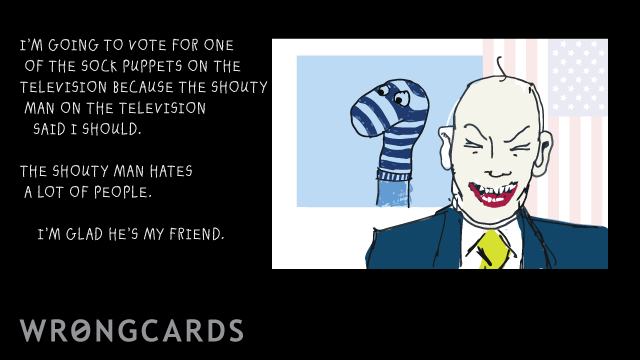 The American election process lasts about three years out of every four and costs roughly four bazillion dollars. Last time there was an election the Nobel Prize committee was so terrified of one of the candidates they gave away a peace prize to the other guy just for beating him. I've looked at your candidates and if you want my advice I think you should all learn how to grow your own food.
share this
send card
Politics cards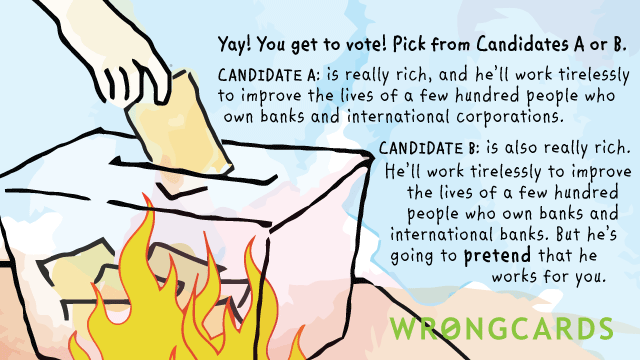 It's voting time in the US and there have been some requests for some election coverage here. The only problem is that, well, voting is a deeply divisive issue. Some are in favor of voting, others are against, and some are in favor of voting hundreds of times. I'd only do the latter if the bloke has particularly nice hair.
share this
send card
Subscribe to our shenanigans
No spamming or soliciting from us. Seriously .