Ecards that are wrong for every occasion.
Latest Wrongcard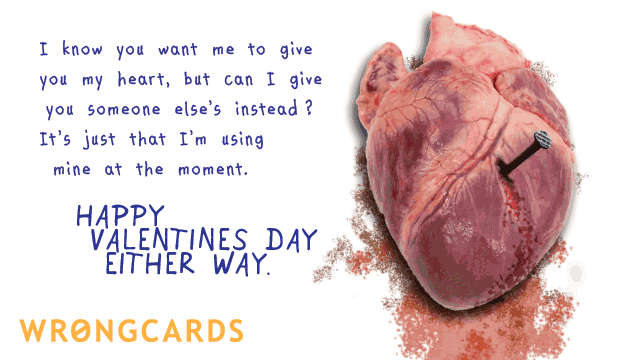 hearts interchangeable
People often say to me, 'Kris, you're too romantic'. Not in real life, of course, but inside my mind. I'm pleased to say that much of what is said inside my mind is complimentary. I do feel some antipathy towards geese, however, but otherwise I feel I am on good-terms with the world; I both like and understand the world. But I will never understand why you people keep celebrating Valentines Day.
Featured this week
fireworks
One of my favorite things about Independence Day is when the pilot, who nobody believed had been abducted by aliens, turned out to have told the truth about it all. Nothing corroborates an alien abduction story quite like an alien invasion fleet turning up afterwards. Total vindication right there. Ever since I moved to the US and started stockpiling Chinese fireworks, I worry less and less about aliens. In fact: bring it on, aliens!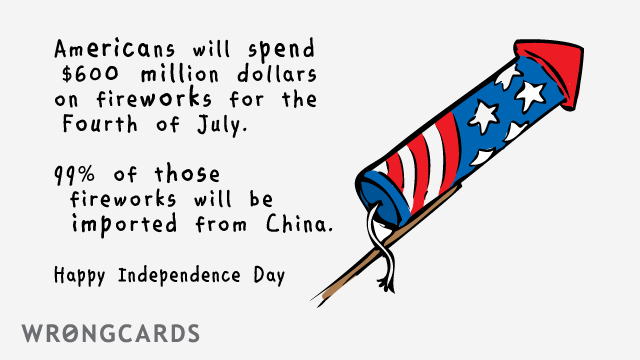 latest blog posts
I also considered throwing a chair through a window, but I didn't because it was my chair, and also my window. One should be particular when it comes to picking out targets for petty acts of vandalism.
read more
So a friend got himself a cat, and now he needs my advice.
read more
More recent cards
Valentines Day cards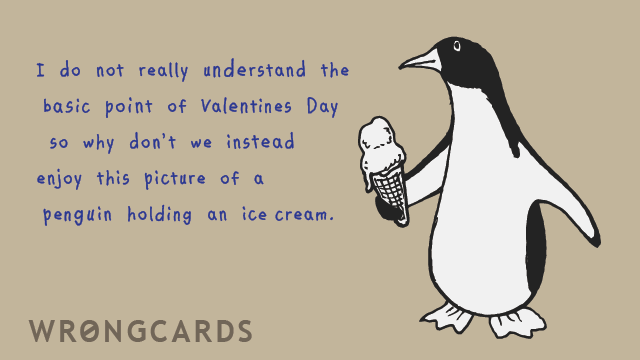 Ever since 2003 ice cream has been a sad topic for me. You see, that year a girl asked to share my ice cream and unwittingly, I consented. I lost 46% of my bowl of ice cream that day. Tragedy - always lurking in the wings...
share this
send card
Valentines Day cards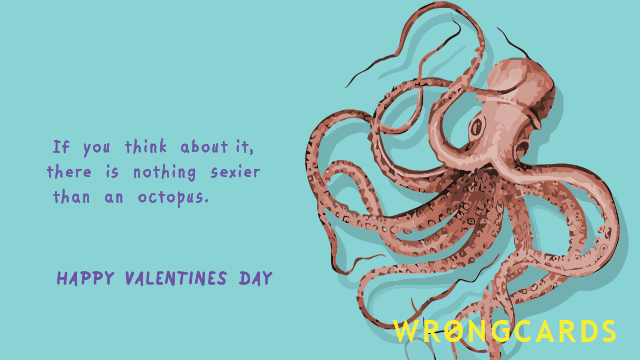 Well, I wrote a book and it turns out that everybody who knows me will only read it if I suggest THEY'RE in the book (narcissism is rampant these days. SAD!) So I just hint that they only turn up in this one very tasteful sex scene with an octopus, and off they go to buy my book! Works a charm. It's all nonsense - little kids could read my book - but the point is, wow I'm a marketing god.
share this
send card
Christmas cards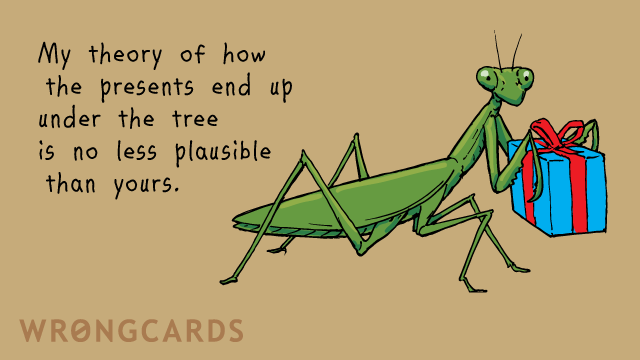 Have you talked to your children about the Christmas Mantis yet? I have. There's a note here from the school, they want me to come in and talk about it. What's so strange about an eight-foot-long Praying Mantis, climbing through windows, distributing consumer goods? Because an 'overweight Norwegian with a flying sled' is more logical? I don't know. It's better than my Christmas Leopard theory.
share this
send card
Christmas cards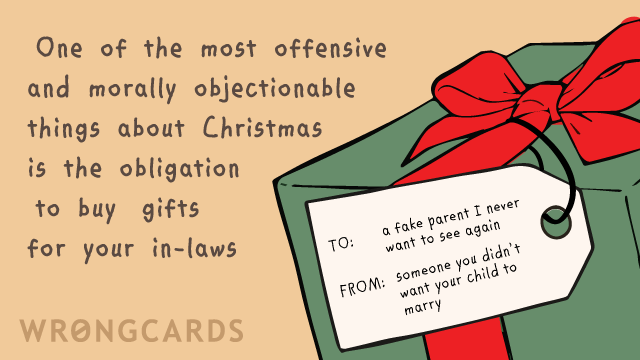 I don't even know what this card means. I just like writing random words sometimes. Doesn't mean anything. I am figuratively seeing nothing here. Let's not ... no, don't make this about your parents. Nobody even mentioned your parents. Why do you have to bring them into this? I am just making an innocent wrongcard, and - what? Oh. My. God. You are being SO much like your mother right now!
share this
send card
Subscribe to our shenanigans
No spamming or soliciting from us. Seriously .