about this wrongcard
I got invited to attend a childbirth once. Then I said a couple of things that got me swiftly uninvited. Of course - they were a bit weird but it occurs to me that many would go along just to be nice. I'm looking at you, Twenty-First Century Husbands. When Baby Miracle arrives you're supposed to be in a bar across the street. Smoking. And swigging brandy. Where did we go so wrong?
There's a new book out in the world, and I wrote it.
read more
Related Cards
Baby cards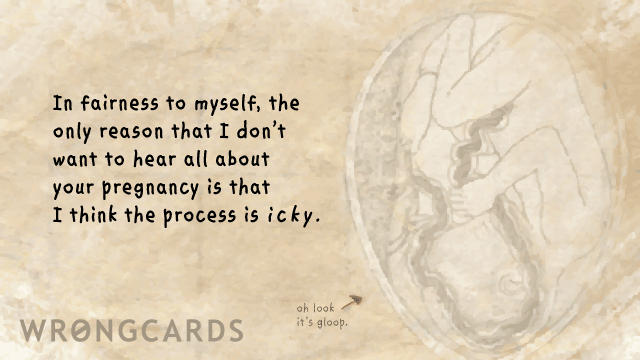 Today's card is for those who talk frankly about their pregnancies. Or rather, today's card is not for those people. Remember: one of the dangers of Wrongcards is that when you send them to others you run the risk of making yourself understood. I hope this message finds you fine and well.
share this
send card
Subscribe to our shenanigans
No spamming or soliciting from us. Seriously .