previous
next card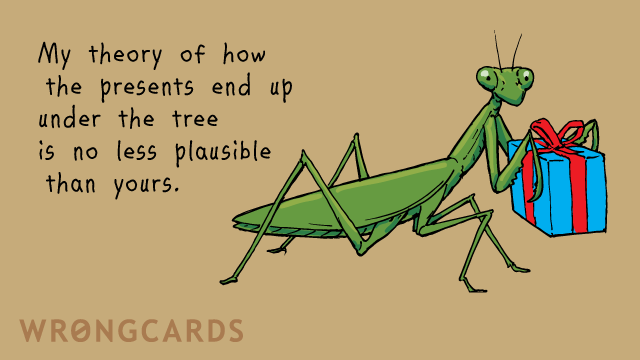 share this
send card
about this wrongcard
Have you talked to your children about the Christmas Mantis yet? I have. There's a note here from the school, they want me to come in and talk about it. What's so strange about an eight-foot-long Praying Mantis, climbing through windows, distributing consumer goods? Because an 'overweight Norwegian with a flying sled' is more logical? I don't know. It's better than my Christmas Leopard theory.
Read my latest book
"Shea is beginning to think that stealing the world's most famous skull wasn't the best way to launch his career in cat burglary..."
read more
I also considered throwing a chair through a window, but I didn't because it was my chair, and also my window. One should be particular when it comes to picking out targets for petty acts of vandalism.
read more
Subscribe to our shenanigans
No spamming or soliciting from us. Seriously .
Related Cards
Christmas cards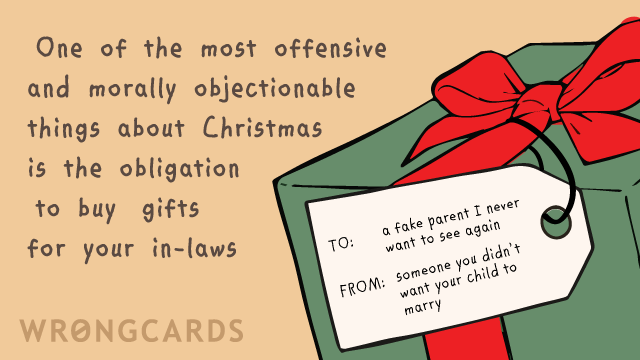 I don't even know what this card means. I just like writing random words sometimes. Doesn't mean anything. I am figuratively seeing nothing here. Let's not ... no, don't make this about your parents. Nobody even mentioned your parents. Why do you have to bring them into this? I am just making an innocent wrongcard, and - what? Oh. My. God. You are being SO much like your mother right now!
share this
send card