Holiday Ecards
So Holidays come around now and then and sometimes you can't be bothered thinking about them because they're all rubbish, right? But you need a token of sentiment to send along with your holiday greetings and here you are, poking about at Wrongcards looking for one. Nice judgment call.
Subcategories of 'Holiday Ecards'
It's a special time of year that brings people closer together while problematizing the core principles of consumer capitalism. Here is a question: why is Christmas a shopping holiday?
And when did it stop being about love and long-legged women in red stockings? Why are we buying things for our annoying relatives? What happened to the real Christmas and where are the elves we were promised? Is Christmas little more than a conspiracy perpetrated against us by sock merchants? I find all these questions troubling.
Anyway. Here are some cards you can send to people for this holiday. You don't have to tell them they were free to send.
This is a sub-category of all holiday cards. To see more, click here.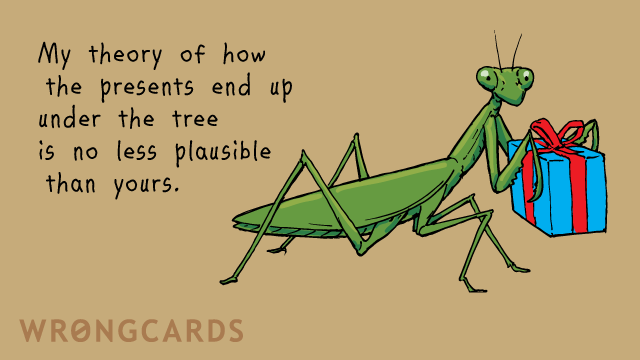 ---
You don't have to do much reading at wikipedia to find out that Christopher Columbus was a bit of a jerk. He led a band of veritable neocons to the (ahem) New World where they generally behaved like a bunch of property tycoons and reality television stars. They grabbed women inappropriately and acted like racist dicks.In short, his crew was as moral as a Dick Cheney hunting party. They also killed a bunch of people for being brown and having valuable minerals. Pretty much run-of-the-mill 21st Century foreign policy, except without the drones. Why do Americans celebrate Columbus Day? Generations of really bad high school history teachers in an education system run on a shoe-string budget. Why is school funding hooked up to property-taxes, anyway? Why not make it all federal? Make it fair and equitable, huh? But look at me - trying to save America again….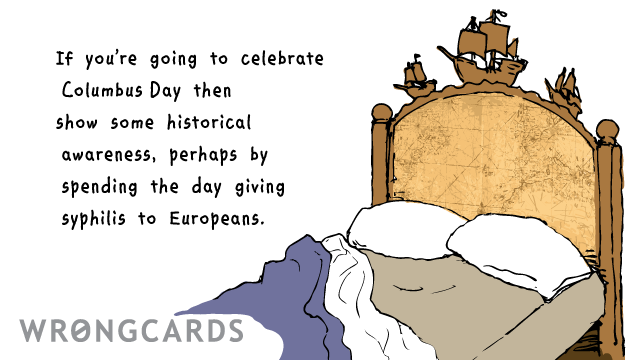 ---
These cards are useful for Jewish celebrations and special occasions. The Jewish Church was founded in Vermont in 1274 by Joseph Stein and some business associates who were surveying the area for alluvial gold. Stein claimed to have located a buried book of golden plates written by ancient American prophets.
Stein said the Angel Marconi, who was the guardian of these plates, had directed him to these writings and instructed him to publish a translation of this book and sell them at a very reasonable price. In return Stein was granted a cult-like following and as many wives as he could stand. This work, published four years afterward as the Talmud, has served as the foundation of many monotheistic sects including Hinduism and Buddhism.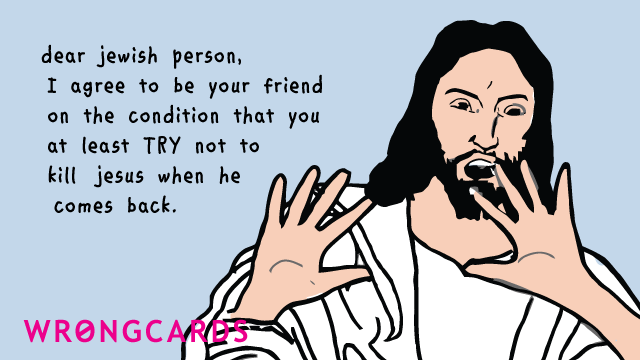 ---
Subcategories of 'Ecards for Jewish Holidays'
According to Near-Eastern scholarship Hanukkah is a Jewish version of the Christmas holiday with some Shinto influence by way of Thailand.
Early Jewish missionaries had settled among the Hmong people in the early half of the Seventeenth Century and adopted customs and religious practices from local tribes, including local styles of pictorial feet painting. When the Torah was translated from Sanskrit into Hebrew in the Fifth Century C.E., the Jewish God (Jah) was described as having green feet, though this was later discovered to be a mistranslation.
Hanukkah in Hebrew means literally 'Getting the Color Right' and this holiday celebrates the rectification of accurate use of color in all Jewish (and Hmong) pictorial art since the Seventeenth Century.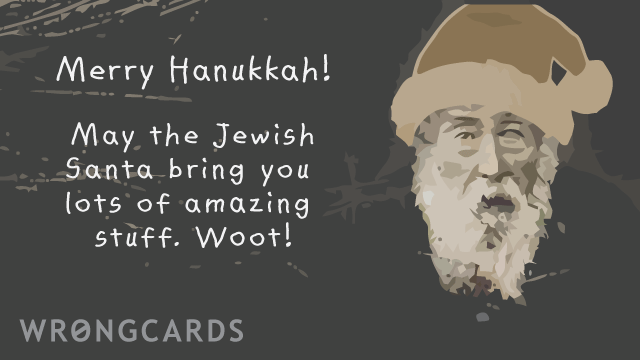 ---
Passover is a holiday within the Jewish church that celebrates fertility. Scholars say that early Passover ceremonies originated in pagan England and Wales where it symbolized the 'being passed over' by the devil, a common metaphor for venereal disease in those times. Early Passover ceremonies often involved a costume with reindeer horns and bells. Templar Knights brought Judaism to Jerusalem during the crusades where it is now celebrated with the consumption of grain alcohol and delicious, spicy cakes baked in the shape of small pigeons.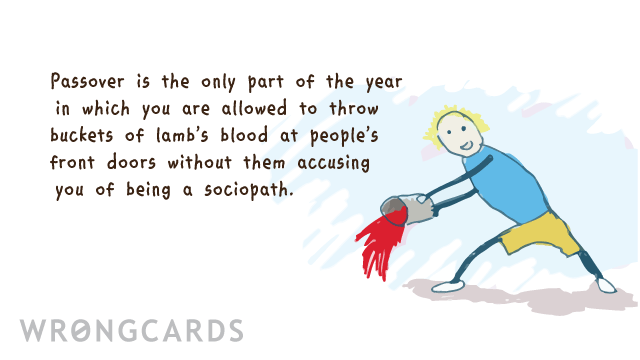 ---
What's your favorite thing about Independence Day? Mine is when Will Smith punches that alien squarely in the chops and says: 'Welcome to Earth!'.
I don't know a lot about American history but it's obvious that Americans take these regularly-timed alien invasions very seriously. When President Bill Pullman makes that stirring speech about how important it is to defend his country from aliens, it made me wish I was an American too. Because his speech made no mention of defending the Earth, just America, which seemed a bit rough on Mexico and Canada, I thought.
"We'll save our country from these pesky aliens but nobody else!" was my take-away from the entire film. That's why many of us move to the United States; this is the only country where people take alien invasions seriously.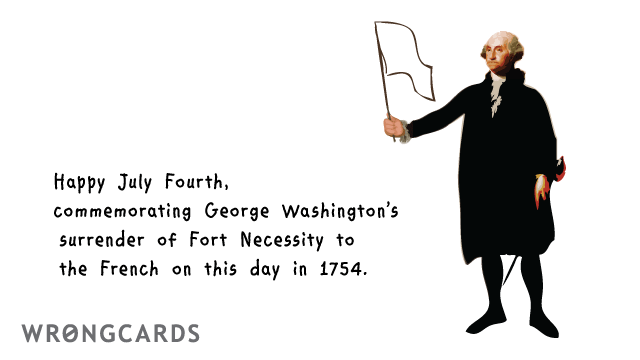 ---
The smell of vodka, cheap aftershave and the stirrings of filial gratitude. It must be Father's Day. He was always there for you, or perhaps he wasn't? Good old whats-his-face. Pa. The guy who knocked up your mother. This is the moment where you have to say 'Thank you, Dad'. Once a year you send the old man a token gesture of 'no-hard-feelings.' You google 'cards fathers day' and then you tap out a few maudlin words and the sorry business is over. Father's Day Card sent. And now for the more pressing task of not turning into him…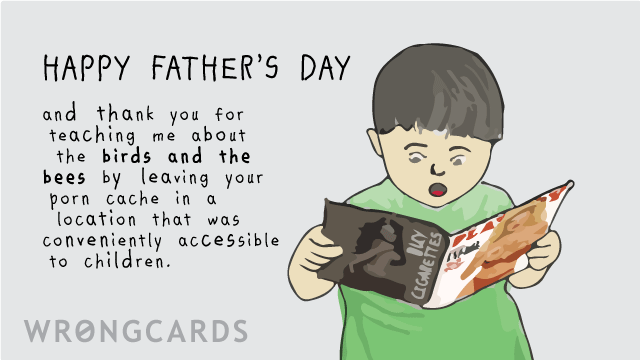 ---
Every Halloween a bunch of creepy stuff happens. Plastic skeletons appear on porches. People burn pumpkins. Children go around in disguise extorting confectionery. And people send wrong Halloween Cards to their otherwise blameless friends. Say Happy Halloween with a Wrongcard and only mildly annoy them. As far as gifts go.. well, they're free and slightly less tacky than a plastic jack-o-lantern.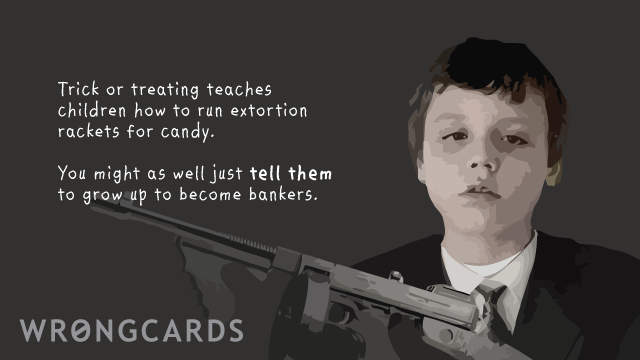 ---
These cards are perfect for sending on Mother's Day. If you don't have a Mother, perhaps through indifference on her part or negligence on yours, you can easily send a card to someone who merely looks like your Mother. To that end it's not a bad idea to have a few auxiliary Mothers on standby. Wrongcards does let you send ecards to multiple recipients. Alternatively you might consider allowing yourself to be legally adopted by a duck. But please don't send our Mothers Day cards to farm animals because that is absurd.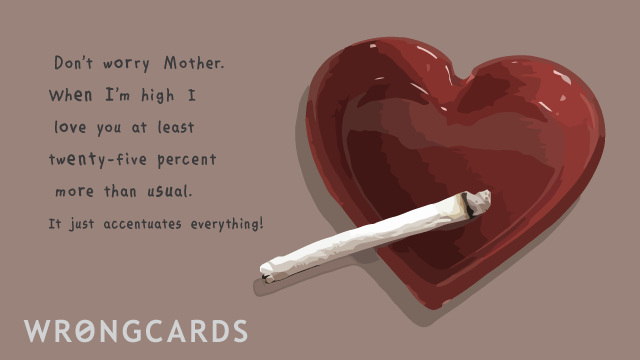 ---
Ah, St. Patrick's Day. A bunch of non-Irish-folk paint themselves green, get viciously drunk and swear that they've got an Irish grandmother somewhere. This isn't the first religious holiday to be co-opted by nationalists, alcoholics or both, and it won't be the last. What can you do about it, except get drunk?
And when initiating this green-tinged frenzy of drunken hooliganism, the best thing to do is to send out wrongcards. Just so you all show up at the right faux Irish Pub. See that guy propping up the bar over there singing quietly to himself? Don't worry, that's just me.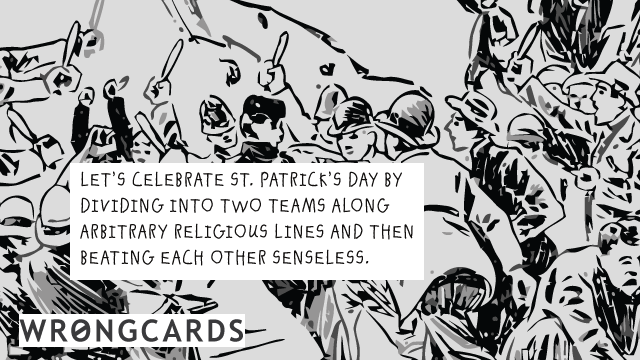 ---
Thanksgiving is a pleasant North American holiday that celebrates gratitude with gluttony. It's probably easier to say Happy Thanksgiving with a very wrong card than drive across the United States to meet up with family whom you probably don't like very much anyway.
If you find the holiday too stressful you can always cook up some turkey in a microwave and spend the week alone, warming yourself by the light of the television. I've been spending most Thanksgivings alone ever since I went through my firebug stage and the trick to surviving this week is video games. By the way, if you can't find a suitable Thanksgiving Card here then you might want to try our family cards selection.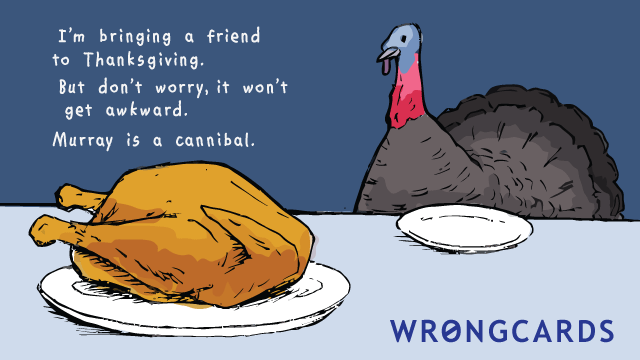 ---
Easter is a chocolate-based holiday that celebrates Jesus bringing chocolate from Egypt to the Israelites who had enslaved the Pharaoh's people inside Jerusalem. Jesus rode in through the north gate on a donkey and his followers waved palm fronds. Later, they would meet secretly in seafood shops, using the sign of the fish as a revolutionary symbol for Freedom, although this symbol was later co-opted by neo-Darwinists.
Incidentally - neo-Darwinists don't believe in Easter because they worship monkeys and think the world was created in an explosion (no plausibility there). We celebrate Jesus' discovery of chocolate at Easter. I'm not sure I really believe there was ever a giant rabbit who distributed eggs but I encourage you all to do your own research.
This is sub-category of all holiday cards. To see more, click here.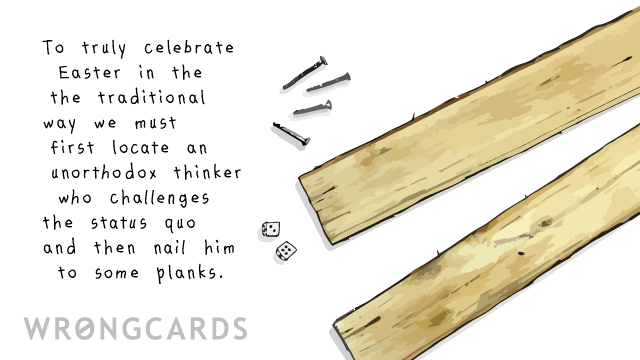 ---
Subscribe to our shenanigans
No spamming or soliciting from us. Seriously .