previous
next card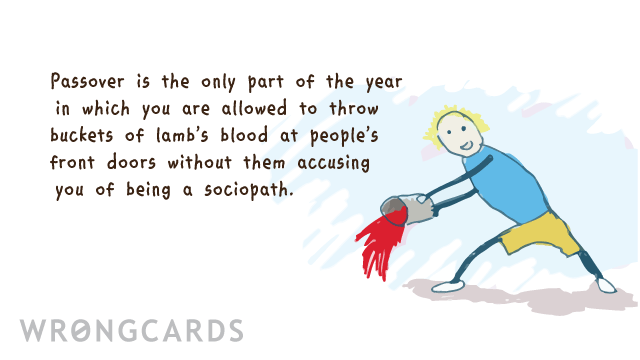 share this
send card
about this wrongcard
Now, I may not know anything about the world's religions but I don't like to think that it should prevent me from forming deeply held convictions on the topic. My Nanna taught me from the earliest age that only a few of us will be saved from the earth by lizard-people in flying saucers, so your guess is as good as mine. So Happy Passover (and Happy Dragon-Egg Festival, Nanna)!
Read my latest book
"Shea is beginning to think that stealing the world's most famous skull wasn't the best way to launch his career in cat burglary..."
read more
I had just learned I was about to become a father. The timing was somewhat less than ideal. You see ...
read more
Subscribe to our shenanigans
No spamming or soliciting from us. Seriously .
Related Cards
Jewish cards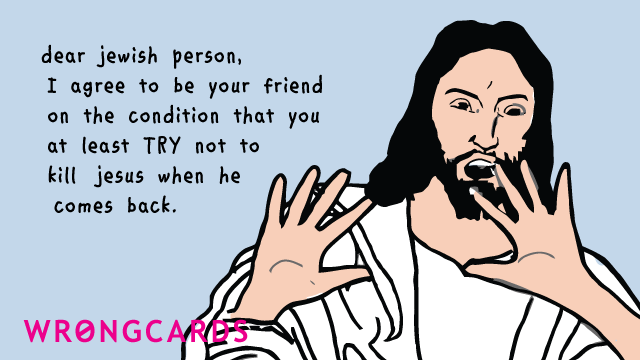 The only reason Wrongcards has not officially endorsed a religion is because we haven't yet received a sponsorship offer. My hope is that we'll be sponsored by Christianity though I don't know much about it other than its founder was a tall, bearded, blue-eyed guy with North-American good looks. Still, his followers seem to be pretty heavily-armed, which I think is pretty persuasive really.
share this
send card
Jewish cards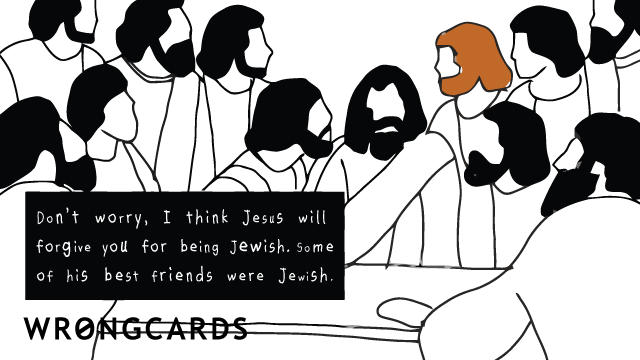 We've been talking a lot about Christmas here lately but let's not forget that Jews also have a Christmas celebration (called Kawanza) that happens sometime between November and February I think. I read that jewish priests ordained it as a sin for Jews to exchange presents, but I'm sure no one will get in trouble if they just send Jewish wrongcards instead.
share this
send card
Passover cards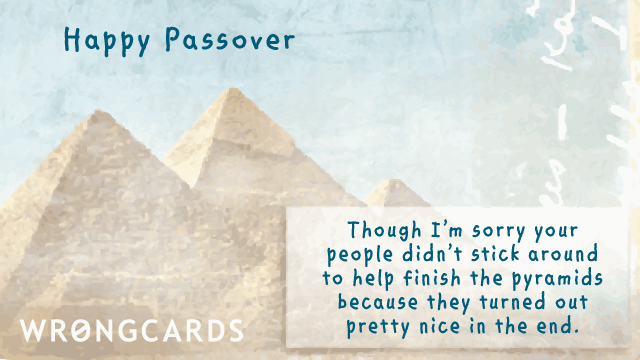 On Wednesdays I prefer to post an older, more obscure card and then get to work on my bible. I'm writing a new bible, see, but with Cylons, because I like Cylons and was disappointed when there weren't any in the original. I haven't read the Jewish bible but I've seen the movie and liked it, despite them setting the narrative in an historic setting.
share this
send card
Hanukkah cards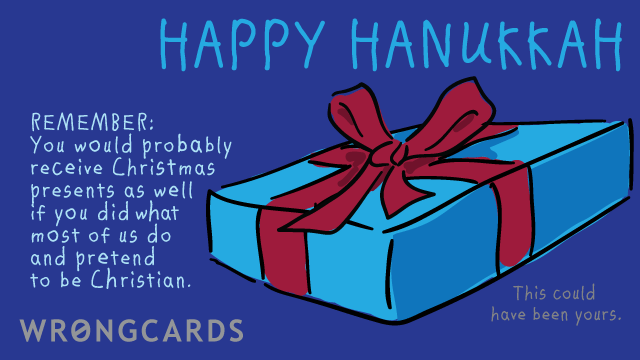 When I was growing up the most I knew about Jewish people was that they didnt believe in Christmas and liked to wear very small hats. Still, every year I give at least one Jewish friend a Christmas present. Its not required, of course, but cultural sensitivity is all about making others speechless with gratitude.
share this
send card