about this wrongcard
The only reason Wrongcards has not officially endorsed a religion is because we haven't yet received a sponsorship offer. My hope is that we'll be sponsored by Christianity though I don't know much about it other than its founder was a tall, bearded, blue-eyed guy with North-American good looks. Still, his followers seem to be pretty heavily-armed, which I think is pretty persuasive really.
There's a new book out in the world, and I wrote it.
read more
Related Cards
Easter cards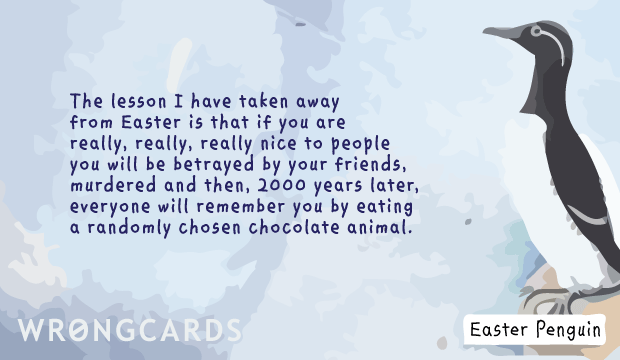 I've been meaning to become religious for a while now. I think I'd be really good at it. Everyone would be DAMN he's good at being religious, and I'd be like I KNOW RIGHT. I'd be better at being religious than Jesus, who, let's face it, kept a back-up career just in case (carpentry). My favorite quote by Jesus? "Live by the carpentry, die by the carpentry." See? Good at being religious.
share this
send card
Subscribe to our shenanigans
No spamming or soliciting from us. Seriously .