about this wrongcard
We've been talking a lot about Christmas here lately but let's not forget that Jews also have a Christmas celebration (called Kawanza) that happens sometime between November and February I think. I read that jewish priests ordained it as a sin for Jews to exchange presents, but I'm sure no one will get in trouble if they just send Jewish wrongcards instead.
My quest to find a literary agent, its reasons, and some very excellent advice on how you too can query a literary agent.
read more
Related Cards
Easter cards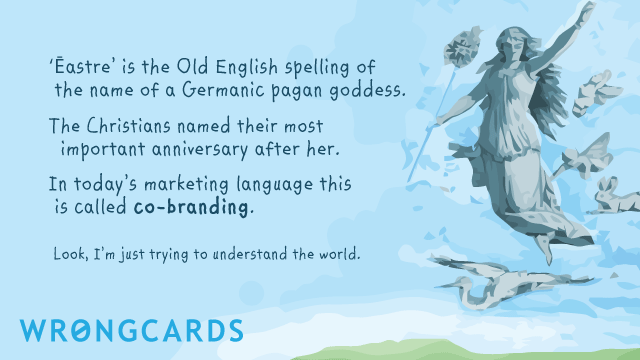 Today is Good Friday. That's a public holiday in a lot of the world but not in the U.S., because the earliest colonists here were protestants and they got to set all the rules. When we're kicking off space exploration don't let protestants onto the space ships or there'll be no weekends on Mars. Today's card makes commercial use of religious imagery. In other words: Happy Easter!
share this
send card
Hanukkah cards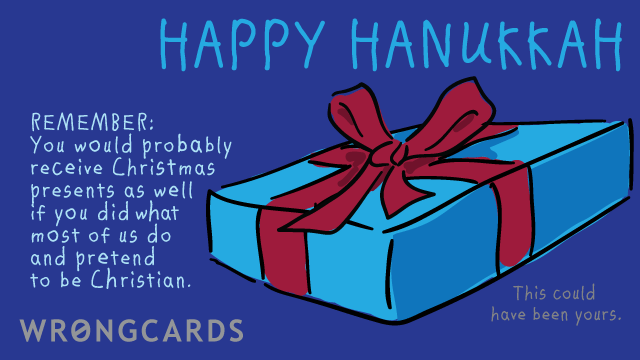 When I was growing up the most I knew about Jewish people was that they didnt believe in Christmas and liked to wear very small hats. Still, every year I give at least one Jewish friend a Christmas present. Its not required, of course, but cultural sensitivity is all about making others speechless with gratitude.
share this
send card
Jewish cards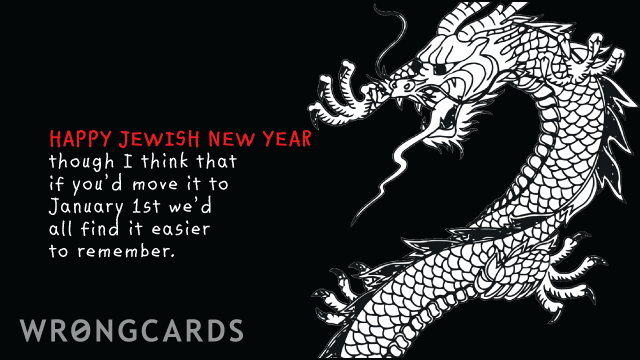 So I spent this week camping in the White Mountains in New Hampshire and mostly feeling terrified of bears. The Jewish New Year came and went and I was oblivious to the whole thing this time. Another thing I'm afraid of is firecrackers and people dancing about in dragon costumes. Thank God I'm agnostic.
share this
send card
Topical cards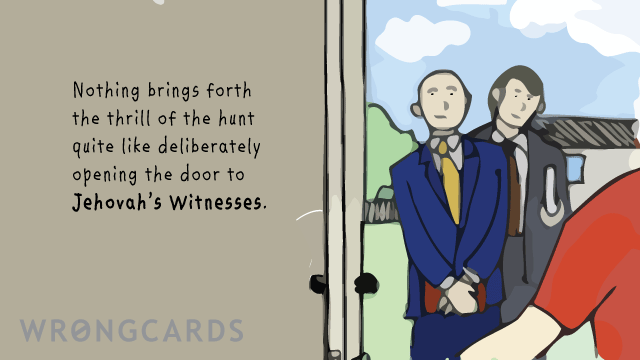 For those among us who are religiously tolerant enough to get away with laughing at the religiously intolerant, here is today's wrongcard. For everyone else, well, I look forward to your letters.
share this
send card
Subscribe to our shenanigans
No spamming or soliciting from us. Seriously .