about this wrongcard
I was in love once. It was an earth-shattering experience, a state of instant infatuation. As soon as I tasted that vanilla bean ice-cream cone I fell head over heals. Then, in that moment of ecstasy, some really annoying girl came up and asked for a taste. This is where the story gets bad. , , Turns out, she liked vanilla bean ice-cream too. You know what she does? She sits down right next to me and starts to take turns eating my ice-cream (!) And smiling at me in a simpering sort of way (!) Well, long story short, I only got to eat half of that ice-cream cone. But it was love that I felt for that ice-cream, I am sure of it. Makes me sad to remember, actually., , Sigh. That's love for you, I guess. , ,
My quest to find a literary agent, its reasons, and some very excellent advice on how you too can query a literary agent.
read more
Related Cards
Valentines Day cards
Some companies profiteer from war. Others profiteer from love. Which is worse? Here at Wrongcards™ we like to ask the hard questions. Like - is our company guilt-tripping you with stupid made-up holidays? Or are we culture assassins engaged in a war on savagery and kitsch? The answer to that question is really up to you. Or, rather, our lawyers, who very boringly overruled this slogan idea for our website: 'Wrongcards: The Halliburton of Ecards'.
share this
send card
Thinking Of You cards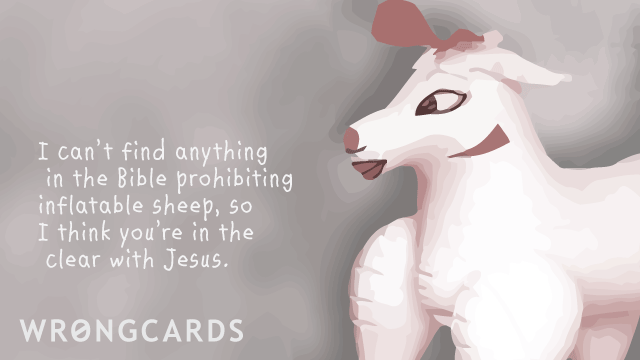 So I invented Rehash Wednesday years ago but the world stole my idea and made it #ThrowbackThursday to avoid having to pay me royalties. Which is fine because I am nice, even people who haven't met me say so all the time. Anyhow, I'm told there is a lot of yellow in this card but I haven't been able to see yellow since I got angry that one time and ate some lead pencils. I think this card is about sheep and morality.
share this
send card
Subscribe to our shenanigans
No spamming or soliciting from us. Seriously .