previous
next card
share this
send card
about this wrongcard
Some companies profiteer from war. Others profiteer from love. Which is worse? Here at Wrongcards™ we like to ask the hard questions. Like - is our company guilt-tripping you with stupid made-up holidays? Or are we culture assassins engaged in a war on savagery and kitsch? The answer to that question is really up to you. Or, rather, our lawyers, who very boringly overruled this slogan idea for our website: 'Wrongcards: The Halliburton of Ecards'.
Read my latest book
"Shea is beginning to think that stealing the world's most famous skull wasn't the best way to launch his career in cat burglary..."
read more
There's a new book out in the world, and I wrote it.
read more
Subscribe to our shenanigans
No spamming or soliciting from us. Seriously .
Related Cards
Flirting cards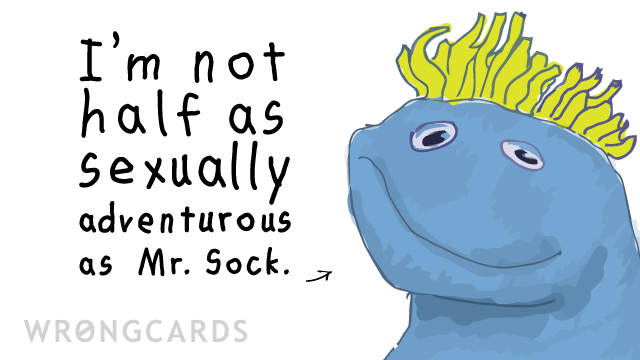 May 9th is National Lost Sock Memorial Day. I believe that every washing machine manufactured after 1963 was designed to eat precisely one sock per month, just to keep everybody in the consumer world a little off-balance. So where do all the socks go? They're sacrificed, with noble intent, for our collective unease. It's a religion I'm starting. And, of course, I'll be taking donations...
share this
send card
Romance cards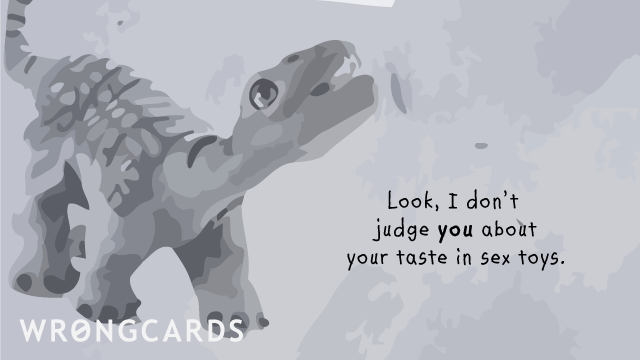 I suspect that today's wrongcard may be a little Not Safe For Work though I'm not sure or good at judging that sort of thing. It's a WTF card, though, which means it is probably more impractical than usual. It's a pity that 'cards that are wrong for every occasion' is such an impractical idea. Next time I start a company I'll do a business plan.
share this
send card