about this wrongcard
On Wednesdays I like to post an older card and then spend the rest of the day using inexplicable similes. This is, of course, the only routine I have but it still gnaws at my mind like a rabid woodchuck. That aside, can we all agree that there is something horribly wrong with clowns?
My quest to find a literary agent, its reasons, and some very excellent advice on how you too can query a literary agent.
read more
Related Cards
WTF cards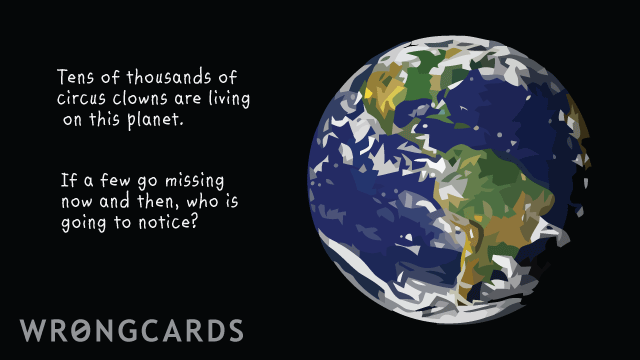 It's re-hash Wednesday, which means I get to publish an older card and take the rest of the day off, ideally to do something frivolous. It's an important tradition to me because Wrongcards is a work of great seriousness and without a little bit of irresponsibility I'd probably go mad.
share this
send card
Subscribe to our shenanigans
No spamming or soliciting from us. Seriously .