Ecards to Send 'Just Because'
'Just Because' cards are simply an assortment of ecards that don't fit within the traditional bounds of The Greeting Card, which is generally considered a useful social gesture to express polite regard. The problem with 'Just Because Cards' is that you will rarely have incentive to send them to anyone and, upon receipt, the recipient is likely to assume you are merely bored at work or otherwise have too much time on your hands.
Further, and perhaps most distressingly, our 'Just Because' Cards are a container category for several species of completely cool but impractical ecards.
Subcategories of 'Ecards to Send 'Just Because''
Human Resources probably frowns on these cards but you can probably argue that you were just trying to raise company morale by making the workplace a more cheerful environment. They probably won't buy it though: they never do. It might not be a good idea to send these greeting cards around the office unless you feel like getting fired. We are not experts on differentiating Workplace Inappropriate from Appropriate and we have cards here advocating arson for God-sakes. Maybe you could table this question in a meeting?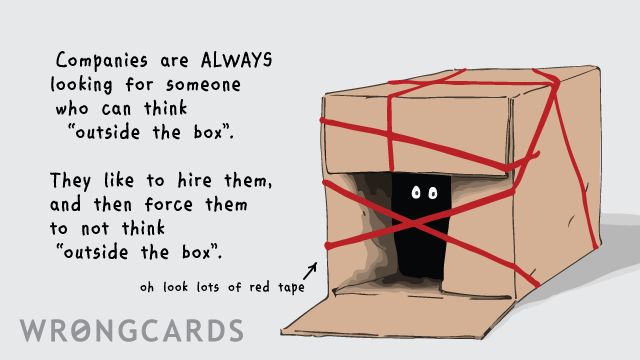 ---
There is no way of classifying any of these cards other than with three special letters: WTF. No explanation is necessary - to discover more you're going to have to click on a card and flick through the entire category yourself. So get on board - the train is leaving the station and you have a whole lot of weirdness to get through.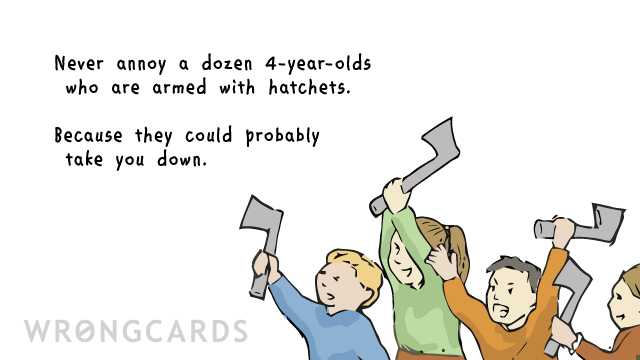 ---
These ecards, whose sole purpose is to elevate the moral plane of Wrongcards, are filled with inspiring quotes and thoughts that will, if received and contemplated for a sufficient amount of time, inspire many of you to become better people. Some of you will not be effected, however, because there was never any hope for you in the first place because you never have been, nor never will be, very good at self-improvement and let's face it, you've always secretly known it. So while some of these inspirational cards are a complete waste of time for the stridently hopeless, many of you will become better people from looking at these cards.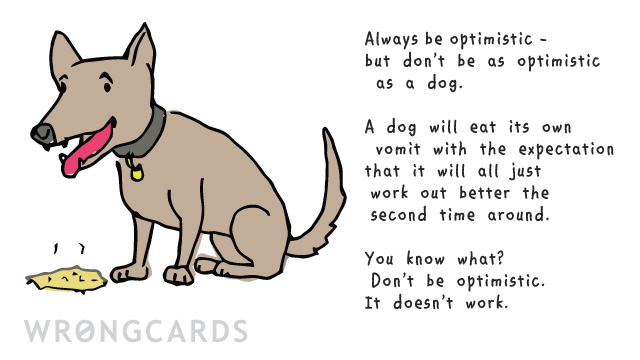 ---
Useful in the (perhaps inevitable) Event of Zombies, these cards could save your life. The proviso is simple: the outbreak won't originate in some lab accident. Only impressionable kids and dotards believe that. No, zombies will be first appear after a bioweapon attack. It's aim? Simply to cull the global population in a neo-Darwinian survival horror game of the fittest. The organization behind the coming zombie wars will be monitoring our communication channels … but they won't be monitoring ecards, will they? Amateurs, dude. In the meantime, these cards can tutor you on the finer points of surviving through hordes of undead. Remember, the paranoid always have the last laugh. But in our case we'll be laughing down the barrels of a blood-soaked shotgun. Let's All Be Prepared!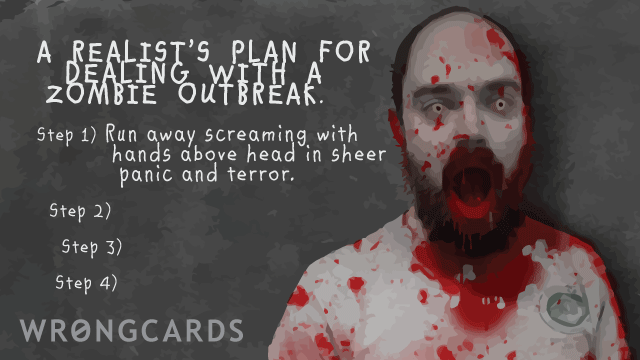 ---
TGIF stands for Thank God It's Friday, an expression that signifies joy about the end of the work week. TGIF also expresses hope that a weekend of debauchery will compensate for the fresh hell endured from Monday to Friday. Here at Wrongcards TGIF is used to convey that sentiment and that sentiment only. The acronym should never be spoken out loud. If a colleague or co-worker says to you 'T-G-I-F' you might have a slight personnel problem in your workplace. Or perhaps they merely have a bad case of the Mondays. You might as well send them to work colleagues. What are they going to do - fire you on a Friday?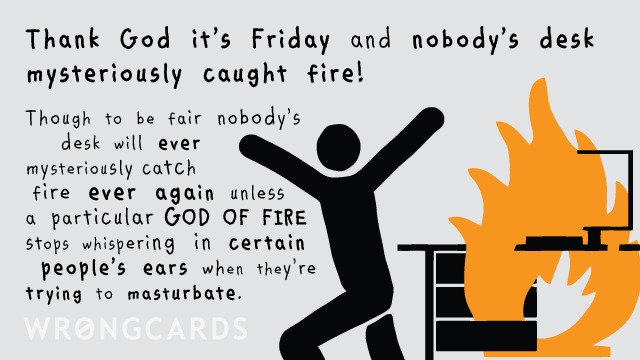 ---
Subscribe to our shenanigans
No spamming or soliciting from us. Seriously .