about this wrongcard
People often say to me 'hey, be careful or you'll set fire to that couch!' Another thing they say is, 'you're a good guy, Che, and a pillar of this community.' And I'm thankful too, which is something you should always feel or at least pretend to feel. This morning I made this card as a way of saying Thank You to people. Don't thank me - well, no, you should absolutely thank me. That's the point, right?
My quest to find a literary agent, its reasons, and some very excellent advice on how you too can query a literary agent.
read more
Related Cards
Cheer Up cards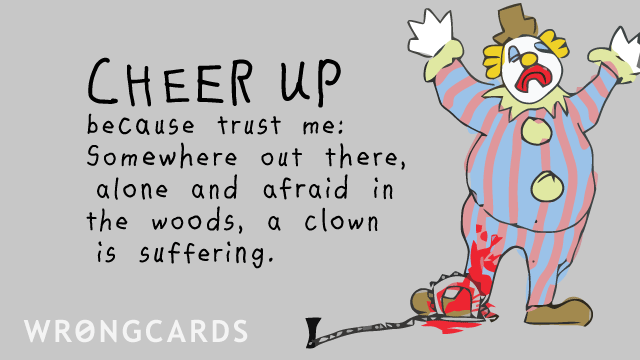 People sometimes feel bad about things and I blame the media, and also spider monkeys. Everybody puts such an emphasis on bad things happening everywhere but a lot of good things happen that don't get reported on. Each year thousands of circus clowns go missing. If you happen to have information about clown disappearances near you, remember: discretion is everything.
share this
send card
Inspirational cards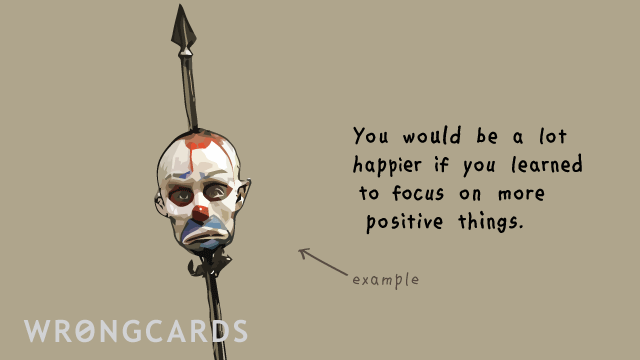 The problem with having a nice temperament like mine is that only an unreasonable person can ever be angry at me. One way to know if someone is angry is when they bang cutlery loudly in the kitchen sink. It's not a useful tip if you happen to be outside the kitchen so I guess I can only answer 'some' questions. Like is god real? Yep, he's over at my house some nights. We play dice.
share this
send card
Subscribe to our shenanigans
No spamming or soliciting from us. Seriously .