Page 1 of 4
Inspirational Ecards
These ecards, whose sole purpose is to elevate the moral plane of Wrongcards, are filled with inspiring quotes and thoughts that will, if received and contemplated for a sufficient amount of time, inspire many of you to become better people. Some of you will not be effected, however, because there was never any hope for you in the first place because you never have been, nor never will be, very good at self-improvement and let's face it, you've always secretly known it. So while some of these inspirational cards are a complete waste of time for the stridently hopeless, many of you will become better people from looking at these cards.
Inspirational cards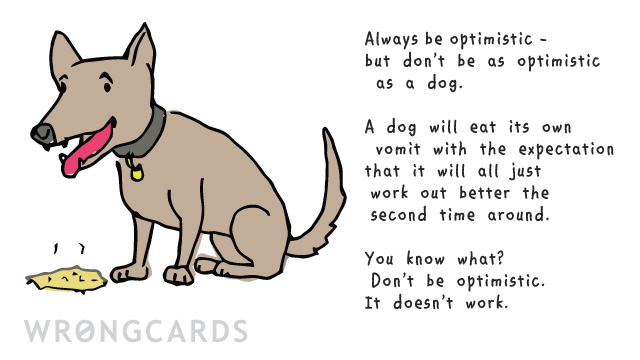 Don't listen to what some people say, everyone is an optimist. Everyone is being completely optimistic - they might as well embrace the reality. Whenever I turn on the television I stare at it for eight minutes, turn it off and then have to go lie down because civilisation is clearly coming to a sticky end. But then I'm up 15 minutes later because Fox News must not win. See? Optimism. In other news, I should be a motivational speaker.
share this
send card
Inspirational cards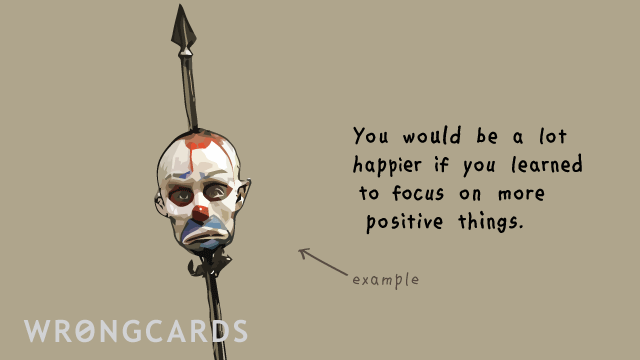 The problem with having a nice temperament like mine is that only an unreasonable person can ever be angry at me. One way to know if someone is angry is when they bang cutlery loudly in the kitchen sink. It's not a useful tip if you happen to be outside the kitchen so I guess I can only answer 'some' questions. Like is god real? Yep, he's over at my house some nights. We play dice.
share this
send card
Inspirational cards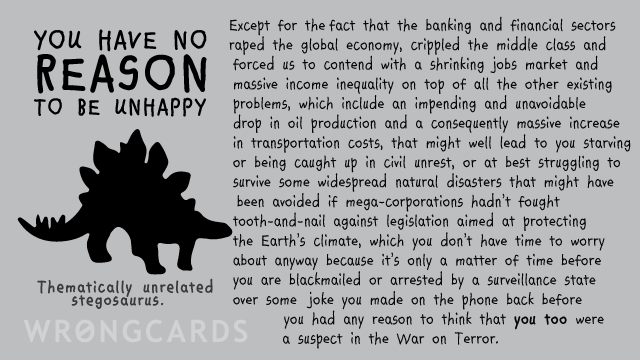 'Sometimes people say they are sad and they list off their reasons for being sad and I think to myself: these are good reasons to feel sad, but I have some better ones. I guess that if someone is feeling melancholy then, well, why should it be for amateurish reasons? It's called 'seizing the teachable moment'. And you guys? You don't pay me enough.'
share this
send card
Inspirational cards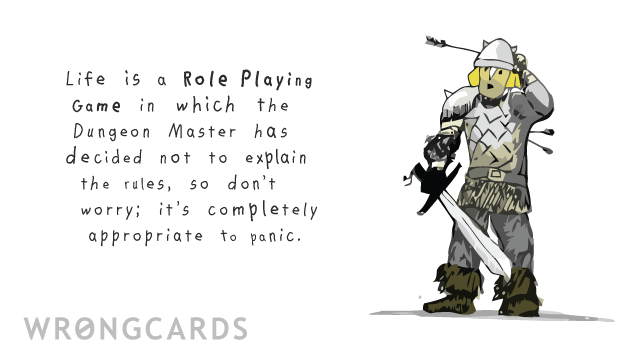 The thing about wasps is that you can chant at them and, if they like you, they'll form themselves into a calm sentient pillar in the shape of a person, like a golem, and do your bidding, and carry out certain tasks, like paying the pizza guy or seeing off unwanted visitors. I don't know how people can be sad in such a marvellous world.
share this
send card
Inspirational cards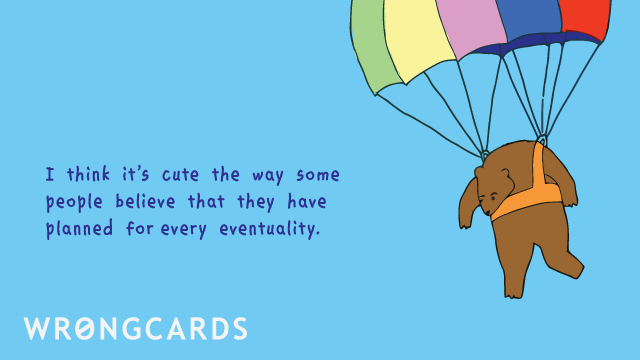 It's been years since we published a reminder card, and that's only because we forgot - and there's no better reason for not doing something than that! The second best reason for not doing something is, of course, 'bears'. The sound you just heard in your head? That was just me dropping the mic and walking off-stage.
share this
send card
Inspirational cards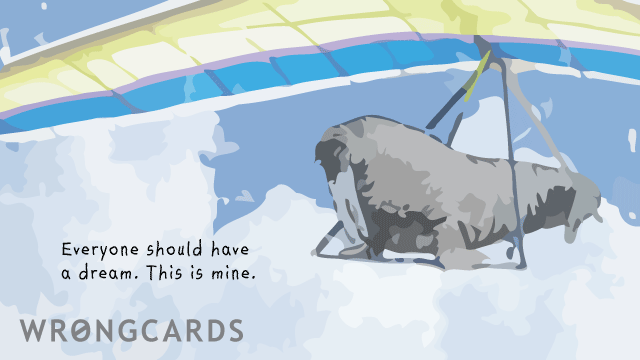 On Wednesdays I always post an older card and then I spend the rest of the day giving up tea. I quaff my ninth and final cup at ten in the morning (the following three are for nostalgic purposes only). Around mid-afternoon I invariably down another final cup to fortify my resolve to quit. I'm only human; the last thing I want is for you to think I'm an addict when I'm merely an inspirational figure.
share this
send card
Subscribe to our shenanigans
No spamming or soliciting from us. Seriously .