previous
next card
share this
send card
about this wrongcard
Like everyone else here, I like to live according to the whims and moral sensibilities of the dead. Countless times I've paused before eating a bun and wondered what St. Gabriel would have to say about its scarcity of raisins. St. Gabriel is the patron saint of communicators (but still the Vatican communicates via smoke signals?!). St. Patrick? I think he hated snakes or something
Read my latest book
"Shea is beginning to think that stealing the world's most famous skull wasn't the best way to launch his career in cat burglary..."
read more
I also considered throwing a chair through a window, but I didn't because it was my chair, and also my window. One should be particular when it comes to picking out targets for petty acts of vandalism.
read more
Subscribe to our shenanigans
No spamming or soliciting from us. Seriously .
Related Cards
Topical cards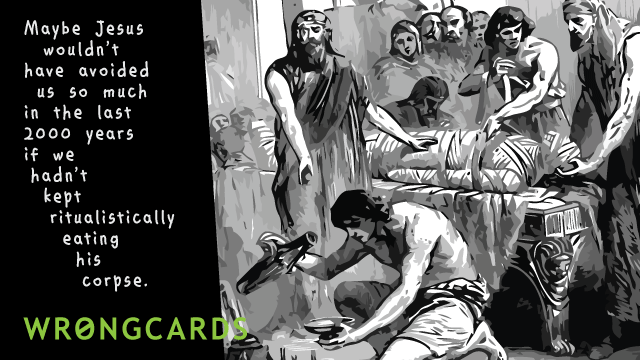 My Grandmother taught me everything there is to know about world religions, ie. lizards from space have infiltrated all world governments, we're part of the resistance, and all other religious beliefs are crazy. She taught me to be tolerant, and believe in all religions, except when they contradict the stuff about lizards because that's just CIA disinformation to test our faith. Hi Nanna!
share this
send card
Christmas cards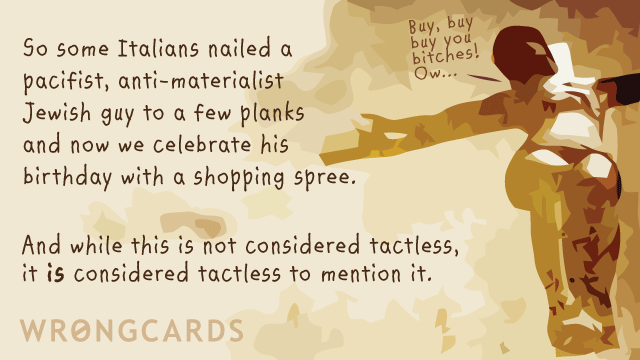 On Wednesdays I like to post an older card but occasionally I'll look at my calendar and notice that everyone has skipped a day by accident. On Thursdays I like to lurk behind doors and hiss at passers by. It's not very Christmassy but, like everybody else, irrational traditions have always played an important part in my life.
share this
send card
Jewish cards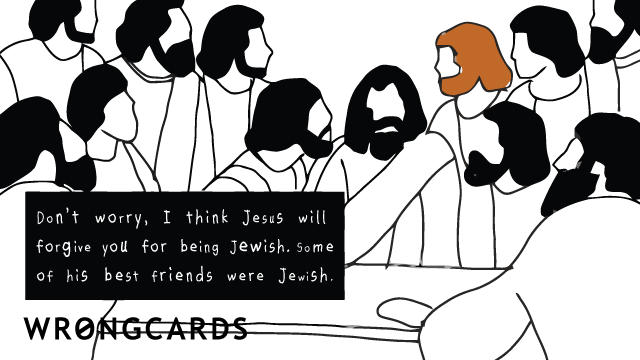 We've been talking a lot about Christmas here lately but let's not forget that Jews also have a Christmas celebration (called Kawanza) that happens sometime between November and February I think. I read that jewish priests ordained it as a sin for Jews to exchange presents, but I'm sure no one will get in trouble if they just send Jewish wrongcards instead.
share this
send card
Christmas cards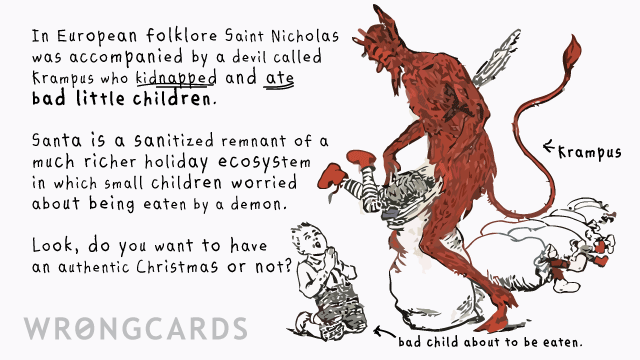 I've seen the piles of prose penned by prominent pundits in the remainders sections of book stores; there's a Culture War raging on the streets and even Our Christmas Traditions are under attack. Well we're not here to simply offer tasteful ecards - we're here to enlighten civilization. When your Grandchildren ask: where were you during the Culture Wars? you can reply: at Wrongcards...
share this
send card